When she launched Grace Thru Faith in 2016, founder Kelly Sue Robinson's signature line of clothes featured the letters JC in the center of a big heart on super-soft baseball style T-shirts. (And, no, that does not stand for Johnson County.) Little did Kelly know that her burgeoning inspirational/positive message apparel collection would become a conversation starter.
New in 2020 are Robinson's Puplitical T-shirts and they're flying off shelves. They were designed to bring levity and a sense of humor to 2020's never-ending political minefield. We caught up with Robinson to find out more.

Everyone is a fan of super-soft T-shirts. But how super-soft are they, really?
"Buttery soft! Some of our garments are so soft that people have compared them to cashmere. We are super picky about the garments we select to print onto and proud of the fact that people love that aspect of our boutique. We want to create garments that you will wear repeatedly."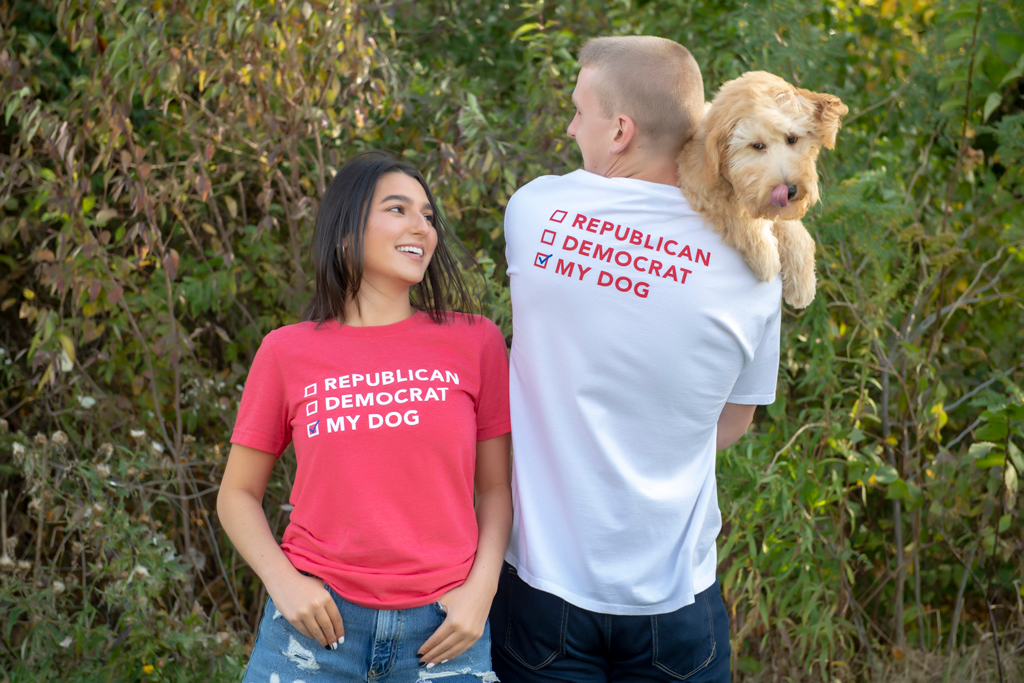 What has the response been since you unleashed your new 2020 designs?
"Overwhelming! We have had a difficult time keeping a few of the items in stock. I have been wearing 'Puplitical' T-shirts often during the month of October. They have stimulated fun, light-hearted conversations that have helped to bring (much-needed) levity to the current political climate. We are guessing that the 'Voted For My Dog' shirts and sweatshirts will bring just as many smiles and great conversations after the election!

The Love Over Hate sleeveless shirts have also been very well received. Again, in this stressful year, these shirts have brought to the forefront of our minds and hearts to show others love over hate."
Robinson's lines run anywhere from $25 – $45 for a T-shirt and $50 – $54 for a sweatshirt. Find their entire line on their website: www.gracethrufaithgoods.com as well as some items locally at Clothology: 135, Olathe Home Décor, Three Dog Bakery in BluHawk, Land of Paws in OP, and by B Boutique! in Shawnee.