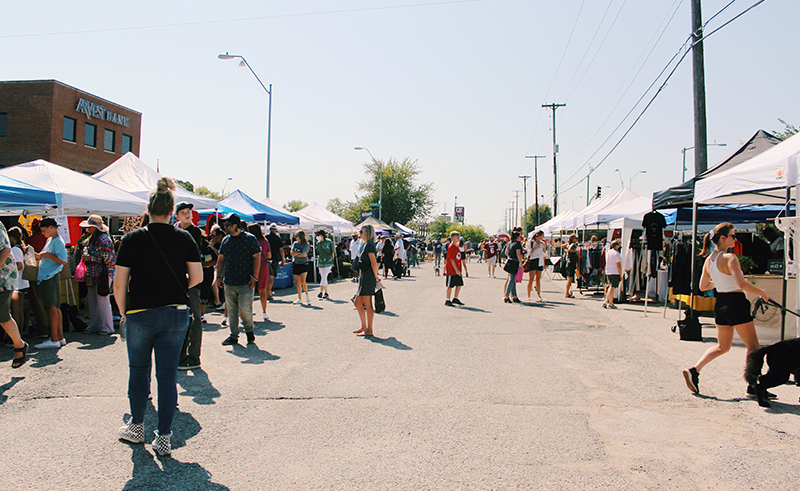 Sponsored Content
Whether you're searching for the perfect Mother's Day gift, your next favorite T-shirt, or something one-of-a-kind for a loved one's birthday, you're bound to find something that calls to you at Waldo's inaugural Spring Fling Festival with The Strawberry Swing on April 30.
A similar concept to Waldo's reimagined 2021 Fall Festival, the outdoor Spring Fling focuses on local community with a pop-up experience filled with local makers and vendors. From flowers to handmade jewelry, locally inspired T-shirts, yummy treats, and so much more, there's plenty to be discovered.
"Waldo is proud to be a destination for local businesses and introducing a spring festival is a great way to showcase all of the talent in our community," says Natalie Nelson, the director of operations of the Waldo Area Business Association. "We saw success in hosting a similar style of an outdoor festival this past fall that offered a mix of Waldo businesses and local artists, and we want to continue to create a safe and fun event for the community to experience everything Waldo has to offer." 
Held in partnership with The Strawberry Swing, Waldo Spring Fling is guaranteed to be a must-attend event. Since 2011, The Strawberry Swing has celebrated handmade products with a network of markets and pop-up events all over the Kansas City metro. At any Strawberry Swing pop-up, you're sure to find the best-of-the-best local makers specializing in ceramics, clothing, printing, painting, photography, woodworking, leatherworking, metalsmithing, fiber arts, and more.
Waldo's Spring Fling offers an intimate experience with 40 featured businesses and artists in a walkable area—plus food trucks and spaces for neighbors to visit, shop, and support local businesses, all in one destination.
The pop-up experience will be held in the parking lot off Gregory and Wornall Road from 10 a.m. to 5 p.m. The Strawberry Swing will feature booths from 20 local artists and makers from across Kansas City, and Waldo businesses will offer booths stocked with food to clothing, accessories, and specialty services such as Emilie's French Teas, Eclectic's Gift Gallery, and more. 
"To me as a business owner, Spring Fling is another way to meet the community—not only the neighbors but also the business neighbors," says Emilie Jackson, of Emilie's French Teas. "You get to meet people in the community you didn't know before because at Spring Fling you have makers who run their business out of their house."
Stop by the Emilie's French Tea booth, and you'll find teas imported from France. From samples to variety tea packs, gift cards (Mother's Day gift, anyone?), tea ware, and more, you'll find just what you need to make the perfect cup of tea at home. The booth will also have items from Centered Spirit, the cultural and holistic center that houses Emilie's French Teas.
To sweeten the day further, there will also be hands-on activities for the family throughout the day at Create Space KC's booth. Throughout the week, Waldo's Create Space offers creative classes in art, dance, music, yoga, and more, and you'll have the opportunity to get a taste of those classes during Spring Fling.
For free art activities, such as watercolor painting or making pop-up collages, stop by for a few minutes or let the kids hang out doing crafts while the grown-ups go shopping.
"All of the teachers who will be coming out for Spring Fling are current teachers at Create Space—and almost all of them are from the neighborhood too, which is pretty fun," says Meghan Throckmorton, owner of Create Space KC. "Our teachers love working with kids and giving them something fun that makes them feel part of the community too."
Register to attend Waldo's Spring Fling with Strawberry Swing here.