According to owner EJ Wood, Untamed Supply Candles started out as a lark and way to pay for books and tuition at college. Three years later, this local outdoor scent-centric candle line has blossomed in to a full-fledged company. "The idea was to bring nature inside," says Wood. "I really based the scent profiles on nature or some of my own personal experiences outside.  I'm mindful the candles have the same calming effect that nature has for me."
Wood is quick to point out how much pride she takes in being earth-friendly and having a low-carbon footprint. "Everything is small-batch and hand-made," says Wood. "We're very careful in our ingredients. Everything is recyclable and non-toxic. In fact, we used 50% recycled glass in our jars." Even better? Three percent of the company's profits go directly to the National Park Service.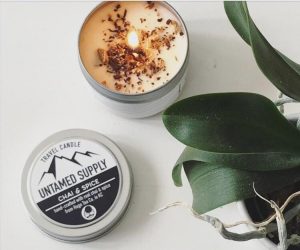 Our personal fave around the office? The Chai and Spice—made with actual Chai spices melded in to the wax. "Our tagline is 'Capturing Nature's Pheremones'", says Wood.
You can find Wood's wares at over 40 different shops around the metro—including all Made in KC locations, Flying Pig Local Mercantile, and each of the McClain's Bakeries. "There's a location in practically every neighborhood in Kansas City," says Wood.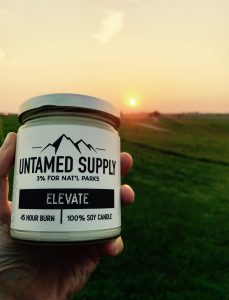 Business has been so good, Wood is planning on starting a premier line of candles by the end of the year. In fact, Wood has been so successful she eventually left school before graduating. No worries, though. "I'm into my craft. I like working with my hands and designing—so I merged both sides of myself together with it," says Wood.
Bonus! If you visit Untamed Supply.com and enter the discount code JoshuaTree, you'll receive a  20% discount now through August 8. Impulse shop away!