Sponsored content

Treat yourself to skincare procedures with immediate, dramatic results—and no downtime
Peeling for several days, followed by red skin for weeks.
If that's what you've experienced after a facial rejuvenation treatment, here's good news: now you can obtain the same dramatic results with little or no downtime.
"Our patients have no time in their busy schedules to 'hide out' after a procedure," says James Mirabile, M.D., FACOG, founder and on-site medical director of Mirabile M.D. Beauty, Health and Wellness. "That's just one of the reasons I'm so excited to bring the latest in breakthrough treatments to Kansas City."
One of the newest options in the medical spa's toolbox is Secret RF, an innovative new laser treatment that improves signs of aging skin, fine lines, wrinkles, scars and stretch marks. Secret RF is safe, effective and suitable for all skin types, even darker skin.
So what's the "secret?"
Unlike other devices, which only deposit energy to the upper surface of the skin, Secret RF delivers energy below the surface where it's needed most to help revitalize and regenerate tissue.
"It's this unique delivery of energy, using microneedles, that allows us to achieve optimal results with little to no downtime on all skin types," explains Dr. Mirabile.
PICO Genesis™, the new generation of skin revitalization
PICO Genesis is a breakthrough aesthetic treatment that improves the appearance of hyperpigmentation, including unwanted freckles, uneven skin tone, sun damage, age spots and stubborn melasma.
"Melasma can actually be worsened by some heat laser treatments," says Dr. Mirabile. "PICO Genesis now offers those with melasma and other pigment issues a safe, effective option."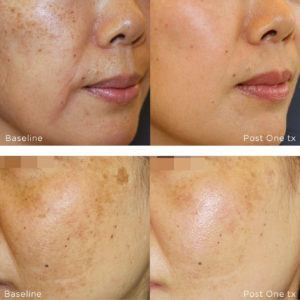 Here's why: PICO Genesis uses higher peak power to shatter the pigment without causing thermal damage to the surrounding tissue. The Pico Genesis offers two highly effective laser wavelengths that treat problematic skin conditions without disrupting the dermis or skin surface.
The result is brighter, more uniform skin color, increased skin elasticity and tone and an overall revitalization.
Laser Genesis and excel® V combine for incredible all-over face and body rejuvenation
The award-winning excel® V is the only solid-state laser system incorporating two super-precise laser wavelengths in one devise. What that means for patients is that both deep and superficial vascular conditions can be addressed.
"Combining excel V and Laser Genesis is what we call the one-two punch for skin revitalization," says Dr. Mirabile. "We're seeing remarkable results on sun damage, small facial vessels and leg vessels, rosacea, port wine stains, acne and non-pigmented lesions.
"Perhaps most exciting is the overall skin revitalization and collagen stimulation, which means it's the gift that keeps on giving. Skin texture, brightness and radiance will continue to improve over time."
Be ready for your close-up this holiday season
So, yes—there's still plenty of time to look your best and most confident at the family gatherings, holiday parties and social events ahead. It's the gift you give yourself: a radiant, younger-looking complexion at any age.
"Whether you're one of our newest, 20-something clients, or a loyal patient in her 80s whose skin looks decades younger, we have the most progressive range of treatments available, along with some of the most highly trained and experienced nurses and licensed aestheticians in the city," says Dr. Mirabile.
For more information:
Mirabile M.D. Beauty, Health & Wellness
4550 109th Street (1-435 & Roe)
913-270-5917
www.mirabilemd.com
Offer:
Give your skin the gift it deserves this season with our "You Glow Girl Facial" and save $25! The 60-minute medical spa experience includes a facial cleansing, scrub, dermaplaning, relaxing hot-stone massage, HydraFacial M.D., and brow refining. You'll leave looking fresher, brighter and younger.