Sponsored Content
Physician-supervised Mirabile M.D.'s Medi-Weightloss® helps women and men shed unwanted pounds without judgment—and offers a sensible strategy that works.
Over the years, Holly of Lee's Summit has taken countless weight-loss programs for a spin. From DIY plans and one-off, trendy diets to weekly weigh-in meetings, the 43-year-old mom of two teens tried multiple methods to lose weight—each time without long-lasting success.
Frustrated with constant weight cycling, Holly was also uncomfortable with judgmental attitudes she encountered with some high-profile weight-loss companies that promised community support and individual coaching.
"My biggest hot button with diets, whether self-directed or guided, is that shame can't be a component," Holly says. "One day, after the birth of my youngest child, I went in for a weekly meeting and weigh-in with a very well-known weight-loss organization. I had gained a few pounds since my last check-in and the woman, who was supposed to advocate for me, instead asked what I was going to do so the gain wouldn't happen again."
Holly's breakthrough moment came when a girlfriend told her about Medi-Weightloss®, a physician-supervised program offered at Mirabile M.D. Beauty, Health & Wellness in Overland Park.
Whole-person weight loss
Curious about how the three-phase Medi-Weightloss program could help achieve her goals, Holly scheduled an appointment with the Mirabile M.D. experts to discuss options.
Satisfied with what she heard—including the fact that she could eat real food, not packaged or powdered meals—Holly started the program in October 2017.
"What happened with Holly's Medi-Weightloss experience—and how it eventually influenced her family—is not unusual," explains James Mirabile, M.D., FACOG, founder of Mirabile M.D. Beauty, Health and Wellness. "Medi-Weightloss is designed to positively impact your life with not just weight loss, but also a transformational lifestyle shift."
Dr. Mirabile attained personal weight loss with the program and decided to bring it to Kansas City.
"Our Medi-Weightloss team gives patients a toolbox of simple, effective and healthy eating habits that translate to a lifetime commitment," he says. "Once we determine a patient's ideal weight loss, we educate them on eat-to-lose methods and maintenance. It's a whole-person approach."
On average, Medi-Weightloss patients lose seven pounds the first week and then two to three pounds each week for the first month. The three-phase program guides participants through Acute, Short-Term Maintenance and Wellness and is founded on life-long strategies for healthy eating.
Personally designed weight loss
Focusing on calorie and carbohydrate intake, Medi-Weightloss is complemented by consuming the optimum amount of protein to preserve vital muscle mass, essential during weight loss. The program is a proven combination of exclusively formulated supplements, vitamin- and mineral-based injections and, when prescribed, FDA-approved appetite suppressants that ultimately enhance metabolism and manage appetite.
"We customize the program to accommodate each person's unique lifestyle and personal medical history," Dr. Mirabile says. "It's not off-the-rack weight loss."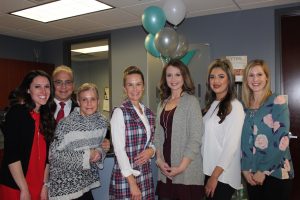 Patients have weekly one-on-one sessions with a member of the Mirabile M.D. Medi-Weightloss team to review progress. The team, which includes a registered nurse and nutritionists, assesses what's working and what's not and provides real-life solutions and the encouragement to make stepping on the scale a reason to rejoice and not dread.
Boost self-esteem and self confidence
For Dr. Mirabile, one intangible benefit of Medi-Weightloss is how it empowers people to make a commitment to their overall health.
"Sensible and successful weight-loss is not just good for your physical well-being, it affects your mental health and every aspect of life," he says. "It's inspiring to see men and women get their life back on track, for good."
For more information:
Mirabile M.D. Beauty, Health & Wellness
4550 W 109thStreet (I-435 & Roe)
913.888.7546
Specials for readers of In Kansas City Magazine:
Join Medi-Weightloss in September and receive $50 off the Initial Visit. Call to setup your free Medi-Weightloss assessment at 913.888.7546. Cannot be combined with other discounts. Ask for full details.