Sponsored content:
CBD American Shaman founder CEO Vince Sanders says when he started his company five years ago, his only goal was to get the word out about CBD and the health benefits that came with it. "I thought there must be some way to get this into people's hands," he says. "It was percolating in my head—a way to get small, but potent amounts out to consumers."
The ball was officially rolling—even though at the time virtually no one knew what CBD was or what it offered. "We organically grew into where we are today," he says. Within days of coming up with the now recognizable name, Sanders had assembled a team to unveil his revolutionary product at a trade show in Las Vegas. "We touted the benefits of CBD. The aisle in front of our booth was jammed," he says.
Now CBD American Shaman has blossomed into a homegrown empire. With a penchant for customer service, stellar products, and knowledgeable staff, it's no wonder it's become the metro's go-to CBD provider. Here now are the Top 5 Reasons Kansas City's Favorite CBD is American Shaman:

5. A nationwide brand with roots in KC
From humble beginnings, CBD American Shaman has grown into a hometown behemoth. That was not, repeat not, by design. "I knew the power of CBD, but as far as us becoming a large business? I thought we'd have a better chance opening a lemonade stand," Sanders says, laughing. "For us to have become what we've become—well, it's a dream, really."
That dream now includes more than 400 franchised stores in 38 states. The company boasts a roster of over 200 employees. Most products are manufactured in-house here in the metro as well. And they've collaborated with just about every beloved sports team and company in the metro. Take for instance, their partnership with The Roasterie for a CBD-infused cold brew. "The Roasterie's head brewer came to us and we figured out how it would work," says Sanders. "The idea? Cold-brew coffee is two to three times the amount of caffeine, but you want to knock that edge off and adding CBD was the perfect counterbalance to that. No more nervous energy." Since its inception, it's quickly become one of The Roasterie's most popular products.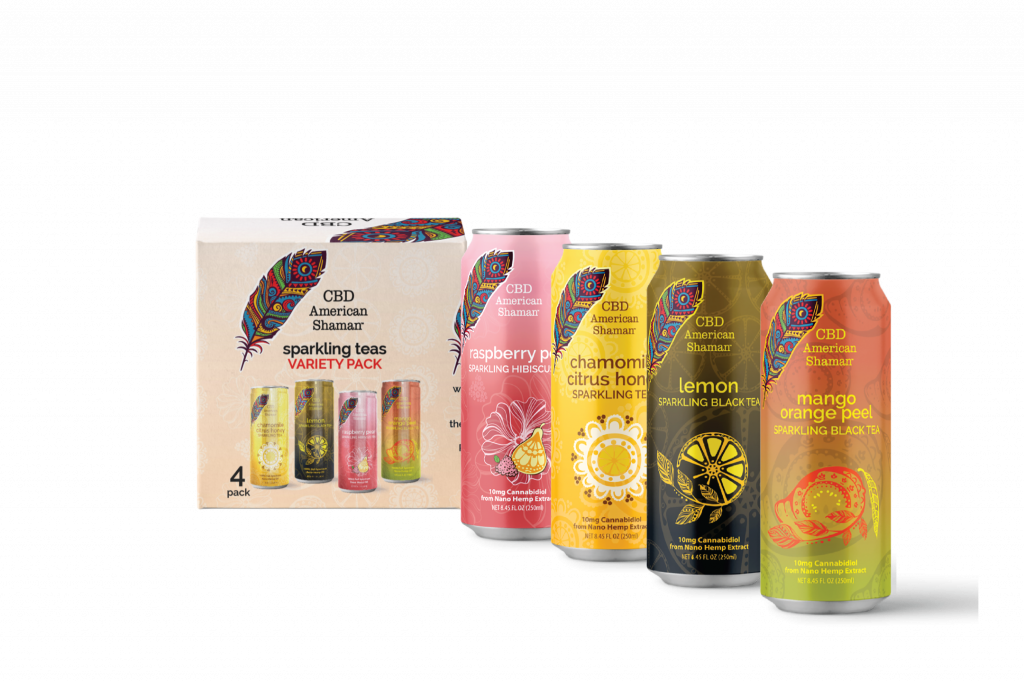 4. Cheers to cooling down with an iced CBD drink on a hot day
Facts are facts, people—KC is really hot in the summer. And a CBD-infused icy beverage simply can't be beat. CBD American Shaman features an extensive beverage line—including two fruit juice-infused coconut waters and four tea blends. "We've even worked with Boulevard on a couple of pairings that we were ready to unveil at Boulevardia," says Sanders. Alas, social-distancing culture nipped that event in the bud.
But Sanders says there are still plenty of options to appease your adult-beverage taste buds. Try adding their lemon Water Soluble CBD to the classic Boulevard Wheat. Feeling a little adventurous? Sanders suggests a dash of their Cherry Limeade in Boulevard's Easy Sport Ale. The best part? "Our product works well for hangovers," he admits.

3. Two American Shaman Clinics are now open and ready to serve you
Ever ambitious, Sanders recently opened two natural holistic-based centers, one in Overland Park and the other in Leawood. "We opened them to help people heal—which is what they want, to feel better. That was the driving force behind it," he says. "We do everything from hormone replacement to cosmetic procedures. The beauty of going to our clinic is that you're talking to our physician, someone you trust."
2. With 40+ metro locations, it's easy and convenient to find high quality CBD
Even though their mantra is "worldwide wellness," Kansas City is home to CBD American Shaman. "Kansas City is our backyard—that's where we developed," Sanders says. Their ultra-concentrated terpene-rich CBD oil is derived from the highest quality American-grown hemp. Sanders says their proprietary nanotechnology ensures their products act faster and more effectively than anything else on the market. "We operate at the highest levels—that includes three chemists, two doctors, and a research doctor on staff," he says. "We're U.S. Hemp authority certified—one of only seven in the world. The science we bring to our products is our cornerstone."
Their newest (and soon-to-be) most popular product? "Our CBNight CBN is a sleep product like no other," Sanders says. "This will provide a natural sleep for eight hours and allow you to wake up refreshed." The sleep aid was launched in the midst of the pandemic and has been gaining momentum since. Everyone could use a good night's sleep in these tumultuous times. "Considering when we launched it, it's doing incredibly well."

1. A Wildly "Civic-Minded" Company
The lengthy list of local philanthropic organizations and charities CBD American Shaman contributes to is impressive. "I was born and raised in Kansas City," says Sanders. "So when we had an opportunity to be charitable—that's what I did."
CBD American Shaman was the impetus behind the inaugural, well-received SpraySeeMo event. "Within 90 days, we hosted a world-class event and brought in 45 artists from around the world—from Belarus to Brazil," comments Sanders. The goal was to blitzkrieg the city with some hyper-colorful street art and murals. The artists' handiwork can be seen on buildings from the Crossroads to Waldo and beyond. "We wanted to be art-forward and make something special in Kansas City," he says. "Art doesn't have to always be seen in a museum! Street art can change your mood."
When the pandemic shuttered the city, Sanders and crew found out that many local first responders had been struggling without hand sanitizer. The company shifted gears and started creating product to donate—and sell in their stores. "We found out what first responders needed, so we donated 3,000 hand sanitizers—with gallon jugs to refill. Done!" Sanders says. "Oh, the power of hand sanitizer. I mean, who would have dreamed of a hand-sanitizer shortage? We also ended up donating over 6,000 bottles to 13 different homeless shelters in Kansas City."
The company also teams up with both Chiefs and Royal players' charitable organizations and is a main sponsor of Quixotic and the veteran-run organization, After Action Network.