Mirabile M.D. is Kansas City's gold standard for cosmetic services, sustainable weight loss and comprehensive healthcare under one roof.
In today's stressed-out, scheduled-to-the-max, plugged-in world, it's no longer an indulgence, but rather a necessity, to make time for personal health and wellness. Consider starting your New Year's resolutions before the clock strikes midnight on December 31 with a commitment to 2020 as the year of self-care and tap into the expertise and services at Mirabile M.D. Beauty, Health and Wellness. The distinctive, sought-after concept is an evolution in traditionally siloed health and wellness modalities, merged under one roof.

Board-certified physician James Mirabile M.D, FACOG, founder of Mirabile M.D. Beauty, Health and Wellness, an award-winning Super Doc® and well-known ob-gyn in the region, opened his practice with convenience in mind. Integrating MedCosmetic, Medi-Weightloss®, gynecology and Bio-Identical Hormone Replacement Therapy for men and women into a one-stop shop, Dr. Mirabile notes that harried people can now make time for health and wellness.
"We live in a world where everything can be demanding and overwhelming," he says. "While the phrase 'self-care' has become a buzzword, it describes what's missing in our lives. Our core promise is to help people make very intentional and serious decisions to take care of themselves."
A cohesive, complementary environment with an element of care not found elsewhere in town defines Mirabile M.D. Beauty, Health and Wellness. With a carefully curated array of services, Dr. Mirabile and the Mirabile M.D. Team offer patients the luxury of time.
"It's more than just convenience," adds Dr. Mirabile. "There's a trust factor when you see different members of our team for a variety of treatments and procedures."
Whether you want to improve your skin's appearance, lose those extra pounds, schedule your annual well-woman exam or learn more about the benefits of hormone replacement therapy, Mirabile M.D. has it bundled under one roof.
And at Mirabile M.D. Beauty, Health and Wellness, there's really a doctor in the house—Dr. Mirabile is not only the founder, he serves as medical director.  He's a member of the esteemed national Medi-Weightloss Advisory council. As a physician luminary for leading manufacturer, Cutera, Dr. Mirabile educates other doctors from around the world on state-of-the-art, non-surgical aesthetic devices that he uses in his own practice.
MedCosmetic: Discover your inner and outer beauty
Since 1999, the team of registered nurses and licensed estheticians at MedCosmetic has been providing groundbreaking treatments in a professional and caring environment. A pioneer in the aesthetics industry, Dr. Mirabile has trained doctors and medical professionals nationally on non-invasive treatments. Highly trained RNs and licensed, experienced estheticians at Mirabile M.D. work one-on-one with patients in results-oriented programs specific to individual needs and desires. Services include Botox, Dysport, Juvederm, Ultherapy, Hydrafacial, truSculpt, leading-edge laser treatments and much more.
Medi-Weightloss: Take your weight loss goals to the pros
Dr. Mirabile and the Mirabile M.D. Medi-Weightloss team work closely with each patient to help determine the ideal weight-loss goal—and how to keep the weight off by eating real food purchased at the grocery store. The program focuses on calorie and carbohydrate intake combined with consuming the optimum amount of healthy fats and protein to preserve important muscle mass.
"Ketosis is the part of the 'science' aspect of Medi-Weightloss," Dr. Mirabile says. "By simply changing the food you eat, your body is forced to burn fat for its primary energy source."
Along with proprietary supplements and vitamins, new patients receive ketone sticks in their Medi-Weightloss Super Starter Kit so it's easy to see when ketosis is reached.
Bio-Identical Hormone Replacement Therapy: Feel like yourself again
Bio-Identical Hormone Therapy (BHRT) is not a one-size-fits-all for women and men. Mirabile M.D. prescribes customized compound hormones as well as in-office pellet therapy using the SottoPelle®method. Dr. Mirabile and his team of nurse practitioners are highly experienced in the field of BHRT, administering in women via creams, troches, injections, capsules and pellet therapy; and in men via pellet therapy.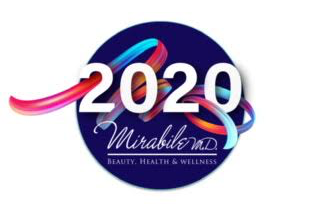 January Open House

Make 2020 your best year yet, starting with one of Kansas City's most-anticipated—and rewarding— annual beauty, health and wellness events.
The Mirabile M.D. 2020 Open House on January 30 will feature informative seminars and an opportunity to chat one-on-one with the team where guests can learn insights and tips from experts on weight loss, hormonal health, body sculpting and the latest skin rejuvenation treatments. Enjoy delicious food from Jasper's Restaurant. Get a free body-composition analysis, register to win products and services and save 20% on MedCosmetic services and all products, including skin care, vitamins/supplements and Medi-Weightloss food products.
The first 40 guests to purchase a product or service will receive a fabulous swag bag full of health and wellness essentials. And make 2020 a year of giving back—every $5 donation to Supporting Kids Foundation gets you a chance to win major prize packages.
Join Dr. Mirabile and the Mirabile M.D. Beauty, Health and Wellness team on Thursday, January 30th, 5 – 8 p.m.
 For more information on the spectrum of services offered, call today for a free consultation.
Mirabile M.D. Beauty, Health & Wellness
4550 W 109thStreet (I-435 & Roe)
913.888.7546
www.mirabilemd.com