Sponsored content: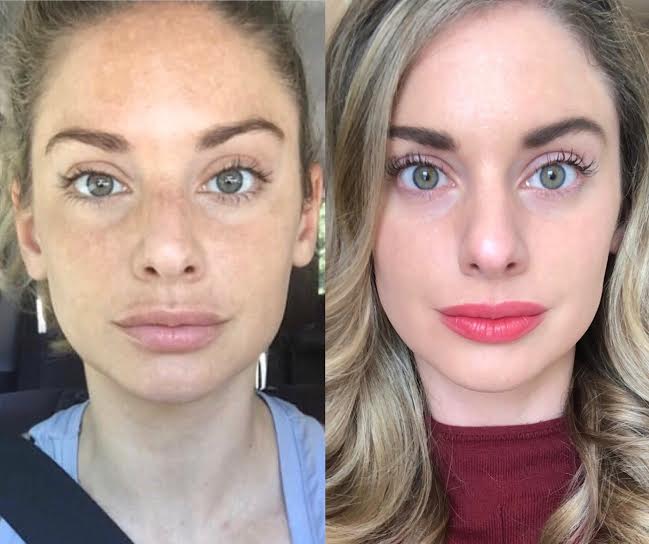 Over the past few years, skincare technology has advanced to the point where patients can have years erased off their face without enduring endless downtime or—gasp!—being forced to undergo surgery. One of the biggest technological advancements of the past decade was the introduction of microneedling, which was touted as a way to tighten the skin but also ramp up collagen production. "Microneedling sounds scarier than it is," says Kasha Campbell, practice manager at Hollyday Med Spa + Aesthetics. "Standard microneedling is safe for all skin types—including ethnic skin, which can be tricky to treat."
But last year, microneedling with the addition of radio frequency became a hot topic. Celebs and influencers quickly jumped on the bandwagon after discovering how revolutionary the new tried-and-true procedure had become. Word spread like wildfire on blogs and media outlets, and one brand name became synonymous with the ever-evolving, serum-infusion treatment. "Vivace blows everything out of the water," says Campbell. "Vivace Fractional Micro Needle RF is Microneedling 2.0. It's like microneedling on steroids," Campbell says with a laugh. "It's truly amazing what this procedure can do. It's able to go a lot deeper into the skin, which instantly stimulates collagen while RF energy is delivered deep into the dermis, which helps tighten the skin. The results are so much better—with even less downtime."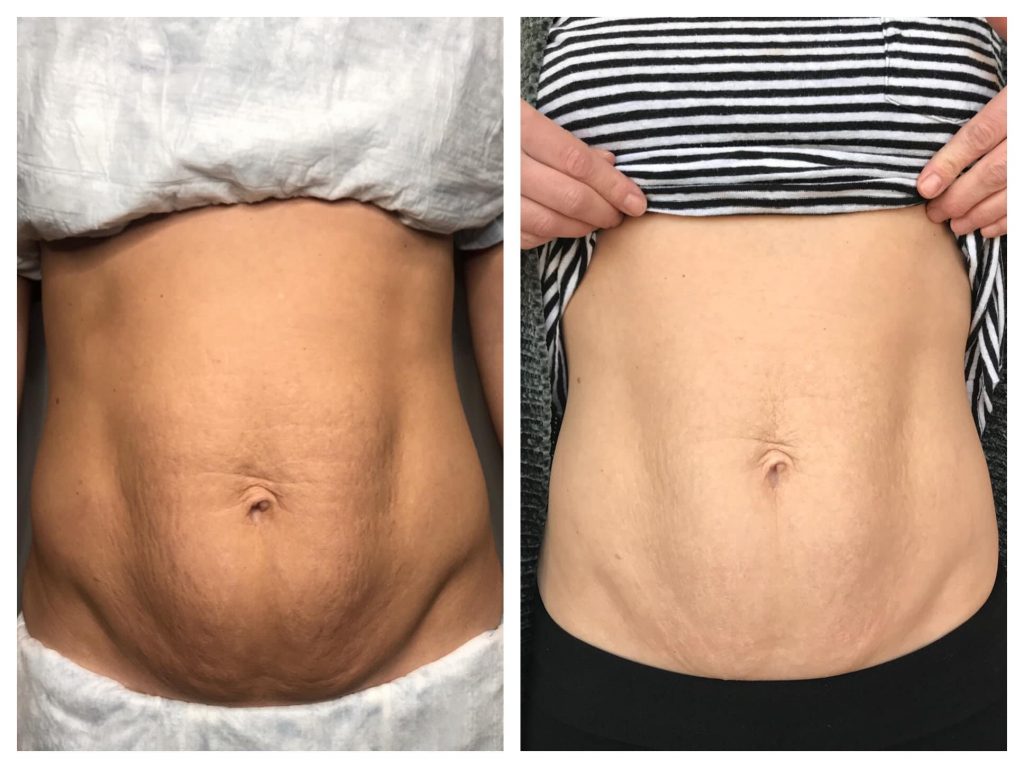 This minimally invasive treatment is shown to be effective in alleviating facial wrinkles, fine lines and tightening and toning the face, neck, hands, and body. (Yes, you read that right. Vivace works where you need it to work.) With an FDA blessing under its belt, the procedure launched last year to plenty of fanfare thanks to a slew of amazing before/after pics that appeared online soon after.
A quick search found nearly 20 different microneedling RF devices available on the market today. Why choose Vivace? "People ask for it by name," says Campbell. "Believe us, we took a lot of time, care, and testing different equipment to ensure we were bringing the best one to Kansas City. Vivace remains the one to beat."

When Hollyday launched the radio frequency microneedling procedure in November, people were curious. "Everything is always being touted as the latest and greatest," says Campbell. "This lives up to the hype." By the time the holidays rolled around, demand was so high that owner/founder Holly Post purchased a second Vivace to keep up with all the bookings. "The minute we started showing how good the before and after pics were, people were demanding to get in," says Post. "Now we have a second machine. We're running them constantly in two different treatment rooms. It literally revives your skin like nothing else."
Hollyday started combining Vivace alongside the Tetra CoolPeel™, which ensures a dramatic one-two punch. "Together you're treating the entire spectrum of skin concerns—both the tone and the texture," says Campbell. Need a refresh? CoolPeel™—an advanced CO2 laser—is designed to target uneven skin tone, acne scars, hyperpigmentation and a litany of other skin issues. "It really does allow our customers to put their best face forward," says Campbell. "If someone comes in with tired, dull looking skin—which happens, because life happens—this will bring your skin back to life. It gives you a fresh, pink glow. My make-up regimen now consists of sunscreen and lip gloss and that's it."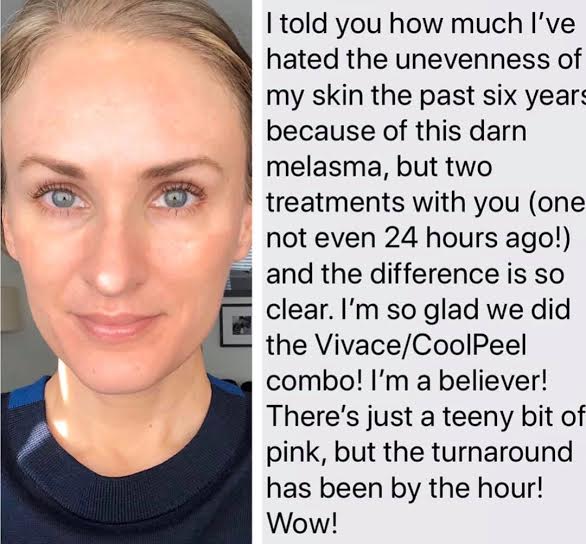 Clients say what really sets CoolPeel™ apart is the minimal downtime. "CoolPeel™ is the only laser out there that can do a mild enough CO2 treatment that offers only superficial downtime," says Campbell. "But the best part? The results are equally as good—and you're not out of commission for seven to fourteen days."
Owner Holly Post hears it time and time again. Clients want beneficial procedures that offer little to no down time. "In aesthetics, the end goal is to have all these treatments and get on with life," says Post. "Our clients demand to look and feel their best, but they certainly don't want to go under the knife. Vivace is giving us these kinds of results. It's become a huge gamechanger in terms of getting back to your day-to-day activities."
This writer—for one—agrees wholeheartedly. I noticed a marked difference about 48 hours in—smoother skin and considerably smaller pores. Patches of ruddy complexion had quickly been erased, as were some noticeable brown spots from years of sun worship. My skin was sensitive for about a day and then quickly subsided. One week later and my skin—and overall complexion—look five years younger after a few days of nominal peeling.
Campbell says my experiences are par for the course and my results speak for themselves. "It feels like a magical eraser, yes?" she asks. "It gives your skin an Instagram filter without a filter."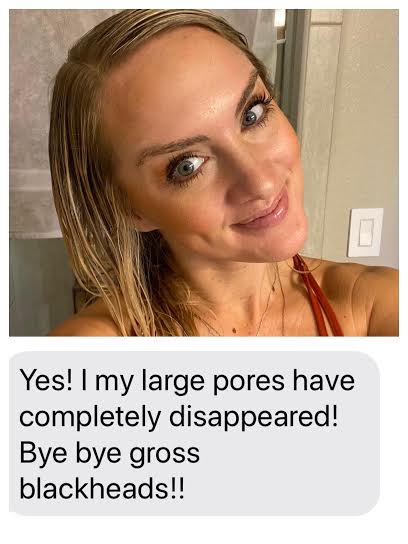 Intrigued? Want to know more? Hollyday Med Spa + Aesthetics is offering $100 off your first Vivace treatment for the month of February. "You can look completely—and we mean completely—refreshed for spring break," says Campbell.
For more information on Vivace and Cool Peel procedures, contact:
Hollyday Med Spa + Aesthetics
1 East Gregory Blvd, Kansas City
(816) 333-4430
www.hollydayspa.com