Sponsored content:
Discover the face and body resculpting treatment favored by international celebs.
Some of the world's most photographed women—including Kim Kardashian and Amanda Holden from Britain's Got Talent—are raving about a ground-breaking procedure that tightens and smooths the entire face and body, including hard-to-treat areas like the abdomen, love handles, upper arms, and knees.
The same technology can also restore facial contours around the neck and jowls, reduce fine lines and soften the appearance of acne scars. In fact, tennis coach and TV personality Judy Murray says it's taken 10 years off her appearance. 
The celebrity secret is Morpheus8, a non-surgical treatment that combines microneedling with radio frequency energy to tighten sagging skin across the face and body while rebuilding collagen and elastin. That means results will continue to improve over time.  
But you don't have to have a celebrity's resources to obtain these remarkable results. Morpheus8 is available just minutes from your home or office at MedCosmetic, a division of Mirabile M.D. Beauty, Health and Wellness in Overland Park. 
A MedCosmetic Advantage That Means Better, Faster Results for You
Kim Kardashian isn't the only person raving about Morpheus8. "It's a game changer," says James Mirabile, M.D., FACOG, and founder of MedCosmetic.  "I don't use that term lightly," he says. "I'm so impressed by Morpheus8 by InMode that I speak to other physicians around the country and even internationally about this advancement in treating face and body issues." 
In fact, Dr. Mirabile was the first to offer this treatment in the Kansas City area. And being a physician-owned office gives MedCosmetic an advantage that other providers don't have: the ability to treat the body at a depth of 7mm beneath the surface of the skin and into the superficial fat and tissue. "This allows us to remodel and tighten areas on the body like never before," says Dr. Mirabile.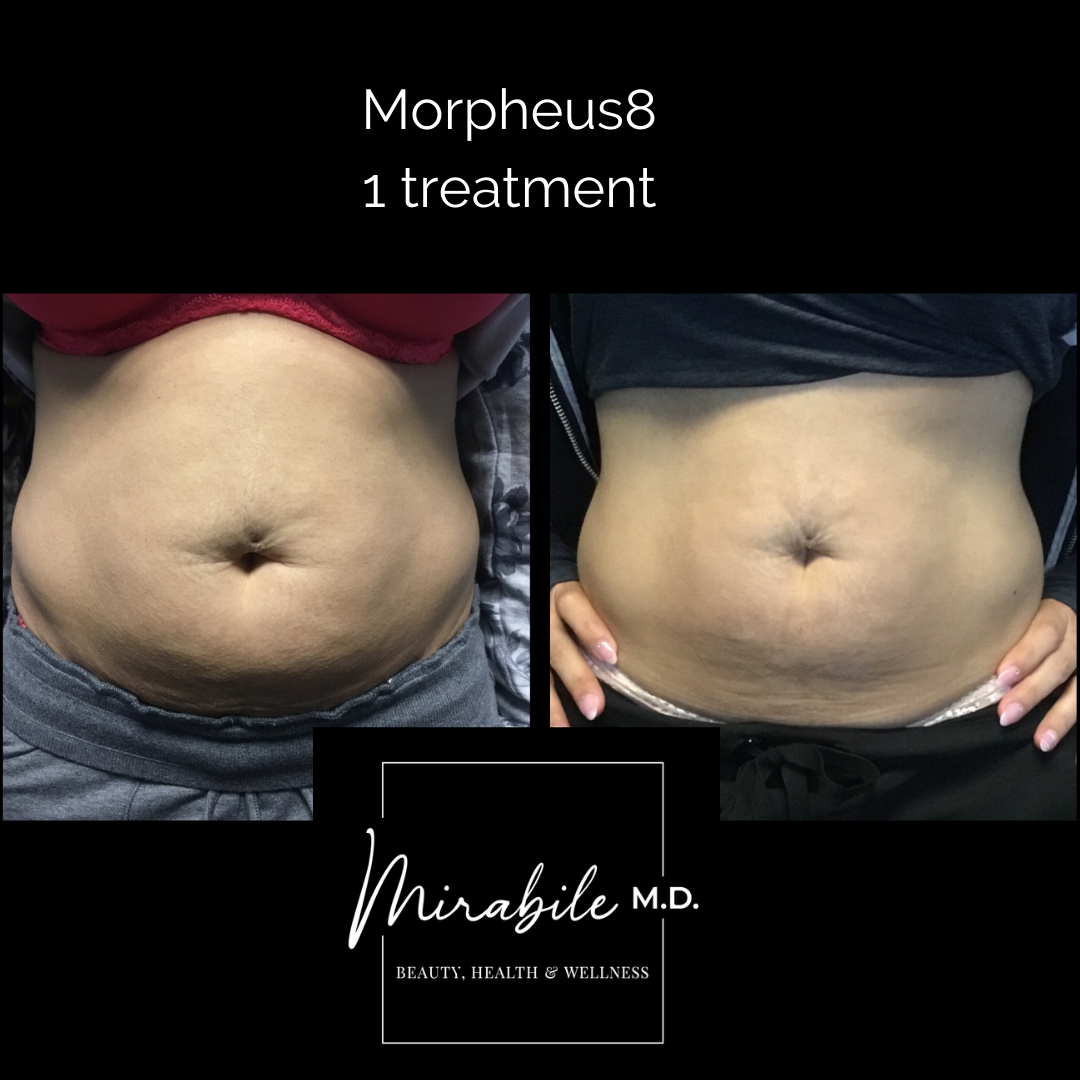 More Choices Provide a Better Outcome for Each Patient
The nurses and aestheticians at MedCosmetic are just as excited about adding Morpheus8 to its already impressive toolbox of treatments. NCEA Certified Licensed Esthetician, Tama Veltri says "We are so fortunate to have multiple modalities to choose from. It allows us to create highly personalized plans for men and women of every age and need." 
She uses Morpheus8 to stimulate collagen on the cheeks to improve uneven skin tone and textural issues, while also improving laxity around the neck and jowls for a more defined profile. 
Having Dr. Mirabile, a board-certified gynecologist, on site is important to the entire MedCosmetic team, especially when Mopheus8 is used for vaginal rejuvenation. Licensed Esthetician, Christina Ammon notes that it's important to see a physician who specializes in women's pelvic health when considering this procedure. Dr. Mirabile sets all protocols for his team and evaluates each patient considering a vaginal rejuvenation treatment. MedCosmetic offers Morpheus8 V, along with several other state-of-the-art options, to treat urinary leakage, vaginal dryness and laxity or enlarged labia without surgery. 
"The Best Hour Investment for Looking at Least Five Years Younger"
That's how Amanda Holden describes Morpheus8. That's as little as 60 minutes to improve your facial contours, including the delicate eye area to improve bags, dark circles and lax skin above and around the eye. The neck—one of the first areas to show age—can become tighter and smoother. 
The Morpheus8 Body is ideal for any part of the body including arms, abdomen, thighs, knees, love handles and back. What's more, this treatment can help diminish cellulite, stretch marks and excess skin from childbirth or weight loss. You'll look forward to showing off that new swimsuit, backless sundress or cute shorts in time for summer.  
While most patients notice improvements right away, the results continue to improve over the next several months as your body's natural healing process generates new collagen and elastin. That's one reason Morpheus8 is considered by many fans to be the gift that keeps on giving.   
Learn more about how Morpheus8 can firm, tone and resculpt your face and figure and improve vaginal health. Setup a complimentary consultation at 913.888.7546.
Mirabile M.D. Beauty, Health & Wellness
4550 W 109th Street, Suite 130
Overland Park, KS 66211
913.888.7546
Mirabilemd.com
Mirabile M.D. combines gynecology, hormone therapy for men and women, MedCosmetic medical spa, and Medi-Weightloss. Under the ownership of on-site physician James Mirabile, M.D., we are your one-stop shop for wellness.