Sponsored Content
Mirabile M.D. Beauty, Health & Wellness offers life-changing treatments for incontinence and other feminine wellness concerns
Let's be frank about a topic usually not discussed in public: vaginal rejuvenation to treat concerns brought on by pregnancy, childbirth, age, hormonal changes, and genetics. 
The truth is one out of three women will experience bladder leakage in her lifetime. Other common feminine wellness concerns include enlarged labia and vaginal laxity which can result in dryness, sensitivity, and painful intercourse. 
But now there are safe and effective procedures that correct these and other feminine issues. Mirabile M.D. Beauty, Health & Wellness is at the forefront of offering these non-invasive treatments that often require no downtime and little to no discomfort. 
It's time to stop planning your life around incontinence
If you're afraid to laugh, sneeze, or take a long car trip for fear of urinary leakage, there's help. Without pads or endless Kegel exercises. 
Mirabile M.D. offers two state-of-the-art procedures using radiofrequency energy to improve pelvic floor muscle strength, tighten lax tissues, and promote new elastin fibers and collagen. 
VTone by InMode, for example, uses intravaginal electrical muscle stimulation. The entire procedure takes approximately 30 minutes with no downtime; patients can return to normal activities afterwards. While most women experience no discomfort, others report slight discomfort, which can be easily managed during the in-office procedure.
VTone treats stress or urgency incontinence, recuring urinary tract infections, and vaginal dryness, which can result in pain during intercourse. 
And according to Licensed Esthetician Christina Ammon, who has been at Mirabile M.D. since 2013, VTone works exceptionally well for urinary urgency. "Before we added VTone to our list of treatments there was really nothing we could do specifically about urgency."
"It's truly life changing for patients who are constantly searching for the nearest bathroom or can't go on road trip with their families or have to wear pads in case of accidents. It wasn't just a physical problem, but an emotional one. Now they have their best life back."
We're here to listen and help
"I was surprised to learn that most women wait up to six years or more before bringing the subject up with their doctor or nurse," Christina says. "What a shame. All of us here make it easy to discuss anything, no matter how personal or sensitive. That's the only way we can help." 
For Carla, a patient who was experiencing vaginal dryness due to menopause, the Morpheus8V procedure helped her regain intimacy with her husband again. This radiofrequency process uses silicone-coated needles to tighten the soft tissue and stimulate the production of elastin and collagen. It also enhances the appearance of the labia and surrounding areas. "The procedure was such a simple way to address all my issues. I feel young again," Carla says.
She even laughed during her second treatment with Christina; on average, a series of three Morpheus8V treatments is needed to achieve desired results. "Who knew I'd look forward to driving three hours for a vaginal rejuvenation treatment," she said. 
Dr. James Mirabile, a board-certified gynecologist, echoes Christina's enthusiasm for these life-changing treatments. "I've never been so excited about treatment options for women's intimate health," he says. These treatments are all a part of Empower RF from InMode. "Results are incredible with this new platform for both aesthetic and medical conditions. Using advanced bipolar radiofrequency technology," he says, "we can significantly improve the quality of life for so many women."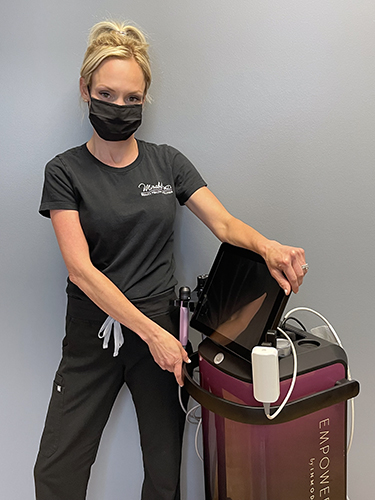 What's more, with so many options, treatments can be combined to achieve the best result. Details about each procedure are available at mirabilemd.com. Patients often start with a consultation with Christina, who describes each technique, how many treatments are needed and what to expect during and after treatment. Then, Dr. Mirabile does an examination to make the final decision on the patient's treatment protocol. 
"It's a team effort," says Christina. "These procedures should only be done under the supervision of a board-certified gynecologist like Dr. Mirabile." 
"I love my job," Christina adds. "It's my honor to help patients get their lives back. They can laugh and exercise without fear of leakage. And physical intimacy can be pleasurable again." 
Dr. Mirabile is also one of only a few physicians in the country who performs Aviva, a non-surgical, scarless labiaplasty to reduce the labia and vulvar tissue with minimum downtime and discomfort. 
To discuss your specific needs, schedule a complimentary consultation at 913.888.7546.
Be sure to check out the upcoming virtual Patient Appreciation Week January 24-28, 2022 for discounts on vaginal rejuvenation treatments and other medical spa services. You'll start the new year looking and feeling your best! Check for details at mirabilemd.com and follow Mirabile M.D. on Facebook and Instagram. 
Mirabile M.D. Beauty, Health & Wellness
4550 W 109th Street, Suite 130, Overland Park, KS 66211
913.888.7546
Mirabile M.D. combines gynecology, hormone therapy for men and women, Medcosmetic medical spa and Medi-Weightloss. Under the ownership of of-site physician, James Mirabile, M.D. we are your one-stop shop for wellness.