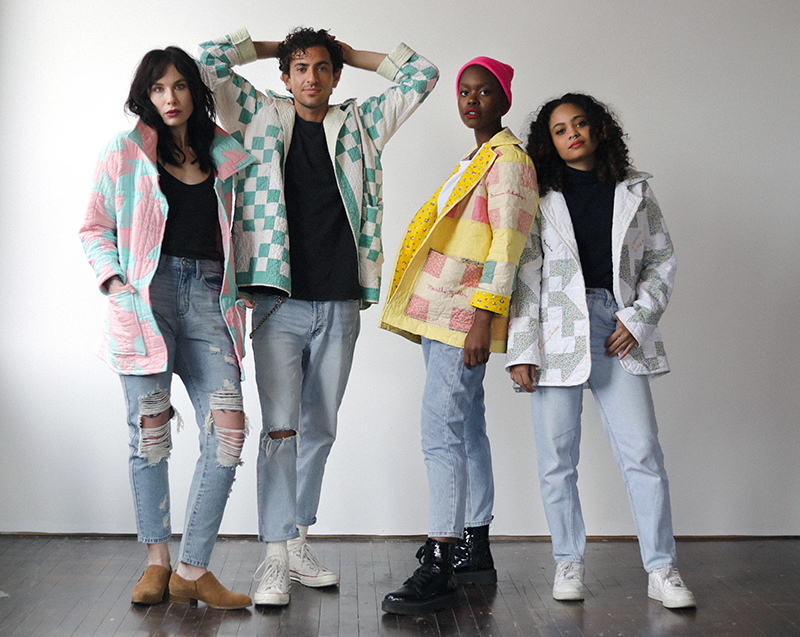 Drive through most suburbs, and you'll see signs dotted along roadways beckoning to the curious—Estate Sale! Thursday through Saturday! Those liquidations of lifetimes have provided Elisabeth Ingraham, a prodigal daughter of Kansas City, with plenty of inspiration and materials for her new design lab, Loon and Co., where she turns vintage quilts into bespoke coats.
The company was born amidst the pandemic but started incubating in Ingraham's 325-square foot apartment in New York a few years ago. After trying her hand at English paper piecing a quilt, she started listening to podcasts on sustainability. Those podcasts piqued her interest in craft traditions, which she says go hand in hand with sustainability. After purchasing a quilt coat, she realized that she wanted to be a part of the trend to repurpose orphan quilts into fresh new garments.
Ingraham moved back to Kansas City and became entrenched with the artistic community, finding a thriving scene that helped foster her dreams of creation. When the pandemic provided more time at home, Ingraham decided to leap.
Now, the design studio is getting attention, popping up at the Strawberry Swing Indie Festival and at Cafe Ca Phe's recent Saturday makers series. Although Ingraham is happy to make custom items from quilts that people bring to her, she also sources quilts from estate sales and thrift stores to hand-stitch boxy chore coats or a longer driving coat. Both styles feature vintage buttons and roomy pockets that make them perfect layering pieces.
While some may shudder at the thought of cutting up vintage quilts, Ingraham says she tries to find quilts that are good candidates for repurposing.
"I try to find quilts that speak to me because I feel like it's easier to create something when I really like the quilt. There are two schools of thought when it comes to these quilts and how to preserve them.  I try to find a balance between cutting something up that's in really great condition and saving them. I don't necessarily cut all the ones that I find. I have a nice collection going of ones that I save," she says.
Those that do meet her scissors become unique garments that tie the past to the present. Ingraham has created coats for women and men across all age groups but says that millennials and Gen Z have been very interested in her designs right now. Through her collaboration with photographer Cassie Taylor, they have created imagery driven by diversity and inclusion that reflects what she sees in the Kansas City community.
"I don't like to lead with sales. It's more about how we can create community. How can we lift people up?" says Ingraham.
Follow Ingraham and Loon and Co. on Instagram.