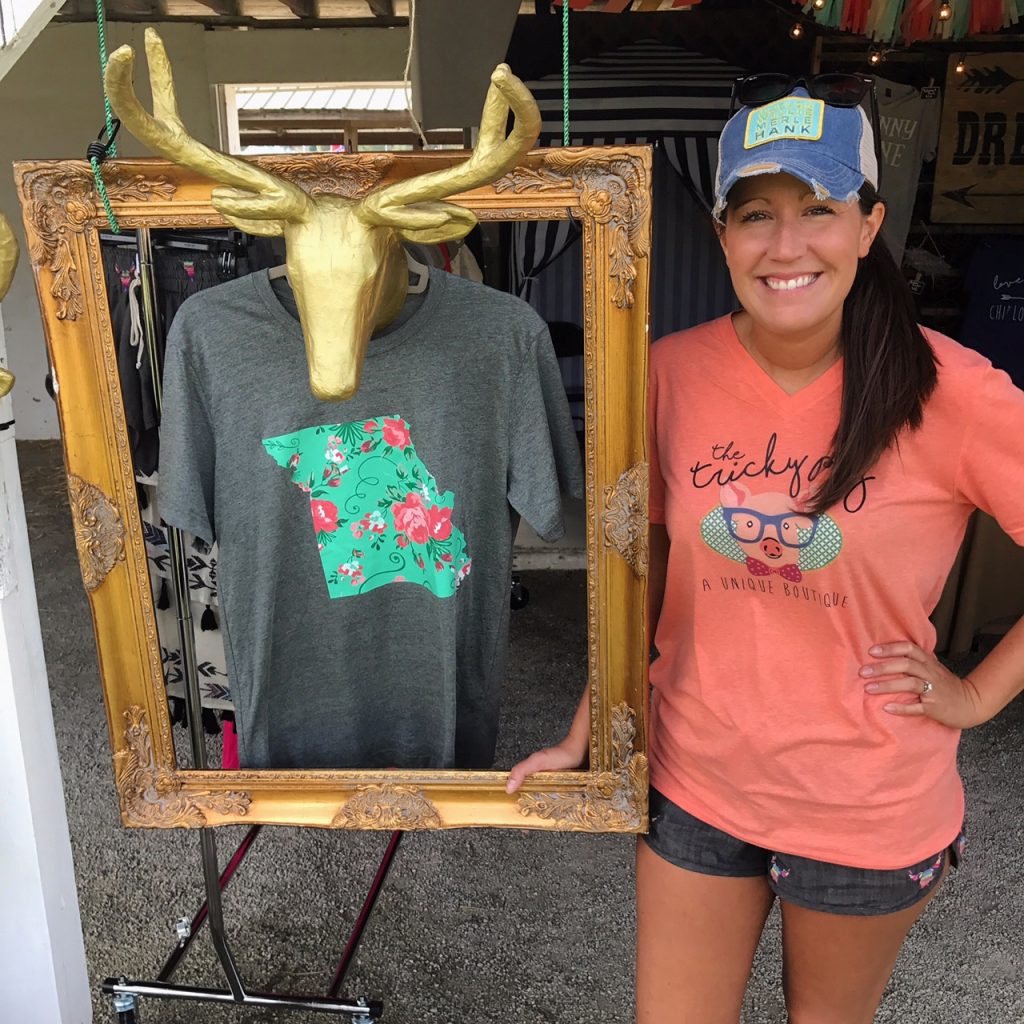 Remember how Clark Kent was a mild-mannered reporter by day and, uh, Superman the rest of the time? Well, meet Ally Cunningham. She's a local, no-nonsense litigator for Lathrop Gage in real life and owns her own online clothing boutique on her downtime. Her superpower? Getting women who consider themselves non-fashion plates to feel comfortable in trendy apparel. "I've always been a boutique shopper. My favorite street is South Congress in Austin—which is lined with boutiques," says Cunningham. "I was going down there and buying all my clothes and I thought why isn't there a store like this in Missouri?"
So, in 2017, Cunningham took a leap of faith and opened a tiny online shop. She called it The Tricky Pig—a quirky ode to her last name. Cunning. Ham. (Get it?) "I just wanted something totally funky and eclectic," says Cunningham.
At first, the site only offered about a dozen pieces—several of which consisted of graphic T-shirts she designed. Did Cunningham have a background in fashion? No. Did she have much experience marketing clothing? Nope. But what she did have was a desire to help women find clothes that were both cute and comfy. So she learned as she went along—you know, when she wasn't busy yelling things like "I object!" and "Sidebar, your honor!"
Turns out her graphic T's were a hit—especially her state pride-centric shirts. "Those became really popular," says Cunningham. "They boomed—so I designed a lot more." Before you could say fashion maven, Cunningham started working with a local screen printer.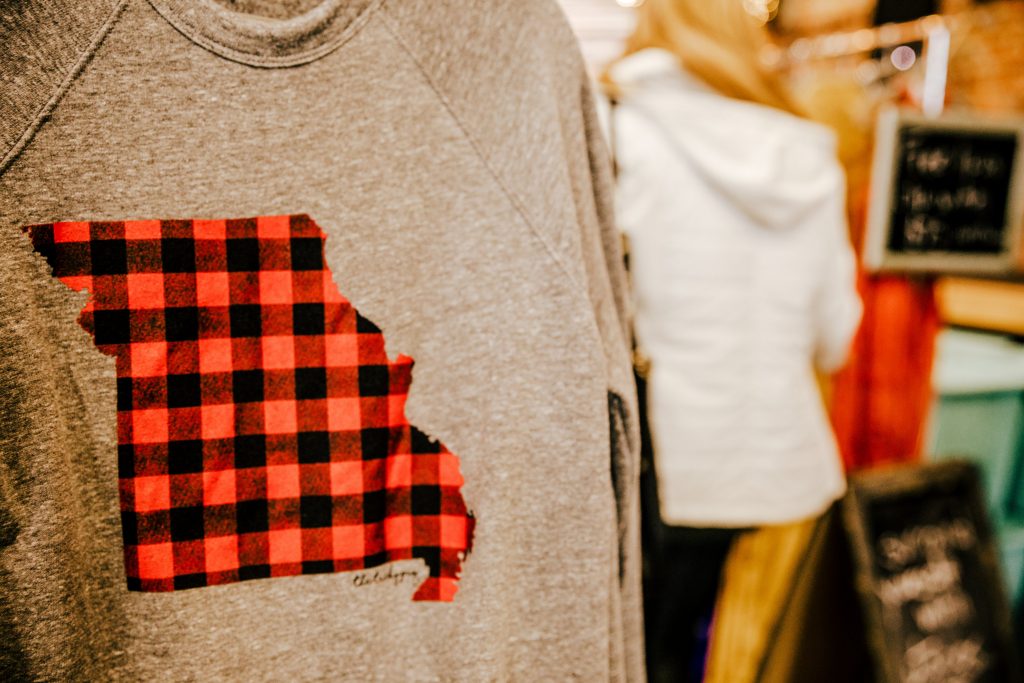 Her first piece remains one of her most popular. Talk about success right out of the gate! "My first design was my 'Buffalo Check' in the shape of Missouri. That's what skyrocketed things," says Cunningham. "That's my piece. You can wear it to your next holiday party. Be different. Be unique. Put it under your cute cardigan."
The self-proclaimed "accidental stylist" says she make T-shirts "out of the things I like." That includes "wine, tacos, my dog, and Chip and Joanna Gaines" among other things. "It's shocking how many people like those same things," says Cunningham. That T-shirt that paid homage to Chip and Joanna Gaines helped put her on the online map. "That T-shirt went viral. In one day, I sold them in 35 different states," says Cunningham.
Now that Cunningham has found her groove, she's carving her own little niche with women eager to unveil their inner fashionistas. "I'm building something. It's like a public service. I've built a little community of women who are honest and supportive," says Cunningham. "We can talk about clothes—or Mexican food, or our dogs. It's a super-fulfilling experience."
Cunningham says she likes being a lawyer—and she's good at it too. Will she ever open up an actual shop? Doubtful. She's having too much fun creating and learning the ins and outs of the biz. When we asked if she would have seen herself selling clothes five years ago, she laughs. "I'm not a really girly-girl. No one I went to school with would have ever predicted I'd be the fashionista of the bunch," says Cunningham. "I like having women feel comfortable in my clothes. I really want women of all shapes and sizes to shop my clothing."

Cunningham also has a sense of humor that comes through in her wares. "I have a shirt that says 'Queso Queen.' One of my friends says, 'That's so you"—and it is," says Cunningham. "If you're going to be a 'Queso Queen,' you might as well own that."
Her line continues to expand. Blouses. Cowboy boots. She's up for throwing stuff against a wall to see what sticks. "Wearing black every day inspired me to create some other more unique pieces. Who wants to wear a suit off the rack every day?" asks Cunningham. "I get a lot of 'I've never seen this before,' or 'this is completely different.' I also get a lot of 'When are you going to open a store front?' The answer is probably never. I love the flexibility of being online."

Besides queso, Cunningham is embracing her alter ego. "I love being a lawyer and I love my practice at Lathrop, but if you told me I would be selling women's clothing on the side, I would have said you're crazy," says Cunningham. "Now that it's off the ground and thriving, people look at it and see the diversity that it brings to my practice."