Who says that style is limited to grownups? There's a new boutique that's serving up pure cuteness for the under two set, with a side of fashion for moms as well. And it's all from one of Kansas City's own, Sydni Russell.
Many may know Russell as the partner of one of the more outspoken Kansas City Chiefs players (his nickname rhymes with moneyradger), but Russell is making waves on her own. Her new children's boutique, Jill Marie Boutique, opened in May at Zona Rosa. Not only is the boutique a welcome addition to the center as a bastion of all things adorable for toddlers, but it is also the first minority-owned establishment there.
Russell first started designing clothing after the birth of her second child, Mila. While her 7-year-old son, Tyrann, had a great role model in his father, Russell wanted to be a role model for her daughter as well. She had an eye for design, and in October of 2020, she took the leap and created the online version of Jill Marie Boutique. After several pop-ups, she took the next step to open a brick-and-mortar storefront.
The line, which includes both girls' and boys' clothing and unisex options, focuses mainly on baby sizes. Still, Russell is currently working on expanding the collection to include toddler and youth sizes and more adult pieces. She also carries several Mommy and Me pieces so that you can match your little in style.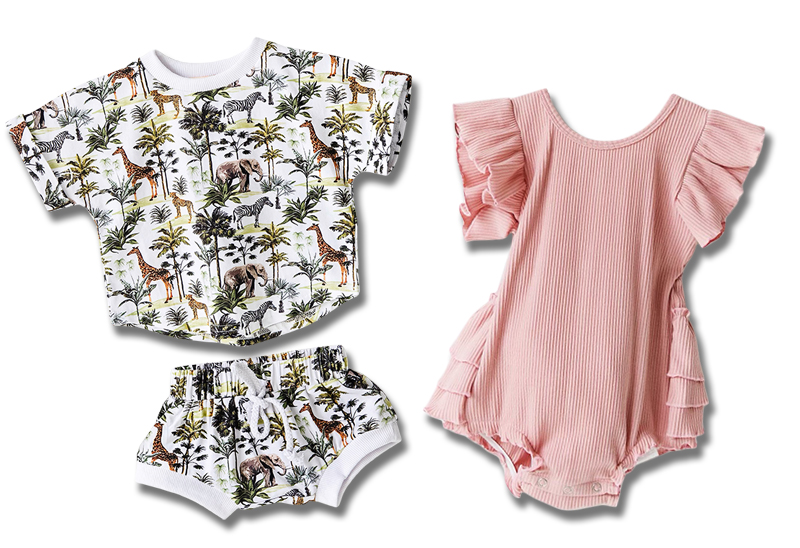 While her bestsellers are her printed T-shirts featuring Kansas City motifs, Russell's fashion aesthetic is decidedly subtle. Demure ruffles line rompers and pastels and neutrals dominate pieces that will look chic by the pool or on a playdate. While the color stories may be toned down compared to the usual bright hues seen on kids' apparel, Russell's pieces are anything but overly precious. These are clothes meant to be lived in.
Since its late May opening, Jill Marie Boutique has seen steady traffic, and Russell is excited to give local parents different options.
"Sometimes you just want your kids to look a little chicer, you know? I just keep thinking, 'what would I want my daughter to wear?' So, if you want to take a cute picture or match your outfit when you're going out, I'm trying to create that option," says Russell.
With an ever-expanding collection, the short set is about to look a bit more stylish.