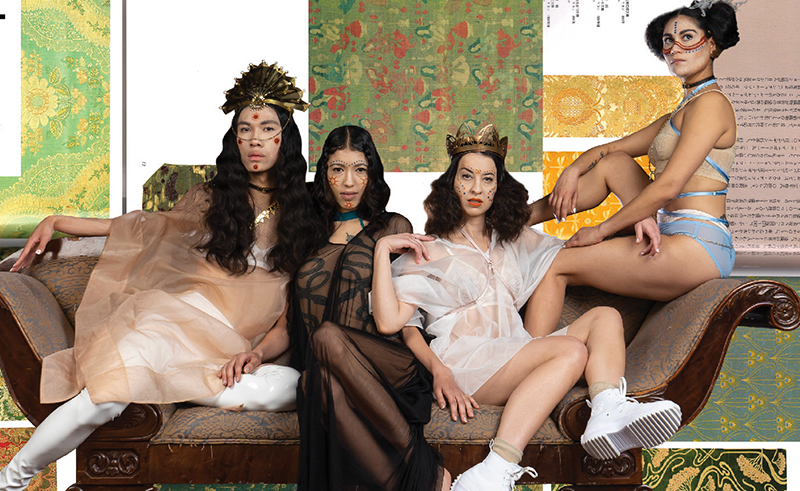 For the last two years, the West 18th Street Fashion Show made pivoting to a pandemic-caused Plan B look easy. But this year we get to welcome back the show's iconic city block runway on June 11 for the 22nd annual show.
"This summer we will be returning to our traditional runway with Summer Colosseum and reformatting our seating into an arena with the use of rented bleachers, overhead flags, and high school marching bands," says Peregrine Honig, senior artistic director. "Our goal is to create an unforgettable event, and our mission is for everyone to feel included in an exclusive field."
This year's show includes looks from nine designers who have each put together five ensembles to reveal on the 100-foot runway.
IN Kansas City recently caught up with two of the featured designers for a sneak peek at this year's runway.
Minc Mason of 3Minc
Ask Minc Mason what sparked his interest in fashion design, and you'll get an unexpected answer. 
"I played competitive high school basketball, and I actually had a class that I didn't go to—it was a costume design class," says Mason, who attended the Paseo Academy of Fine and Performing Arts. "I ended up having to go to the class because one day my coach got mad at me for skipping it. I went to this class and there were, like, 30 girls in there and they were sewing a purse. I was like, 'I'm not sewing no purse.' So, I started making a pair of pants, and I finished before the girls finished their purse. I went from skipping the class to spending all my days in that class and realizing that's what I wanted to do."
Fast forward to now and Mason is designing a bit of everything from men's and women's clothing to—you guessed it—purses, accessories, furniture, and more under his label 3Minc.
"My best thing is my versatility," he says, adding that sometimes people doubt his ability because he's a straight, Black man and doesn't look like a "typical" fashion designer. "People will say, 'but you've never done this.' and I'll respond with, 'let me try it.' And they'll be like, 'man it looks like you've done this a thousand times.' Once you learn the basic skills, you can do anything."
Mason has been working on his lineup for the fashion show over the last few months, and this is his third year participating.
"I'm going along with the Colosseum theme, so my thing is basically the governors that come to the game—not the ones playing in athletic gear, but the ones who come to make sure the game is being played properly," Mason says. "With all my pieces I'm mixing them with a bag that has a New World sports style—so a bag that is half a football or soccer ball and half a normal bag. So, it's New World sports with Old World flavor. I'm using colors like black, red, gold, some obsidian blue."
Faye Woods, Red Hare Leather
Kansas City native Faye Woods's fashion industry experience started five years ago on a trip to Brooklyn, New York.
"I was on vacation, and I wanted to buy this $50 key chain," says Woods. "So, I took a bunch of photos, and I came home and made it instead of buying it. I loved the process, so I made another keychain and then another, and then I started thinking about wallets and bags and that led to apparel wear."
Soon, Red Hare Leather was born, and Woods started designing harnesses that will be the focal point of their designs in the West 18th Street Fashion Show.
"This year's theme is Summer Colosseum which, to me, lends deeply to leather. For the last two years, I've been working harder at making more harnesses and wearable items," Woods says. "So, I created a portfolio, took a chance and applied, and this will be my first fashion show."
Woods estimates they've spent 20-40 hours on each of the five styles they're putting together for the runway. 
"My whole theme is wrapped around sexy, modern-day, kink wear—harnesses and things that you can apply to the modern gender warrior," says Woods. "I'm a non-binary human being and I wanted all my models to float the androgenous line. Gender expression is wild and fluid and ever-changing, and we're just sexy and strong in our strapped-up gear and ready for battle."
Over the last few months, Woods has put in the time to make sure each leather piece fits exactly to the model—and each model had the opportunity to dictate the colors and pieces they're wearing on the runway.
"This is a big, glitzy, fashion show, and I really want to highlight that. So, that's been my big focus over the last couple of weeks to make it as intricate and funky as possible," says Woods. "It's made me excited to see people believe in what I'm doing and want it and desire it. It's made me feel like I can push myself into the garments and wearable side of leather working."