Sponsored content:
Ultherapy® is the only FDA-cleared, non-invasive procedure to lift skin from brow to bust and Mirabile M.D. is the area's only Ultherapy Center of Excellence
The adage "A lady never tells her age" is no longer valid, thanks to celebrities like Christie Brinkley, who is proud to announce she's 65. Who can blame her? This super-model is as stunning and youthful as ever.
In fact, Christie calls Ultherapy® her "fountain of youth," and says she wanted an anti-aging treatment to address lax skin that wouldn't make her look overdone or fake.
James Mirabile, M.D., FACOG, founder and on-site medical director of Mirabile M.D. Beauty, Health & Wellness, says that goal—a youthful, natural look—is a primary reason people often choose Ultherapy over more invasive treatments like surgical face lifts or neck lifts.
"Ultherapy can lift and tighten the skin around eyebrows, chin, neck and décolleté without the pain, cost and downtime associated with invasive surgery," Dr. Mirabile says. "We're known for offering our patients many proven ways to look like themselves, only better. Ultherapy is definitely one of our most popular tools; so much so, that we've added a second Ultherapy unit to keep up with demand."
How does Ultherapy work to lift and tighten skin?
Ultherapy uses the power of ultrasound to stimulate the production of new collagen to not just lift skin, but to also tighten it over time. In fact, many patients see some immediate results, but this age-blasting treatment continues working with the maximum "Wow!" transformation appearing in two or three months and in some cases continued improvement up to six months post treatment.
Using ultrasound imaging, our Mirabile M.D. MedCosmetic nurses and aestheticians can actually see the layers of tissue targeted during the treatment to ensure the ultrasound energy is deposited precisely where and at what depth it will be most beneficial. This energy triggers a thermal response under the skin, jumpstarting the regenerative process that produces fresh, new collagen.
Areas around the eyes are lifted, jaw lines become more defined and that dreaded turkey neck is banished. All without disturbing the surface of the skin, so there's no downtime, making Ultherapy an ideal rejuvenating procedure for busy men and women.
No needles, no lasers, no downtime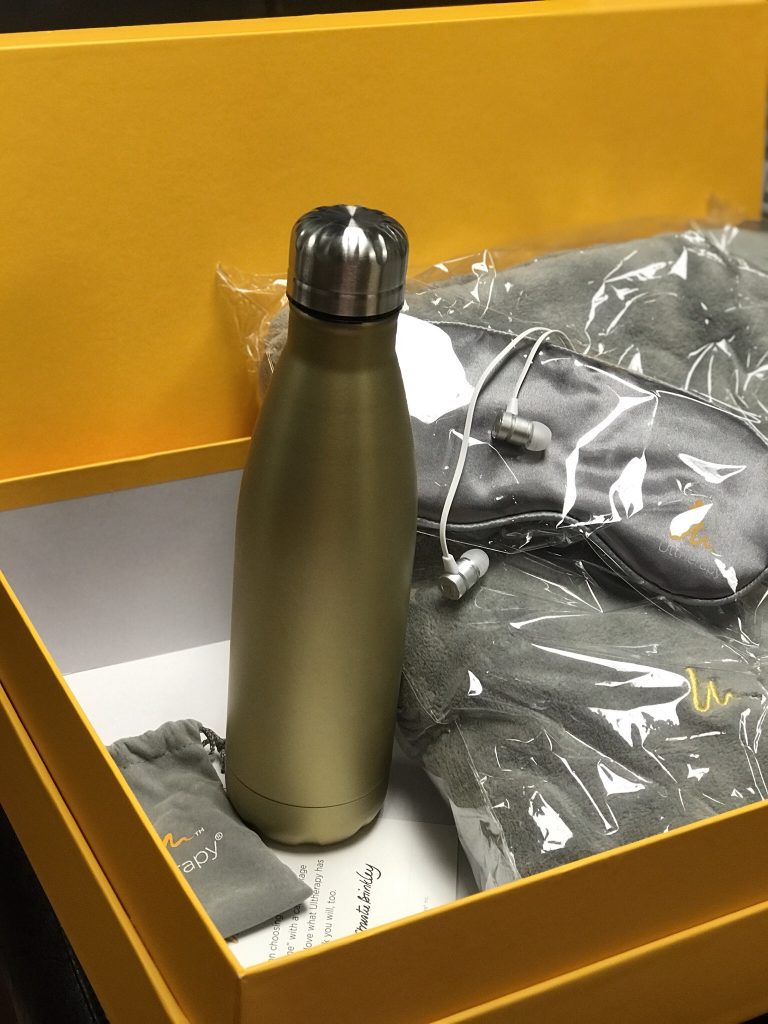 Ultherapy is a simple in-office procedure with no needles or injections.
And while most patients find the treatment tolerable, each person's pain threshold is different. The Mirabile M.D. team can use skin numbing solutions or pain medication beforehand. One of the more popular pain management options is Pro-Nox. This patient-controlled inhaled analgesia system delivers a 50% oxygen and 50% nitrous oxide mixture for the relief of pain and anxiety. Having pain management options is one of many reasons to choose a medical spa with a physician on site.
Another reason to choose Mirabile M.D. is the skill and experience of its highly trained team. It is an Ultherapy Ultra Provider and the area's only Ultherapy Center of Excellence.
Look 5, 10 or more years younger!
Listen to what Marla, one of Mirabile M.D.'s actual patients, has to say about the positive impact Ultherapy had on her appearance.
"I was pleased with how my lower face and neck looked after having Ultherapy done eight months ago," she says. "Then I happened to see a photo on Facebook from ten years ago and realized I look better today!"
"Marla's story is typical," says Dr. Mirabile. "Patients tell us they look years or even decades younger after this procedure."
Who is the ideal Ultherapy patient?
"We've treated women in their 50s and 60s for whom surgery is not an option for whatever reason," says Dr. Mirabile. "They've read about how Ultherapy has worked for celebrities like Christie Brinkley and Jennifer Aniston and have noted the many awards it's received from Allure and NewBeauty magazines.
Dr. Mirabile notes that a growing number of younger patients, both women and men, choose Ultherapy as a prevention treatment.
"They simply want to stay ahead of the game to look their best now and into the future, he says."
Enjoy discounts and deluxe gifts!
Join us on June 13 for a party to celebrate Christie Brinkley's birthday—and you get the gifts! Schedule a complimentary consultation with a national Ultherapy representative and see how you'll look after treatment using a digital visualizer. Purchase a treatment and you'll receive 20% off. Plus, if you purchase a full-face treatment you'll also receive a special Ultherapy Gift Box filled with a luxury robe, sleeping mask and other items. Call 913.888.7546 now—space is limited for this exclusive event.
*Event-day consultations are limited; must call to reserve your spot. Discount and Gift Box offer valid day of event only and cannot be combined with other discounts. Discounted service purchased the day of the event must be received by 12/31/19.
For more information and to schedule your FREE consultation:
Mirabile M.D. Beauty, Health & Wellness
4550 W. 109thStreet (I-435 & Roe)
Overland Park, Kansas
913-888-7546
mirabilemd.com