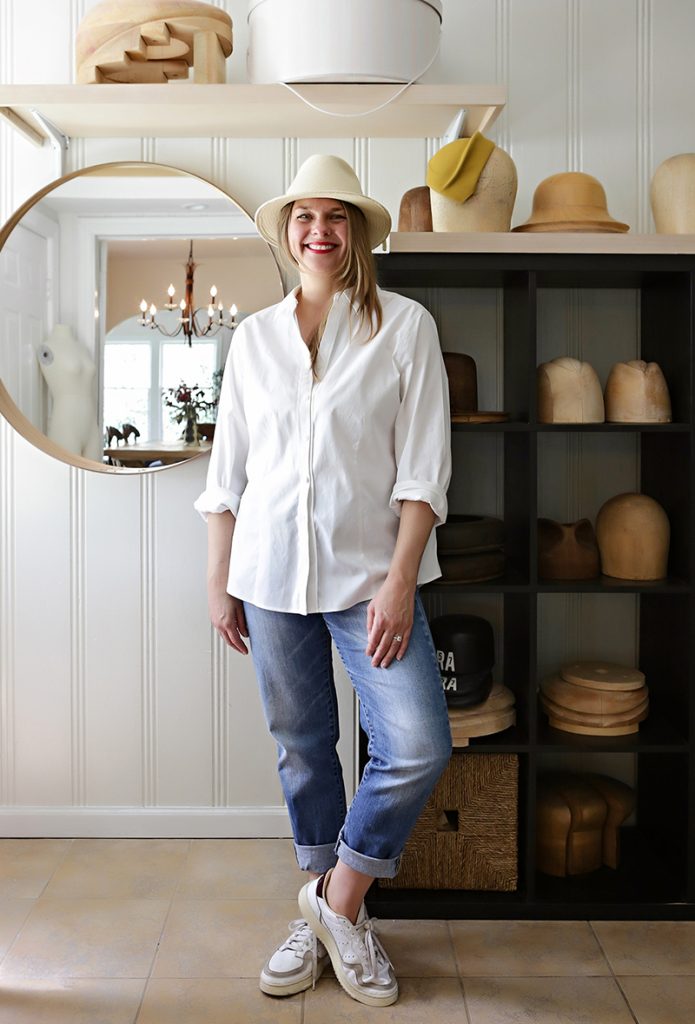 The Women in Business series is presented by UMB Women and Wealth
Couture hat designer Amina Hood will be the first to tell you she's a relatively easy-going creative, until the Kentucky Derby rolls around, that is. The threat of rain always stresses her out. "One year—at the height of making Derby hats—I was making 30-something hats," she says. "It was pouring that day—and that always gives me anxiety."
Dampened spirits notwithstanding, Hood has found success—and international acclaim—while building her homegrown millinery empire from the ground up. While her background was founded in luxury retail, the mom of three says she embarked upon designing hats purely by happenstance in 2013. "I had a friend who asked me to make her a hat and I started fiddling," she says. "For the first couple of years, I literally called it 'my fictitious millinery company'—just kind of playing around."
In 2015, while Hood was still honing her skillset, she entered a contest sponsored by renowned London haberdasher, Lock & Co. Hatters. "They invented the bowler hat!" she explains. Hood's felt hat design propelled her into the finals—"one of nine in the world," she says. 
Up until that point, Hood—who jokes the irony of her last name is not lost on her—was self-taught. She then decided to study the fine art of millinery in New York. "Before that I was kind of figuring it out on my own," she says. "I didn't have a foundation." 
Word about Hood's fledgling designs took off from there. "Everything has happened naturally, organically—it happened when I was ready," she says. She describes her luxe wears as sculptural. "They're very clean, minimalistic. Timeless with a slight edge," she says. "And when I say couture, I mean, I hand-sew everything," and with half a beat adds, "In my pajamas. I don't even own a sewing machine."
Her business, she says, is ever-evolving—including a newly revamped website. She says last year's pandemic gave her a chance to focus on expansion plans for 2021 and beyond. "2020 was rough," she says. "My business is fueled by events and by people traveling, so I decided to take it in stride and work on PR and on my commercial line. It's paid off." Hood says she's now in talks for an upcoming partnership. 
Hood's unique craftsmanship has been featured in countless publications—including Vogue. And her work has also been showcased in New York's Museum of Modern Art. "Most recently I was in USA Today for one of my derby hats," she says. 
When we asked if she has a hard time letting go of her creations, she laughed. "I think of them all as my babies," she says. "The only way I can literally let them go is to think of them going on adventures." Hood also "adores vintage hats. I see an old hat and I think of all the journeys it's been on—and all the heads it's adorned." 
When it comes to espousing about the fine art of making hats, Hood could talk all day. She gives educational talks on millinery to colleges and women's groups. "I talk to them about the process, the materials, and collaborating with artists," she says. But half the battle is getting people familiar with the term millinery. She relays a funny story: "Originally, I was Amina Marie Millinery. I rebranded in 2019 because nobody could spell it," she says. "They thought my last name was Millinery. People would say, 'I haven't heard that last name before.'"
For Hood, the only thing that's proved elusive is seeing her hats on the heads of celebrities. "Hats on celebs—now that should be a goal for 2021," she quips. She says she's also well aware her creations elicit happiness. "Hats are joyful, and we need a little joy right now. We're all so serious sometimes," she says. "You can conquer the world when you wear a hat."
"KC has been a great place to grow an artisan business," says the Shawnee Mission East alum. "Everyone has been incredibly supportive of me through the years."