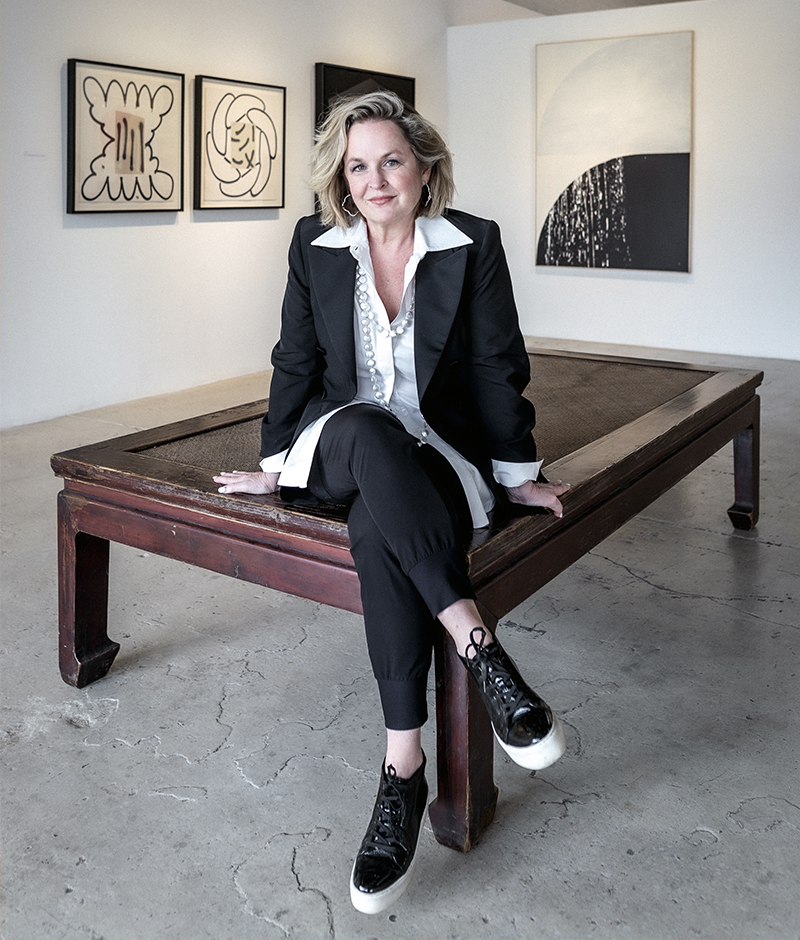 Arts curator. Advisor. Restaurateur. Real estate agent. Magazine stylist. Textile company manager. Breast cancer survivor. While most of those titles don't seem to correlate, they all have one thing in common: Kim Weinberger of Weinberger Fine Art.
"When I tell people everything I've done, people look at me like I'm crazy," says Weinberger. "They say, 'you've done everything,' but everything I have done, I have done well, and I didn't do it for just a minute—I'm old enough to have all of those things under my belt."
Weinberger grew up in Wyandotte County in the '70s, but she spent many of her formative years traveling the world—often in Europe. She lived in Rome for a few years studying art, language, and history before moving to New York City. In New York, Weinberger worked for Yves Saint Laurent, managed a textile company, and styled shoots for magazines like Architectural Digest and Food & Wine.
She returned to Kansas City in 1991 after she and her husband had their first child—but Weinberger didn't stop there. Far from it. Until opening Weinberger Fine Art in 2008, she helped launch the French restaurant Café Provence, dabbled in Kansas City real estate, and worked with Sandy Kemper on the fine-art fund, The Collectors Fund.
When the market crashed during the recession, Weinberger dove deep in thought to decide what she wanted to do with her long-term future, and she landed on opening an art gallery.
"I looked at the different art galleries in the city to see what they had to offer, and how I could be different," says Weinberger. "The one thing that stood out the most is that galleries represent only their artists, so I knew my inventory would be all about who I felt were the right artists for the demographics of Kansas City."
Weinberger also set out to stand apart by offering a space everyone in the community would feel comfortable in.
"That was really important to me," says Weinberger. "When you walk in you don't feel like your tippy-toeing or that everybody is looking at you. We always have light music going in the gallery, and we treat everybody with love and respect, so they walk in the gallery and feel welcome."
To get the gallery off the ground, Weinberger sold off a few diamond tennis bracelets and secured a couple of early investors. From there everything grew rather quickly. A decade later, Weinberger has helped thousands of individuals and local businesses build art collections that will leave her legacy written all over Kansas City.
From collections at private homes to KU Medical Center, University Health, One Light luxury apartments, and more, it's likely most Kansas Citians have admired works Weinberger selected.
What's the secret to her success? Joy.
"Joy is really important to me," says Weinberger. "I'm at a time in my life as a woman who has been through stage four breast cancer and did all of this while facing that. It made me a stronger, better person who appreciates the simple things: the beauty of what I built, the beauty of artists I represent, and even the beauty of being woken up by a client the morning after a sale."
A few years back, Weinberger's heart jumped when she awoke to a phone call from a frequent client. Her first thought was that something had gone wrong after a recent big sale, but she was pleasantly surprised.
"She called and said, 'I can't stop looking at the pieces—I just can't. I woke up early and put on my coffee. I sat in my chair, and I just sat there and stared at it. It's just changed me forever.' That's it for me," says Weinberger. "That satisfaction is huge."
Moments like that, plus the joy Weinberger gets mentoring clients, staff, and fellow members of the Kansas City arts community are the best parts of her role. Weinberger sees herself as a leader who's not intimidating, but someone to learn from. She learns from her mentees too—especially fellow women business leaders.
"I like to be around other women, to be strengthened and empowered by them and their wisdom," says Weinberger. "Now, I feel like it's my turn to give back. I surround myself with people who are just as smart (or smarter than me in different ways), so I can mentor them, and in some cases, they're also mentoring me back—and that's something so many women in Kansas City have to offer."