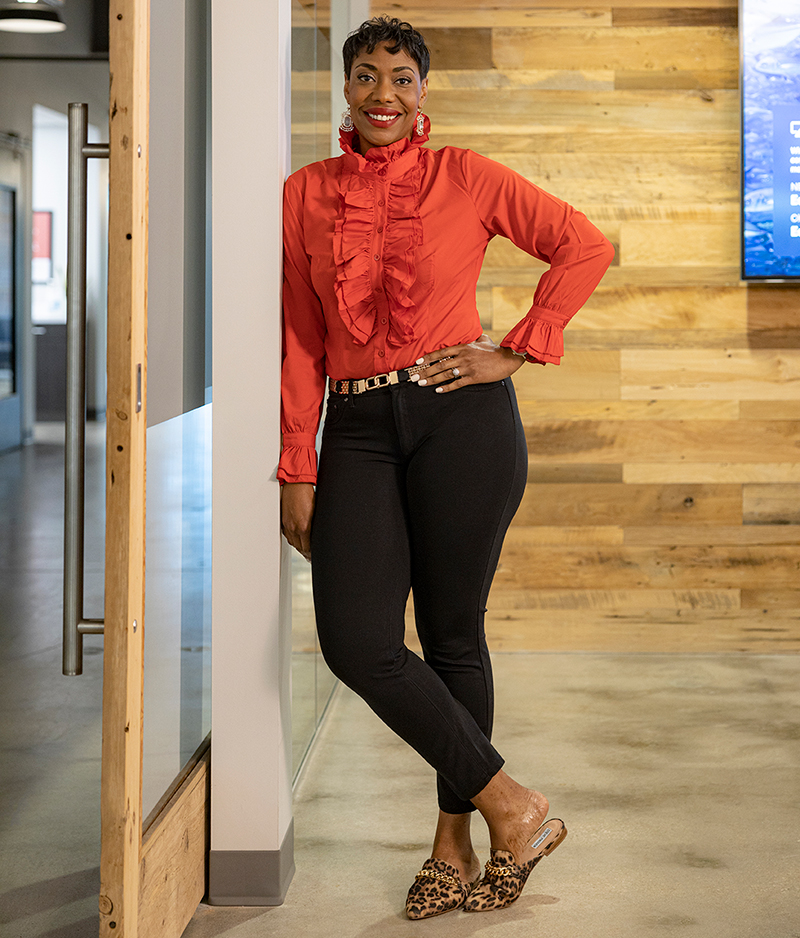 The Women in Business series is presented by UMB Women and Wealth
Jy Maze's rise in the supply-chain business began over a decade ago. "I started in transportation from the ground up—working in customer service," she says. "I didn't know about freight, about trade, so I started working for an award-winning brokerage company, and I soaked it all up. I was amazed how the supply chain works and how this industry runs the whole world."
Maze didn't just immerse herself in the field, she dove in head first—listening to podcasts, reading articles, and studying the nuances of the supply-chain industry. "I learned all that I could," she says matter-of-factly. From the minute she hit the male-dominated sales floor, Maze found her niche.
Accolades and a top-tier salesperson status soon followed, but Maze knew she wanted to share her successes with her minority and female peers. "I'm not going to lie, I made a lot of money in brokerage sales and I felt like if it changed my life, it could change the lives of so many people who have no idea this industry exists."
In 2017, Maze—on a wing and countless prayers—opened her own company, Maze Freight Solutions, with her husband, Gerald Maze. "I wanted to change the face of supply chain. It's a white, male-dominated field. Some women break in, but they're in trucking—not logistics and supply chain. I wanted to make it better," she says. The couple drained their respective 401k's—"to the penny," Maze says with a laugh—and opened up shop in the attic of their home. Within a year the upstart business cleared $350,000.
Being the new kid on the proverbial supply-chain block wasn't without its challenges. "I could tell you the stories of people who scammed me. They know you're new, so the sharks come after you, but I weathered all that," she says. Maze says in the midst of all this, a fire at the couple's house nearly took them out of commission. "Thank God it didn't burn the entire house down," she says. Maze found a bit of divine intervention after moving into her first office space. Her neighbor was Tim Barton, the owner of Freight Quote. "I was able to pick the mind of the genius who started Freight Quote. I asked all the questions I could possibly ask," she says. "Every step of the way, God had always put someone in my life to map me and guide me where to go. It was amazing."
With her newfound acumen, business prospered—and then some. And then Covid hit.
"Three years in, Covid came and punched us in the face," says the Wyandotte County native. "But after the shutdown, businesses had to pick back up, and things had to keep shipping. So, during the pandemic we made double what we did in 2019."
Maze, who grew up in a religious home, says her ability to weather any storm is a testament to her parents—and their respective entrepreneurial spirit. "I grew up with a blind father who shaped me to where I am today. I watched him though his disability provide for us," she says. As a preacher's kid, she gleaned her savvy business mentality from her folks. "I got my spark from them. They taught my brother and me entrepreneurship, leadership, how to build wealth," she says.
God willing, 2021 is shaping up to be Maze Freight Solutions' best year yet. "We're booming. We're bringing on new agents, creating new jobs, bring on new brokers," says the president and CEO. Her tenacity is unwavering—another testament to her late father. "It's what shaped where I am today," she says. "I don't let anything stop me. If it's in my way, I walk over it and keep going."
Meanwhile, Maze is still learning everything she can about the industry—and imparting that wisdom to her new team members. "We are now venturing into moving freight on the ocean. It's a new lightbulb moment for me," she says. The mom of two adds that she and her husband also puts their efforts and energies into their organization, The Maze Foundation. "Our passion is looking out for kids in orphanages," she says. "Our mission is to create a better life for orphans than what they had—and create a guidance map for them to be upstanding citizens."
Recently Maze was selected for Forbes magazine inaugural 2021 Next 1000 List. If anything, Maze knows she's opening a whole new world for people interested in this field. "I am paying it forward. This is an industry that will never die," she says. "Agents who come work for us learn so much—and they become their own boss. Once they start in freight and learn about supply chain, they will never be jobless again in their lives. And that's what we want our agents to know, they have security. And, for our customers, whatever their shipping needs are, we'll find the correct transportation mode for them and ensure it moves efficiently."