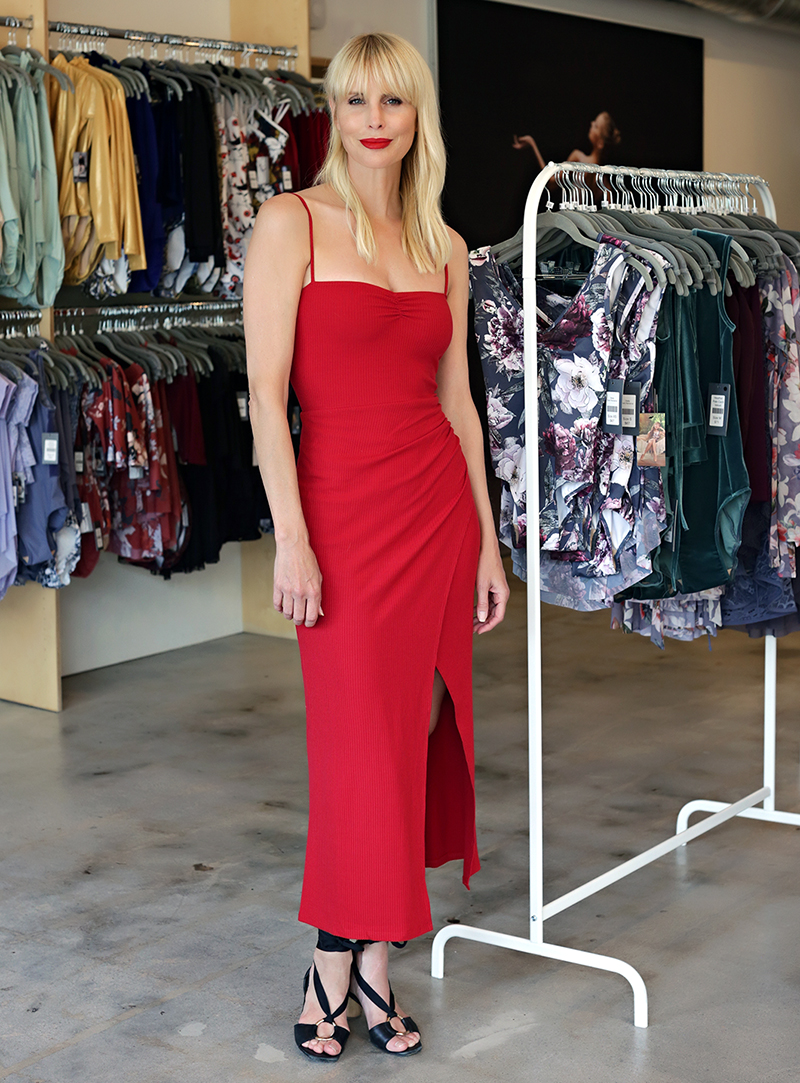 The Women in Business series is presented by UMB Women and Wealth
After training throughout her teens, Lisa Choules began dancing professionally when she was 18 years old. She dabbled briefly as a model and even moved to Italy before returning to her love of ballet. Early in her career, Choules had two daughters, only 11 months apart. "I was 27 and going back to dancing was not much of a thing back then," she says. "Most dancers who had babies just retired. But I thought I wanted to try it."
Eager to work for a larger ballet company, her next act brought her to Kansas City where she danced with The Kansas City Ballet for nearly a decade. It was during that time Choules discovered a talent for designing dancewear, partly for fun and partly out of necessity. "After my kids were born, I started making my own dancewear. I couldn't find anything that fit me—with my changing body," she says. Colleagues admired her handiwork and requested Choules make pieces for them. Before long, Choules had a side hustle that would turn into a small cottage industry. She continued honing her design craft, eventually moving on to creating costumes for other dance troupes. "When I retired from dancing in 2009—it's such a long career from 18 to 37—I thought, what do I do? Do I want to go into costuming, start my own dancewear brand?" she asks. 
After taking some design and branding classes in New York City, she determined her next step. "I loved school, but I was a single parent—with two children, three dogs, and I owned a house in Kansas City," she says. "And I thought moving to New York City wasn't going to be the life I wanted, so I started my own dancewear company in the basement of my home in 2010."
Choules says Elevé Dancewear took time to find its footing, but once she launched her website, custom orders started coming in. "We were doing pretty well right off the bat," she says. An early assist also came from Choules's colleagues—dancers who began selling her wares, which helped create buzz for the line. 
At first, pieces were all customized. "We created a fabrics-options page where dancers could pick their own fabrics from styles I had designed," she says. "Maybe they wanted a red leotard with black sleeves or white trim—or they could pick one of our beautiful prints. It was fun for the customer. And we still have a custom section on our website."
Six years ago, the company branched out to a more expansive ready-to-wear line. "I just want to create and design," she says. "I'm really happy when people like my product. I want to look at what can I do next, or what can we do to make this even better? How can we make dancewear more fashionable and not the same as everyone else?"
Over time, Elevé Dancewear has seen quite a style evolution, and Choules gives all the glory to her team of designers and sewers. "Now that we're 11 years old, it's fun to see the difference of the beginning versus now.  I couldn't do this without all my employees. They're pushing us to elevate and be better and make our products the high-end [garments] I want them to be."
Known for its festive prints and original styles, the company's growth continues after a middling 2020. "The pandemic was a year of creativity, coming up with different things, thinking out of the box," says Choules. "And how can we feature dancers who are at home?" Choules adds that when the dance world started streaming online performances, Elevé featured performers on its website's blog as well. The company also pivoted to sewing masks. "We donated a lot of money to dance organizations with our mask fund," she says. "It was about digging deep and being creative."
Elevé Dancewear's team checks every single piece before it goes out to clients. It's a nod to Choules's long-term, loyal customers. "I don't do things the cheap way," she says. "I want to have control over the product, the manufacturing, and the end result. We check everything and make sure it's sewn correctly."
With nearly 80 percent of manufacturing duties being handled here in the metro, Elevé's reach goes far outside the U.S. "Australia, Japan, and Canada buy a lot from us," she notes.  "The U.K. was also amazing, but Brexit has been a big hiccup." 
Looking forward, Choules says she's been on the hunt for a NY-based storefront, which she hopes to open in the spring of 2022. For now, she's optimistic. "That's one of my big goals: to have a store in New York where dancers from all over the world can shop," she says. "We're just waiting for dance and Broadway to come back."
 Fingers and (pointed) toes crossed.