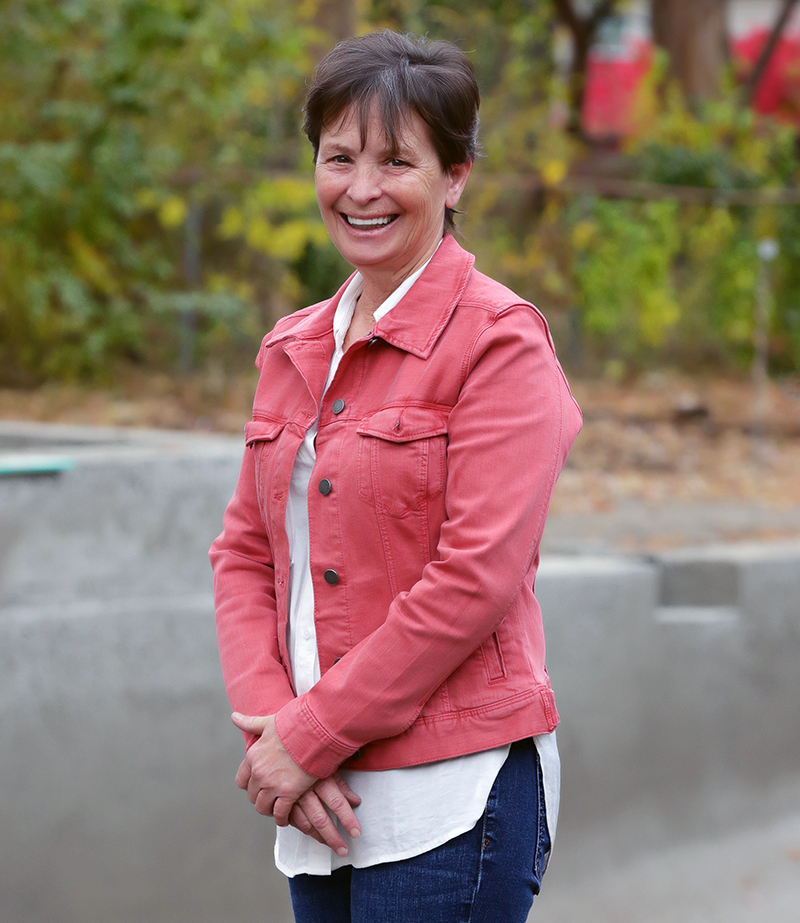 The Women in Business series is presented by UMB Women and Wealth
Growing up on the East Coast with a fine arts degree from Virginia Commonwealth University, Debra Hudacek might not have originally envisioned a career in the construction industry—but she soon discovered she was surprisingly well prepared. "My father was a new-home builder. He would take my brother and me with him on Saturday mornings while he met with subcontractors," Hudacek recalls. "I was a little kid, 6 or 7. I loved those mornings and I guess I loved seeing the process. My dad died when I was 8, but what I saw so early in my life stuck with me. Sixteen years later, I bought my first old house to remodel and put back on the market.
Hudacek came to Kansas City in 1982. "I was lured by the season tickets to Chiefs games," she confesses, but soon found another long-lasting love—vintage homes. "I wanted to live in the heart of the city which meant an older home that needed some love. That led to more homes here, all needing love." She founded D. P. Hudacek Contracting in 1988 and hasn't looked back.
Now she does most of her construction/remodeling work in Leawood, Prairie Village, and Mission Hills. "We have so many incredible homes in this area with homeowners who are proud of their homes and proud of their neighborhoods. If you love remodeling and rebuilding, this area is a unique place to live and work. I can't imagine many other places like Kansas City—great home values and wonderful neighborhoods."
Hudacek credits her success and longevity, in part, to caring about her clients. "My goal has always been to give my clients more than they pay for," she says. "We then follow up long after the last check is cashed." 
Yet as a woman in the home building and remodeling arena, Hudacek believes she has several advantages. "I'm not sure being a woman determines whether you have return clients and referrals. I believe it has more to do with developing relationships, building trust, and caring that the client gets as close to their dream project as possible."
Seeing the bigger picture also helps. "I have lived all the life stages, so I look to the current needs, but also long-term needs," she says. Her creative imagination is also a plus. Hudacek sees "a space as it is and as it could be, which has possibly set me apart," she adds. "It is more the art of the project than just the building process alone. That said, construction is still very much a man's world. It takes a bit of self-confidence to work with teams that are all men. I learned the hard way, made mistakes and tried to learn from them." And she got her hands dirty. "After a while, my male subcontractors figured out maybe I knew a little something," she says with a chuckle. "I am also lucky enough to have one of the best, if not the best, on-site supervisors in Kansas City, Jeff Admins."
Building or remodeling a house is like working a puzzle for Hudacek. "Underneath the wallpaper and the pretty cabinets is the real house. Building them, remodeling them, taking them apart and putting back better is so much more fun than just the finished project," she says. 
Hudacek measures her success in several ways. "Hanging in there when the market has its ups and downs and keeping my staff employed," is a big one, she says. "Home construction is a service industry. People need us to help them manage and maintain their homes. This can be a life-long career that pays well for skilled personnel. Every day is different with a unique set of goals. It is also an industry that can provide and encourage training on the job and education."
Running a close second as a measure of success is developing relationships based on trust. "This has led to many repeat clients and clients I consider friends," she says. Finally, and the icing on the cake, is her need to be proud of the finished project and have clients who are happy with their homes.
To women planning their entrepreneurial careers, Hudacek urges them to take a long rather than a short-term view. "Go into a field that challenges you and that you love," she advises. "Having your own business is a lot of work, often seven days a week. Don't be intimidated by what the field is now, but imagine how it is going to change. Medicine, banking, engineering, architecture, construction—they were all considered professions for men in the past. Be brave."