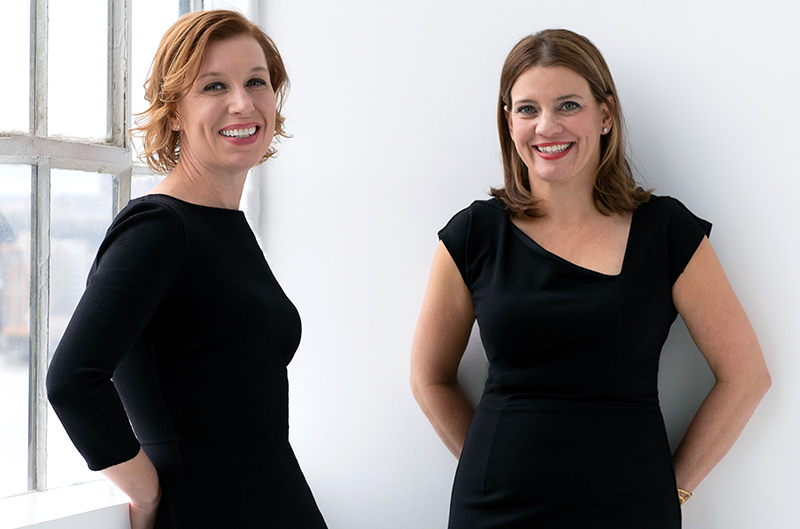 The Women in Business series is presented by UMB Women and Wealth
Fifteen years ago, artist Kelly Porter and designer Bridgett Cochran launched Porter Teleo. The company's stunningly detailed hand-painted wallcoverings and fabrics are "a uniquely beautiful product that is inherently different from anything else out there," says Porter.
What started as a labor of love has blossomed. The duo's exquisite products are now "sold world-wide to top designers and architects," says Porter. The women-owned, women-operated company—a creative vision of the two owners—proudly manufactures their handmade goods in the USA and exports to more than 15 different countries.
One look and it's easy to see how their product is unique. "Kelly and I created Porter Teleo from nothing," says Cochran. "We have consistently relied on our combined instincts to grow our company into a nationally recognized brand in a highly competitive industry. We are fiercely dedicated to authenticity in our work and in the processes by which we create, and equally dedicated to maintaining a work environment that embraces humanity and balance for all of our employees."
The two entrepreneurs have always bucked typical retail strategies and tactics. Instead, they've tried a same planet, different world approach. "We try to add designs that are truly breaking new ground and offering something different and needed in the world," says Porter. "We're not looking at what sells well—but rather what we are inspired by from our own individual sources, much like how art or music is created." (And yes, if you're wondering, their list of celebrity clients is long. The roster includes Gwen Stefani, Cameron Diaz, Reese Witherspoon, Kaley Cuoco, and Ryan Seacrest, just to name a few. "There are some who are so amazing we had to sign non-disclosures and we simply cannot tell," says Porter with a smile.)
While Cochran's background is interior design, her savvy business skills helped with logistics early on. Porter, meanwhile, has honed her artistic talent. "My paintings are abstractions of life at the cellular level, as well as botanical life," she says. "Fine art has a very natural and symbiotic relationship with surface design—so the dive into designing wallcoverings was very natural."
Girl power rules the roost at Porter Teleo. "Kelly and I run a business with 99 percent female employees at various stages of life," says Cochran. "It is an incredibly supportive environment, with each of us learning from the other. It's one I am very proud of being a part of creating." Both Cochran and Porter have a long list of women who have inspired them both personally and professionally. It runs the gamut from Cochran's beloved mom to Coco Chanel.
Porter names several more, including the artists George O'Keeffe and Helen Frankenthaler. "Any woman who is brave enough to go against the grain and resilient enough to endure suffering but come out of it by making the world a better place—these women are my heroes," she says.
Team Porter Teleo is glad to have 2020 in their respective rearview mirrors. Both women are looking forward to 2021's hopeful, not-so-wonky retail landscape. The duo made massive (and risky) changes in marketing and sales efforts last year. It paid off as Porter Teleo managed to grow 30 percent last year even with a two-month pandemic shutdown. "Last year holds some of our very best and also most challenging times as a company," says Cochran. "I can honestly say that 2020 made us a stronger, more grounded, and a more focused company."
Porter adds, "When I look back on all we endured in 2020, I am so very happy we are exactly where we are positioned right now. We are in a great place—and poised to keep growing steadily and rapidly. I feel like nothing can stop us now!"