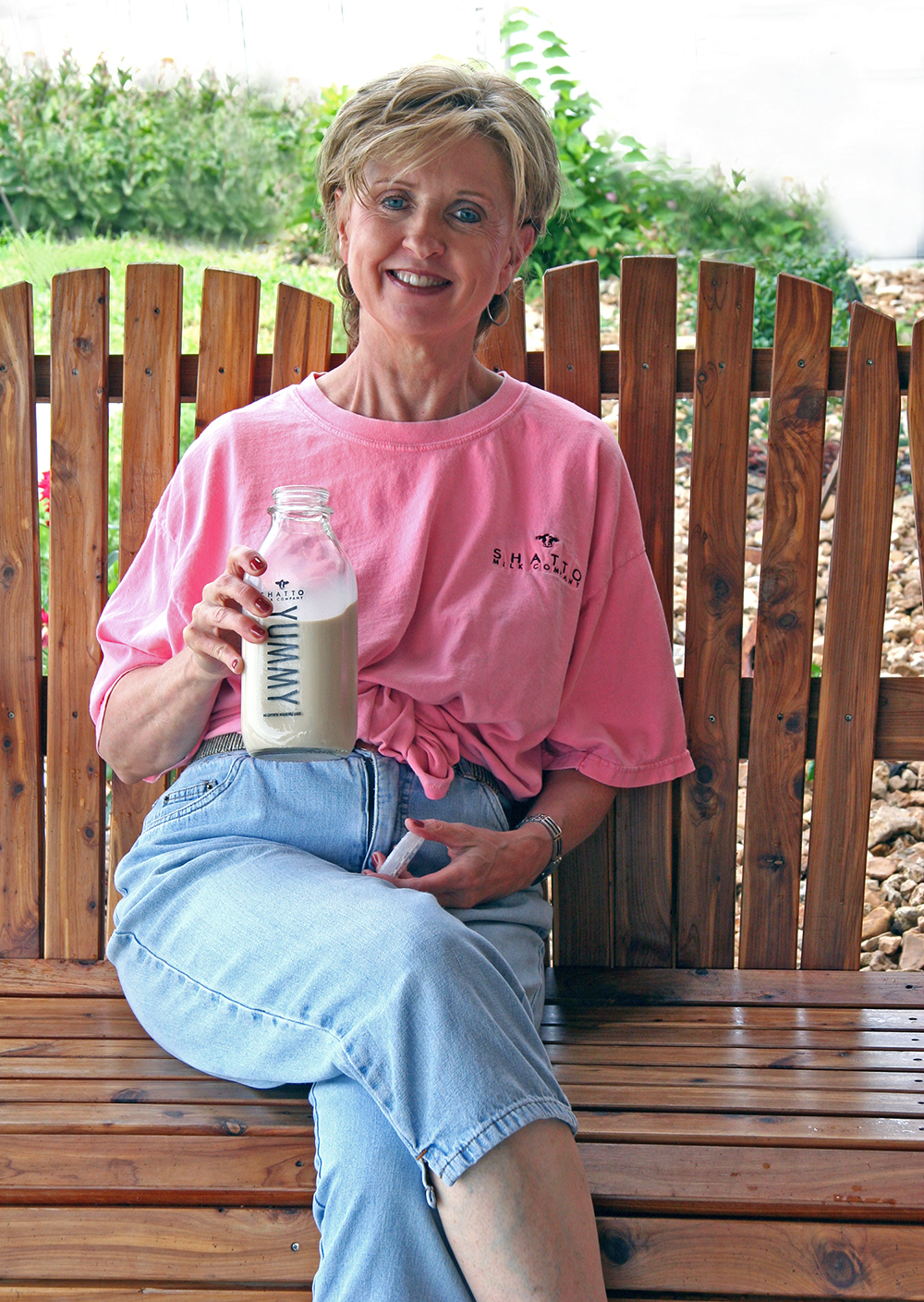 Women in Business series presented by UMB Women and Wealth
Barbara Shatto has a couple of big claims to fame. For one, the Osborn, Missouri, native is one of an elite handful of women who own successful dairies in the United States. And two, former POTUS George W. Bush is such a fan of her famous Shatto chocolate milk, he actually sent her a picture of him enjoying a bottle of it along with a personalized letter. (More on that later.)
Shatto likes to reminisce about growing up on her family's 100-year-old farm, which has been handed down through three generations of daughters. Long before she became a milk maven, the now president/CEO of Shatto Milk spent over 40 years working as a registered nurse. "My dad only had girls to take care of and he always told us, "Girls can do anything boys can do—and he was right," she says with a laugh. "You're not lazy. You get up early, you get going and that's what I was always taught. Women and nurses can do everything—it's in my blood."
In the late '90s, when Shatto had the chance to take over the reins of the farm, she and her husband, Leroy Shatto, decided to, as she puts it, "do something different." She says those first couple of years starting milk production from the ground up were challenging. It took a bit of financial finagling from wary bankers, but the savvy Shatto opened her eponymous dairy production in 2003 after a couple of years of ensuring everything—including her business acumen—was up to her high standards.
The company's products—in retro-tastic glass milk bottles, no less—were a hit from day one. "We didn't have to do any marketing. Word of mouth and the fact we were opening a new dairy went viral," she says. "On our opening day we had cars up and down our highway. It really caught on. We're a family—so you know where your milk comes from—it's only milk from our cows, no growth hormones." Stellar customer service was also paramount from opening day and has proved invaluable, she says.
A local marketing company helped brand Shatto's unique products. (Root Beer Milk, anyone?) Before long, the community-driven farm started offering family-friendly tours where Shatto could entertain and educate guests with her homespun charm. "We're simple farm folks wanting to do a really good job. We care about our employees, our cows—we call them our 'girls,'" she says. "We have so much fun out here. It's terrific—a dream come true actually."
In the midst of the recent pandemic, Shatto and her son found success with a startup home-delivery service of grocery staples. It's become such an in-demand necessity for customers, there's now a waitlist. "It's a simple pleasure in life that you don't have to lug groceries into your house. We deliver per your order, pick up those dirty bottles and bring you new ones," she says. Cheese, ice cream and ice-cream sandwiches are also top sellers, of course.
In 2006, the Shattos were runners-up to winning the Small Businesspersons of the Year Award from the U.S. Small Business Administration. Former President Bush jokingly asked if Shatto had brought him chocolate milk. Turns out she had and promptly handed it to his Secret Service brigade. "He was a delightful person," she says. "He took it with him—said he was eating with Dick Cheney and he'd have it for lunch." A few months later a congratulatory package arrived with the aforementioned picture and "the loveliest letter in the world thanking our family."
Shatto says she's thrilled at how civic-minded the company has turned out to be—helping plenty of charities and philanthropic organizations over the years. "People like our milk and they realize we're good people here. I love my cows. I get to see them a lot. They make me warm in my heart. And they're good employees—what can I say," she adds. "People are amazed that a woman would run this, but, you know, it's turned out just so wonderfully. I'm probably the luckiest person I know."