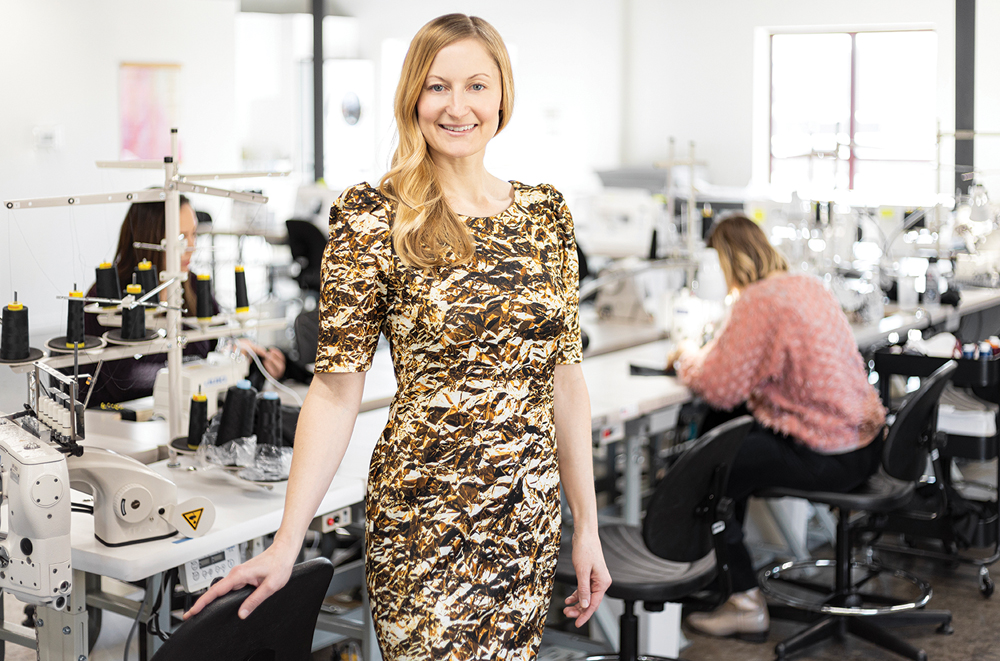 Women in Business series presented by UMB Private Wealth Management.
In its heyday, Kansas City was nationally known for manufacturing high-end suits, coats, and dresses. "According to the pivotal Kansas City garment district account by Ann Brownfield and David W. Jackson, We Were Hanging by a Thread, one out of every seven women in America wore outerwear garments manufactured here," says Jennifer Lapka, founder and president of Rightfully Sewn.
By the 1970s, however, Kansas City's manufacturing systems started unraveling—figuratively and literally.
Decades later, Lapka's dynamic organization, Rightfully Sewn, is doing its part in hopes the metro "can again be at the forefront of apparel manufacturing—all while taking care of the people doing the work and the environment," she says. Launched in 2015, this upstart charity created a number of innovative initiatives—including a seamstress-training program and fashion designer program that strive to attract, train, and retain fashion design entrepreneurs. "In doing so, we are cultivating their businesses so that someday, they too will employ skilled seamstresses and/or contract local factories to sew their products," says Lapka.
Lapka is nothing if not ambitious. Starting a charity from scratch is much harder than it looks, yet Lapka was undaunted. "Several great Kansas City entrepreneurs I know have said in different ways, 'Had I known then what I know now,' taken to mean if they could have understood the pressures and challenges of starting and running an enterprise, they may have made the choice to not start. But imagine if they hadn't," she says. "We are job makers, community-change catalysts, revenue generators, leaders. Leaders must lead despite fear and overcome endless challenges, and I have learned I can do all of these things simply because I believe I can."
Now the organization is poised to celebrate its 5th birthday and Lapka couldn't be happier with the direction the non-profit is headed. In fact, she's even got a favorite mantra for those who want to follow in her footsteps and—appropriately enough—it's fashion-related: A stitch in time saves nine. "If you're interested in starting an enterprise, do your research. Don't duplicate something that already exists; instead join their effort as a volunteer," she says. "If your idea does not exist in your market, benchmark research similar entities in other markets to collect best practice ideas while keeping in mind the needs of your own community."
While its unique fashion-forward programs serves all genders, Rightfully Sewn wouldn't be where it is today without some insightful girl power. "Our board is currently 78 percent female; our staff is 91 percent female; and our social media followers are 81 percent female," says Lapka. "These stats are clear evidence women are passionate about empowering other women."
Up next for Rightfully Sewn? Well, besides celebrating their five-year milestone, Lapka says the team will be focusing on internal precision and national reach. "We've built our brand, team, programs, and organizational systems; now we can perfect them and prepare ourselves for the next opportunity coming our way." Just in the last year, the organization got buzzy press from The New York Times and Chicago Tribune and grants from New York-based designer Eileen Fisher and the U.S. Small Business Administration, among others. It's all in a day's work for the philanthropic Lapka. "We want to keep going, to keep bringing national attention to Kansas City through our work."