Leawood native Tosin Morohunfola's Hollywood shooting star is thisclose to going supernova. The actor/writer/director is currently raising hell as one of the bad guys on Showtime's The Chi. You can also spy him in Love Is_ on OWN. Seems the University of Kansas grad—who now lives in LA—is just as comfortable on TV as he is watching TV. In fact, he's a bit of a TV junkie. We found out what constitutes must-see-TV for Morohunfola:
"Ok, so I just watched Seven Seconds on Netflix and I think it's the most important series of the year.  The story starts with a white cop who accidentally kills a young black motorist and then covers it up with the help of his fellow officers. The show is about loyalty, race, privilege, the nature of justice—and who gets it. It couldn't be more relevant to today. And it keeps you on the edge of your seat 'til the very last episode. I've got shivers and all the feels just thinking about it. Definitely necessary viewing, if you ask me.
Dear White People is also a show I've been binging. Full of really great intellectual ping-pong about 2018 woke-ness and whiteness, if you're into that. It's a full-bodied dose of blackness and it's beautifully shot to boot. It can be heady, but personally, I always like a good piece of edu-tainment.
But I gotta be honest and confess I buried the lead—POWER on Starz is definitely my favorite show on TV. It's so badass … and fun … and sexy too! The plot, the romance and the betrayals are so well-woven together. It's even got a protagonist whose got it coming to him. (Uh, and who knew 50 Cent could act? He's funny too!)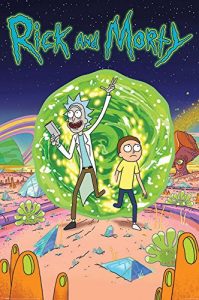 Last but not least, Rick and Morty for the wind-down. It's a very adult cartoon; as stupid as it is clever, and I need that in my life. I'm betting you do too."