From the Super Bowl to the Indy 500, local event planner Carrie Emert has helped coordinate some epic corporate wingdings in her illustrious career. Now she's using every tool in her coordinator playbook for the toughest assignment of her life—helping staff overwhelmed hospitals in NYC "with registered nurses, respiratory therapists, EMT's and other amazing personnel from around the country."
We caught up with Emert while she's on-site in NYC.

What's your role?
"I am here to help the nurses with their schedules and if they need time off to rest, I ensure it happens. I do anything that needs to be done. From getting nurses from the hotel to the hospital to answering questions about quarantine policies and onboarding new nurses to sorting incoming mail and care packages, every day is different."
You have a storied history in event planning. Did it prepare you for what you're currently doing?
"My job before COVID-19 was a blend of forward-thinking customer service and teamwork. For me, it's about being resourceful, anticipating trouble in advance, and keeping my cool in utter chaos—and accepting the fact that not everything will go as planned. Even if you're the most skilled and respected event planner, the largest pandemic in recent history of the world will challenge you in ways you could have never imagined. Those skills I've implemented the last 20-plus years have been extremely useful in this environment."

What's the biggest challenge or challenges?
"The volume of need is so significant, it's pretty incredible. We've deployed thousands—literally thousands—of nurses from all over the United States to help. That's amazing. We're lucky that so many people were willing to answer the call of duty and leave their families, pets, jobs, etc., to assist the full-time medical teams here in NYC.
Things change quickly in an emergency situation, so flexibility and embracing change are challenges that everybody on our team has had to overcome."
You've traveled to NYC probably a bazillion times in your life. What's it like there now? "Desolate, quiet, heartbreaking, eerie, and simply bizarre. We stepped off the plane into LaGuardia and were literally the only passengers in the entire airport. There were ten of us. It was the most surreal moment of my life.
I have been sleeping with my window open at night because it's so quiet. If you've ever been to Times Square—which is where I'm stationed—you know it's anything but quiet. The only people you see on the streets are police, food delivery workers, and our nursing staff. That's it—literally, that's it. But I get the sense people who live here and sheltered in place are smart and willing to stay put because they know their lives depend on it."
How's the mood of your traveling nurses?
"These people are so incredibly courageous, tenacious, and persistent. Most have decided to stay through the duration of the pandemic, even after working three to four weeks straight in what sounds like hell on earth to me. I believe they are the bravest, most selfless people I've ever met. I'm here to be an outlet and support them any way I can."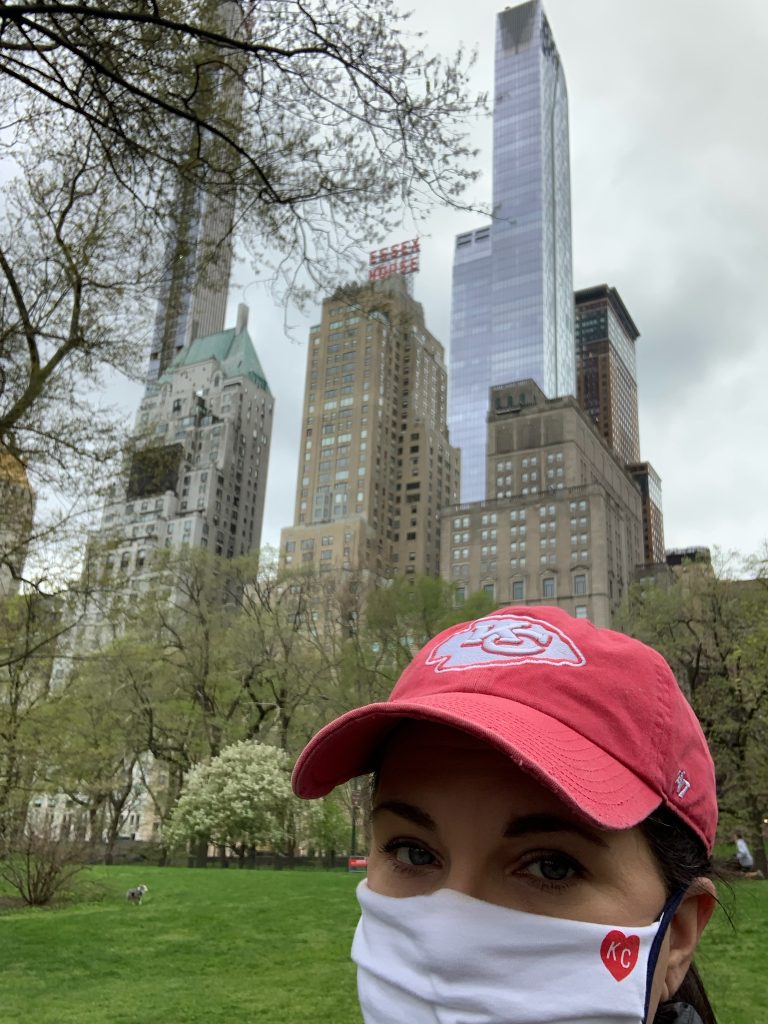 If someone would have told you at the beginning of 2020, you'd be scheduling nurses in life-or-death situations this spring, what would you have told them?
"Considering I was supposed to be at the NCAA Final Four and MLB Spring Training, I would have told them they were crazy. But it just proves that life can take an unexpected turn at any time and as an event planner, you better be ready to go at a moment's notice. I feel very fortunate to be able to use my skill set to help combat COVID-19 and will do so until it's time to go home—whether that's tomorrow or ten weeks from now."