Nikki Moreno-Whipple knows how to wield a camera. Not only that, but she's a stellar hair stylist as well. Good thing—as she's become Kansas City's makeover maven along with her partner-in-crime, make-up artist Candy Cunningham. Together they own Vixen Pin-Up Photography in Midtown, a retro-fitted studio where they painstakingly recreate looks from bygone eras. We asked the goddess of old-school glam to pick her all-time favorite pic. Out of the thousands of ladies she's lovingly dolled up over the last decade, she had one photo that really resonated with her. It's become the inspiration behind her inspiration.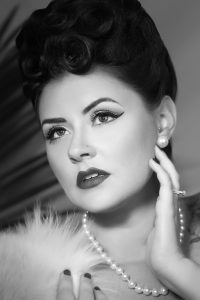 "As a girl I was fascinated by old Hollywood movies. I fell in love with glamorous movie stars from the Golden Era. Taking inspiration from those films I would makeover my friends, throw a sheet on the wall, and take their photos. It was a fun hobby and way to pay homage to those old Hollywood movie stars. More and more friends would start asking if I would help dress them in a 'Pin-Up' motif.  One photo went viral locally on MySpace. It was then I realized, this could be more than a hobby.
After having grown my business in Kansas City over the last 11 years and shooting thousands of clients I've been able to take Vixen out on the road. In 2015, I took one of my all-time favorite photos of our client McKenna while we were on tour in St. Louis. We had rented a small apartment as a make shift studio—finding different areas of the tiny space to be inspired.
McKenna is a huge Lucille Ball fan and wanted a 'poodle' hair style to resemble her icon. I looked around and found a tropical plant that I pulled in to create dramatic shadows behind her. Everything came together that day. No one would know that image was shot in the corner of an apartment dining room. Our client left extremely happy with the images from her photo shoot, but more importantly she felt confident and beautiful.
Soon after, McKenna discovered that one of the images we captured from our boudoir shoot was nearly identical to a high school photo of her mother. Talk about a happy accident! The following year, we were filming a behind the scenes video of a Vixen photo shoot and thought McKenna—the epitome of 'the girl next door'—would be the perfect gal to makeover for our new video. We asked her to bring in her mother's photo to see the coincidence in person.
We never expected what came next.
While filming, she showed us the photo of her mother and broke down. We had no idea her mother had passed away. The picture she had was one of the only photos she had of her. As a mom herself, McKenna realized how important her photos would be to her daughter. It really hit home with everyone in the studio that day. We live in a world where cell phones are our cameras and people rarely take real photos anymore. I learned a very valuable lesson that day, we are here for just a short time and we must leave a legacy.
This particular photo embodies what my photography and my business mean to me. It's so much more than a striking image of just a woman all glammed up. I am here to help empower women, to make them feel—and for them to know—they are beautiful. I am here to use my art to create elegant, timeless imagery, and as a reminder of how short and precious life can be."