Ooooh, it's a My Fave Pic first—a local husband/wife photography team. Meet Kevin and Ashley Keith, who have been tag-teaming pictures for the last decade or so. The Overland Park duo runs the appropriately named Kevin Ashley Photography where they specialize in shooting unique destination weddings and portraits. Like a lot of married couples, he's yin to her yang and vice versa. Plus, they "really enjoy working together. It's what makes us such a strong team," says Kevin. "We know how the other person thinks and what each other needs to capture the best shot in every situation."
Headshots. Events. Architecture. You name it, they'll gladly shoot it. "We just love making everyone we work with happy and seeing their reaction to the photos we are able to create for them!" What was the dynamic duo's all-time fave pic? Let's just say it puts the "oh" in Aloha!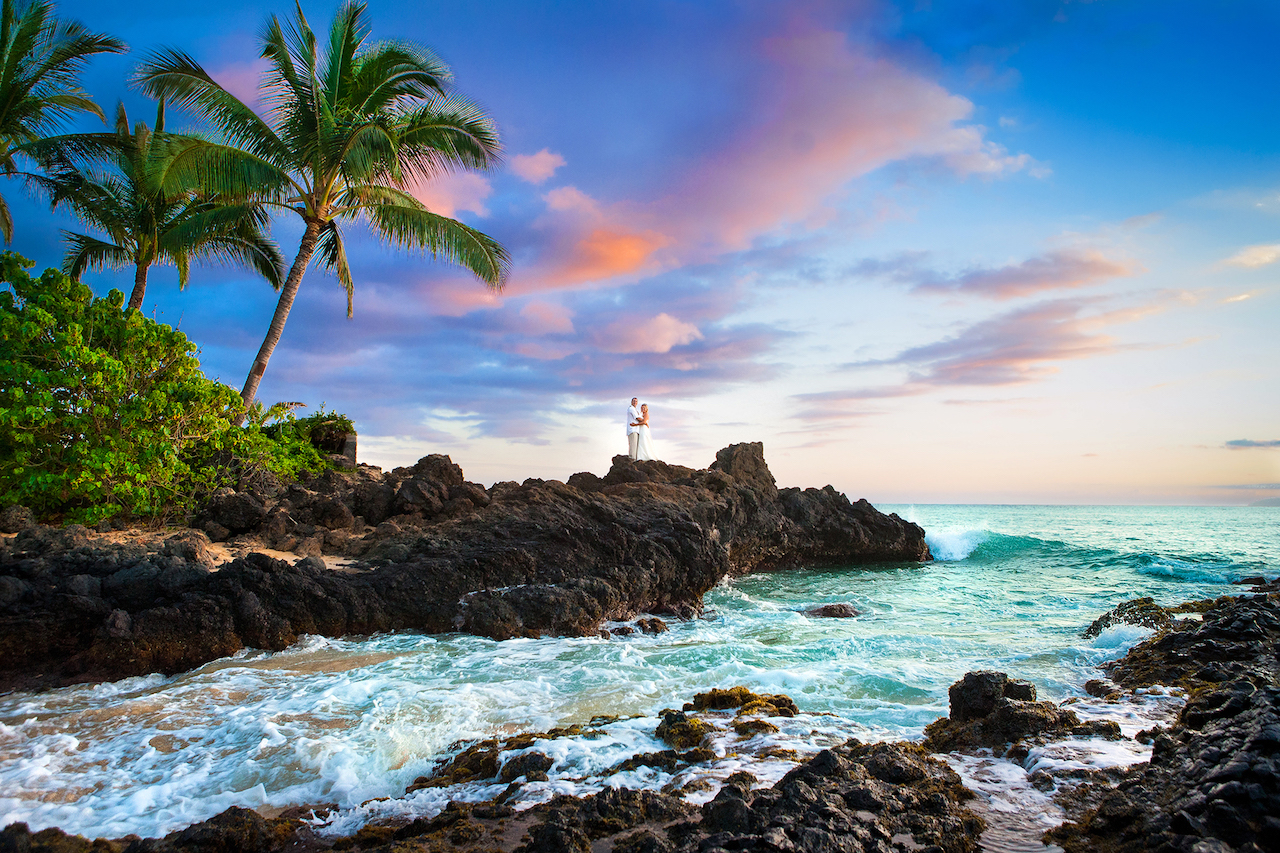 "We have had the privilege of shooting a few destination weddings in Hawaii. One amazing couple brought us from Kansas City to Maui for their five-year anniversary. They wanted to bring us along to capture beautiful photos of them since they weren't happy with their (original) wedding photos. The bride even bought a new wedding dress and they rented a tux for the groom to recreate some unforgettable photos. We took them to many beautiful areas on the island, but one in particular was a secluded beach with a breathtaking view of the ocean blue.  We took several photos on the beach when I suggested they climb out on the rocky cliff that sat just above the crashing waves—and they agreed! It was such a stunning photo—as if God painted the sky with a purple and orange sunset to go with the beautiful green palm tree and crystal blue ocean. It was so surreal and looked as if they walked into a colorful painting.
They have a huge canvas of this photo and when they went to sell their house the realtor asked them to take down all photos of themselves accept for this one. 'That is a piece of art,' she told them. It is definitely a hard photo to beat with all the elements of nature, beauty, and love."