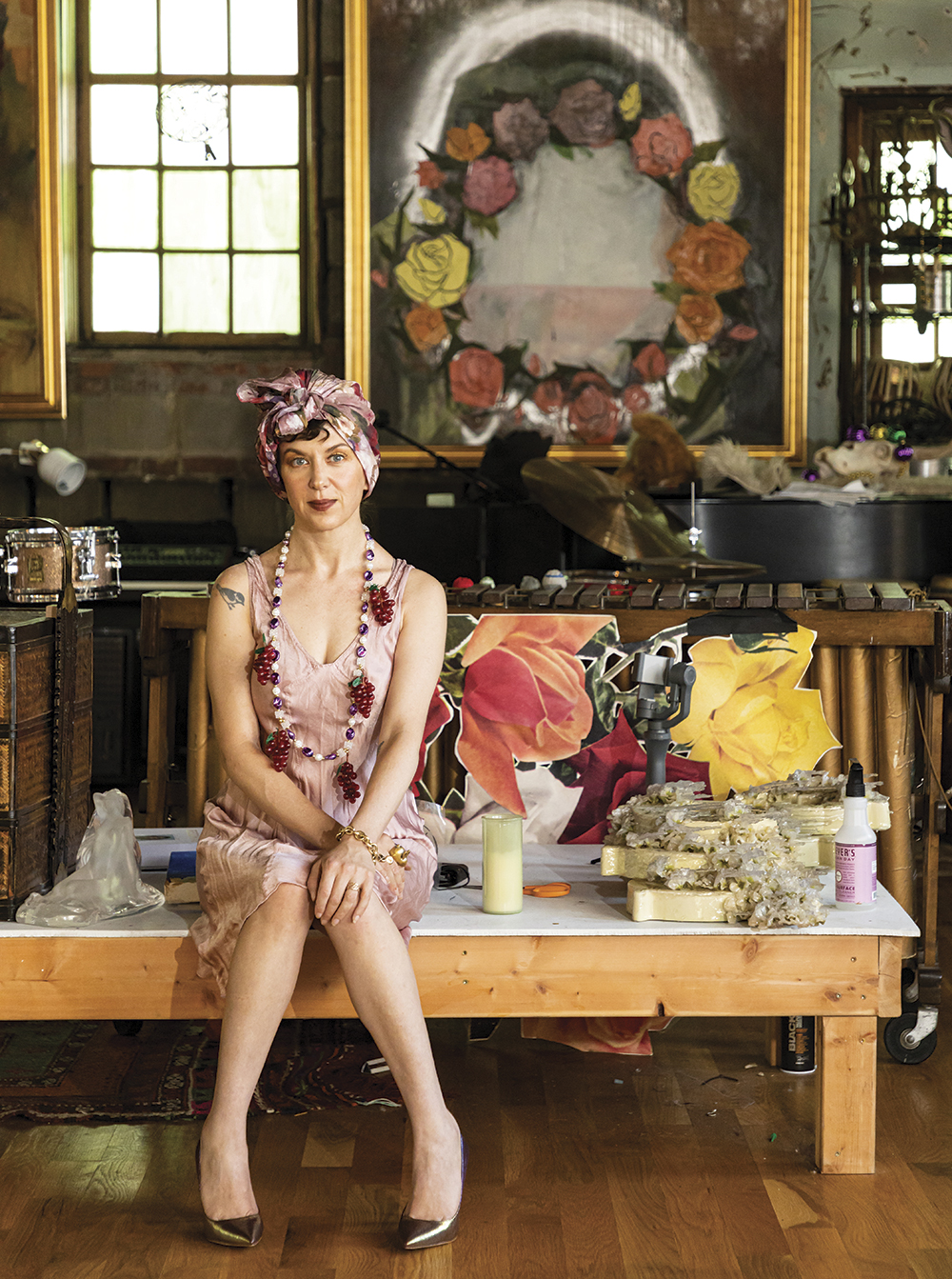 Peregrine Honig is a rare bird. Her art is in the permanent collection of The Whitney Museum of Art, The Chicago Art Institute, and The New York Public Library, among others.
Besides having her art shown internationally, she's also in the midst of turning The West 18th Street Fashion Show's 20th year into a feature-length film. "We are moving it from the street to the screen," she says. Mike Dillon and Calvin Arsenia will be scoring and performing in the film. "The last time I stood in front of a crowd, I was handed The Urban Hero Award (from the Downtown Council) and the next time I'll address a large audience will be the evening of October 16th at The Boulevard Drive-In to debut the director's cut of Summer in Hindsight, which I am currently working on with Justin Gardner," Honig says. "We did this during a pandemic and a cultural revolution. I am not sure where else or how else this could happen at this moment in history."
As the co-owner of Birdies, a luxe lingerie boutique in the Crossroads, her take on the pandemic is unique. "Running Birdies during a global pandemic has shown me what lingerie signifies during stress and how dedicated my wonderful staff is. Your first thing on and last thing off changes during a quarantine," she says.
---
Peregrine's essentials…
Scent of the Season: In this heat, Afghanistan orange blossom and sustainable Indian rosewood.
Listening to: Calvin Arsenia's recent cover of Portishead's Glory Box.
Sweet Treat: Novel's pistachio and strawberry cream pie.
In My Closet: I love Bordelle, Studio Pia, and Lonely. I ordered a blush Evgenia robe for a scene in the movie that might result in some personal debt.
Date Night: The Antler Room—and a dog walk through my neighborhood.
Caffeine Fix: Oddly Correct, Monarch, Mildred's, and Quay depending on where my errands take me. I love an afternoon short flat white.
Speakeasy of Choice: Swordfish Tom's. I let Jill make me something with whiskey.
Guilty Pleasure: I don't affiliate guilt with pleasure.
Day Trip: The Elms.
Hidden Gem: The Clendening History of Medicine Library houses one of the nation's finest collections of rare, historical medical books and manuscripts. The library also maintains an extensive collection of monographs and periodicals in the history of medicine, medical humanities and biomedical ethics. They own Japanese anatomy drawings with brains colored in crushed pearl paint. Make an appointment.