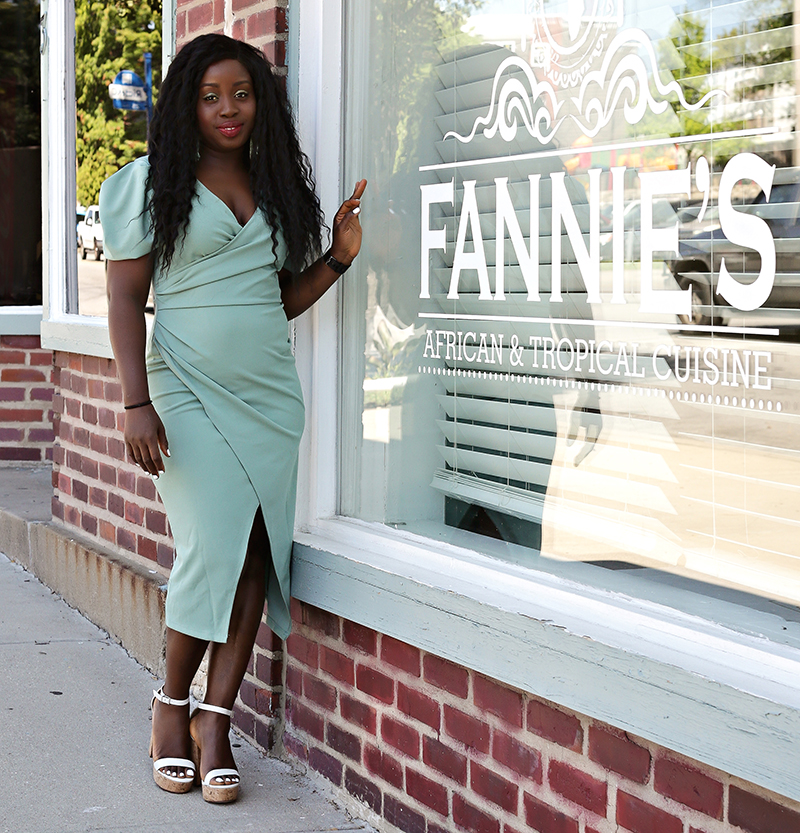 Before Fannie Gibson opened her eponymous restaurant, Fannie's West African Cuisine, she started her business from her kitchen. "I was cooking from home and posting on social media to build my audience," she says. Her food was a hit and she officially opened Fannie's in April of 2018.  
The Liberia, West Africa, native arrived in the metro in the midst of her country's civil war. She brought her culinary skills and love of spices along with her. Now she serves up authentic, traditional fare made from scratch with fresh, organic, and natural ingredients.
Her tasty, homemade West African dishes are flavorful—with some known to pack a wallop. When we asked how spicy she can make her food, she joked, "On a scale from one to ten, I can make it a ten. We call it 'African spice,' which means it can be very, very hot. Even mild can be spicy. I can make it as hot as the customer wants." 
To say she's a fan of living here would be an understatement. "I love, love, Kansas City. I love the fact that it's affordable to live and start a business," she says. "And the community support is amazing. No small business is left behind. I am living my dream. Anywhere else, I probably wouldn't be in the position I am in now—and for that, I am beyond grateful."
---
Fannie's essentials…
Mandatory Ingredient(s): I use cassava, plantains, or yams to make fufu—a traditional side dish. Also, melon seeds for my egusi soup. I get the ingredients from Universal Tropical Market in Gladstone.
Chill Out(doors): I head to Penguin Park with my kids. Sometimes they have comedy shows, improv shows, and gospel concerts. It's the best.
Out and About: I'm single, so I don't do many date nights, but I do love Tannin Wine Bar and Kitchen. I'm a fan of white wine, mainly chardonnay. Such amazing service and a great atmosphere.
Guilty pleasure: Chocolates from André's Confiserie Suisse—specifically their dark chocolate and almond bars. That's always been my favorite.
Art Appreciation: The Nelson Atkins Museum of Art is great—and free. You can't beat that. It's a must-visit when in KC.
Raise a Glass: My favorite cocktails are at Green Lady Lounge. I love being inside with the beautiful, dim lights, jazz, and great drinks. They have that old-school vibe.
Face First: For all things skincare, I visit skinkc.com.