For many Kansas City families, the Plaza's holiday lights are an annual must-see, but one local family turned their annual Plaza-light viewing into scouring the KC metro for the best neighborhood displays.
Based in Independence, the Lorenz family also ventures through Liberty, Lenexa, Lee's Summit, Blue Springs, Parkville, Grandview, Olathe, Overland Park, and Kansas City's Plaza area.
"It started with us going down to the Plaza every Christmas Eve, and then looking at the lights around the Plaza and Ward Parkway," says Jess Lorenz, the family's middle sister. "We started expanding and going all over the KC area about two years ago."
Soon, the family was sharing their finds on social media under Lorenz Family Holiday Tours, and giving prizes from local business partners to the winning houses. This year, winners will receive a gift basket with an exclusive scented candle or bath bomb from SideQuest Guild Supply and more.
Last year, the Lorenz family spent over 15 hours driving through KC-area neighborhoods scouting out lights. This year, they plan to spend over 20 hours on their search.
IN Kansas City asked the family to share their favorite spots around town:
Kory Lorenz (Dad)
"We refer to 2500 SW Winterwood Circle as the '40 tree guy's house.' Last year, when Jess went up to deliver their award, she was pulled into their home and told a beautiful story about us being the second coolest thing to happen to them on Christmas Eve—second only to Santa Claus himself. The house contained 40 Christmas trees and our whole family has been invited back to get a tour of all 40 trees."
Alexis Lorenz (oldest sister)
"When we first began giving prizes, we rolled into a festive neighborhood in Brookside. We pulled up to what we now know as Charlie's house and found a magical Christmas wonderland. We noticed a sign in the yard for an organization called A Cure for Charlie—the young boy who lives there has a rare genetic disorder. We left our gift, and the next morning we were tagged in a post from Charlie's mom, Kim, that completely touched our hearts. We often say, "it only takes one house to make the whole tour worth it." 
Jess Lorenz (middle sister)
"We first met Judy when we discovered her house on a list of Lenexa houses. It's tucked away on Twilight Lane, surrounded by forest, and you can't see anything she has done until you pull in her drive. We were happy to hear from her on social media and became friends while following her journey to create Christmas decorations for her gazebo. She has become another friend made through touring, and we always enjoy the new decorations she comes up with."
Kaley Lorenz (youngest sister)
"Ridgewood Lights (1817 SE Ridgewood Dr.) is a holly jolly spot in Blue Springs. They collect donations for Wayside Waifs and send letters to Santa for all the neighborhood children. They have been so supportive of our tour, and we are always excited to sit and enjoy their display as we eat our candy canes."
Bree Shanaj (adopted sister)
"My favorite is Paulie's Penguin Playground (16617 Indian Creek Pkwy.)—a yard stuffed full of penguins partying the night away in Olathe, Kansas. There is usually a penguin movie (like Happy Feet) projected in the driveway and plenty of penguin-themed decor to go around."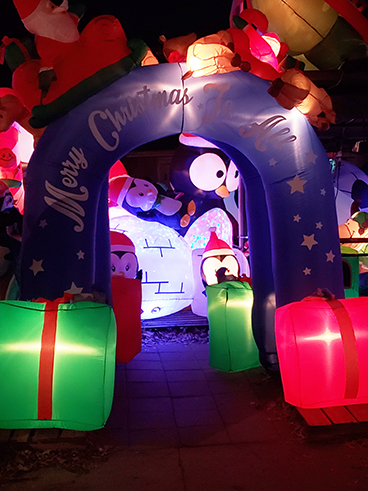 Julia Bailey (adopted sister)
"This year, we discovered a small Parkville subdivision called The Masters that was absolutely dressed to the nines with Christmas spirit. We don't have any stories to tell about making new friends yet, but hopefully, we will go Christmas Eve."
Lorenz Family Holiday Tours will be hitting the town a few more times through Christmas and awarded their 2021 winners on Christmas Eve. Keep up with their adventures on Facebook.