Our two favorite adventurers, Kim Farrell and Mady Johnston, had a crazy idea last summer. They quit their respective jobs and hocked all their belongings to begin a devil-may-care, 18-month journey around the world. Now they're skipping around parts unknown and brazenly enjoying wherever the wind takes them. IN Kansas City is following these two travel buddies from Overland Park on their epic adventure.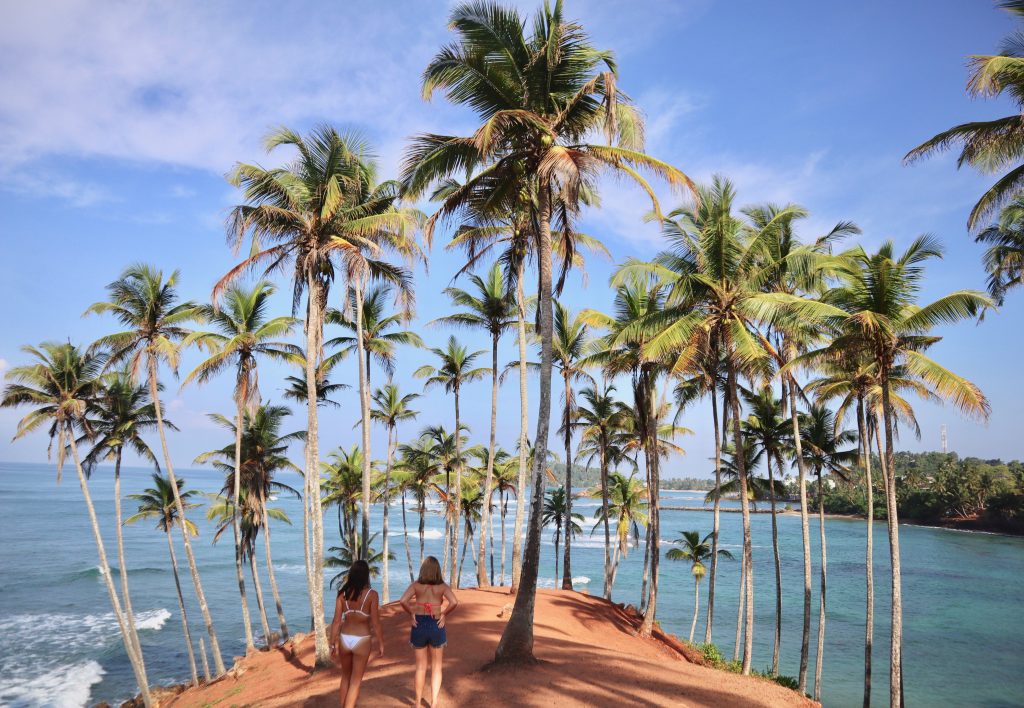 Since the girls' last update, Kim and Mady have been glued to their beach towels, spending almost all day everyday disconnected from WiFi and connecting with the southern beaches of Sri Lanka. They have fully embraced suncream (yes, cream not screen) streaked faces, salty hair, sandy toes, and learned how to shred the gnar (a.k.a. surf).
While the past two weeks were inarguably dreamy to say the least, it unfortunately ended with the Sri Lanka bombings on Easter Sunday. Both Kim and Mady safely left Sri Lanka and are spending the next two weeks in Kansas City and Sydney respectively, then meeting back up in Bali. Read Kim's take on the unprecedented attacks below before diving into their travel highlights from beach bumming down the coastline.
Kim: "We were in Galle, Sri Lanka when we heard the news—bombings in Colombo (a 2.5 hour drive away.) We learned the news via text message just minutes after Mady and I had split up. Mady was headed to the Colombo airport to catch a planned flight to Australia and I was on my way down south to Mirissa, Sri Lanka. I was nervous for Mady as she drove to the airport as she had to pass by some areas that had been attacked earlier in the day. Despite heightened security measures and crazy crowds, she made it to the airport and to Australia without any issues.
With Mady safely out, I needed to figure out what my plan was and I honestly wasn't sure what the right answer was. Everyone around me was calm and I felt completely safe at the remote, beachside hostel I was staying at. My mom was scheduled to fly to Sri Lanka in under 48 hours to spend 12 days with me and take on her first ever backpacking trip! She had a traveler backpack packed and was ready to take on the hostel scene with me. While I was so excited to share this travel experience with my mom and show her the country that stole our hearts first hand, I knew our plans had to change.
I waited 48 hours to see what updates would surface before making a decision. By then, the U.S. government was strongly urging citizens to reconsider travel to Sri Lanka. Even after these alerts, I was conflicted on whether to leave or stay. I felt safe where I was. I loved Sri Lanka. I didn't want to leave. I talked to my mom later that day and we ultimately decided it was best for me to come home.
Looking back, it was the right decision and I feel so fortunate we both got out safely. We are not allowing this horrible incident to taint the amazing three weeks we had exploring beautiful Sri Lanka. We encourage anyone interested in visiting to not be frightened and continue moving forward with travel plans once it's safe again. We are already counting down the days to visit again sometime in the near future!"
Currently in: Overland Park, Kansas (Kim) and Sydney, Australia (Mady)
15 hours ahead of Kansas City (Sydney)
Learn the Lingo:
Āyubōvan: Goodbye!

Last thing you ate?
Kottu – 150 LKR ($0.90 USD)
Kim: "A classic Sri Lankan dish consisting of chopped roti (flat bread), vegetables, egg, and a tasty sauce thrown on the griddle. Word on the street is that this dish can help cure a hangover. However, we can't confirm this theory as we've only had one drink since January."
Last thing you bought?
Whale watching tour: 9,400 LKR ($53.48 USD)/per person
Mady: "We timed visiting Sri Lanka with the end of whale-watching season in Mirissa. I didn't realize how into sea life I was until we were out in the middle of the ocean surrounded by hundreds of dolphins on a blue whale spotting excursion. The ocean is so damn cool.
Since the beginning of our trip, we've become a lot more interested/invested in nature, wildlife and sustainability. And as you can imagine, there are some ethical questions that come up around whale watching. It was important for us to find a tour company that prioritizes the animals, protects the ocean and uses sustainable resources. A fellow traveler recommended we book through Raja and the Whales, which ticked the boxes in all these categories.
Learn the Lay of the Land:
Best time to visit Sri Lanka
Kim: "Sri Lanka is perfect to visit at any time of the year. It has two alternating monsoon seasons, meaning you can visit one half of the island during any month of the year. If you are looking to visit the hillside tea plantations and the southwest beaches, October to March is the best time to visit. If you're interested in surfing or taking a dive into the country's rich history, then head to the north and the east beaches May through September." (Pro tip: "April is the one month where it's dry season across the entire country. So if you can score a flight then, you have the golden ticket.")

Last Night's Stay + Cost:
Galle Fort – LKR ($12 USD)/night
Mady: "Seriously the cutest place ever. A quaint little town built within the walls of an old Dutch fort. I felt like we were on a long, weekend getaway date roaming around the streets overgrown with flowers, watching unbelievable sunsets, eating amazing food and lots of gelato. But let's be real, Kim is basically my significant other now (sorry, @aslepian), so it was a date."
Wizard of Oz Tally: 87 (and counting)
"While we know Kansas City has a lot to offer, the majority of the world immediately affiliates us with one thing—The Wizard of Oz. We're keeping a real-time tracker of all the Dorothy, Toto, and tornado references made to us along the way."
Next up?
Mady: "We are off to Indonesia!! Finally! This is another place we've been eager to visit since we left in August. How long will we stay? Two months? Three months? Four months? Anything is a good guess at this point. We know we'll be there for at least two months but have already accepted we could be there until September. Lucky for us, there are 17,508 islands to discover. No joke. Let the island hopping begin!"
Follow the girls' adventure around the world on Instagram via @ourlifeinemojis.