Our two favorite adventurers, Kim Farrell and Mady Johnston, had a crazy idea last summer. They quit their respective jobs and hocked all their belongings to begin a devil-may-care, 18-month journey around the world. Now they're skipping around parts unknown and brazenly enjoying wherever the wind takes them. IN Kansas City is following these two travel buddies from Overland Park on their epic adventure.
Since we last checked in, Kim and Mady have picked up the tempo and are making their rounds through India. So far, the girls have meditated at the Lotus Temple, were awestruck by the Taj Mahal, witnessed a Hindu funeral, rang in Kim's 26th birthday, lived in a fort, slept under the desert stars and have been on the naan stop street-food diet! (See what they did there?)
What adventures have they had? Read up on some quick stories and travel highlights on their last two weeks—and look out for their next globetrotting update in the coming weeks.
Kim + Mady: "Excited to share we are moving our focus to a joint Instagram account. Yes, you can now follow both of us in one place – @ourlifeinemojis✈️ 🌍 🙌🏼
Since day one, we've been passionate about sharing our journey around the world in a creative way. With our minds free from working responsibilities, we knew our brains would be up for a challenge. Mission: Create a fun angle to share our adventure together that isn't the typical feed of glamour travel shots. We landed on Our Life in Emojis, which allows us to show iconic landmarks, off the beaten path finds, and cultural differences through the universal language of emojis.
Our creative juices are flowing and we're going all in on this new account, while still maintaining our own. Head over to @ourlifeinemojis to see the emojis we've found in real life along our travels (here's a little taste). But caution: once you look, you won't be unable to see emojis in your everyday life. It's a lifestyle now.
 Currently in: Jaisalmer, India
+10.5 hours ahead of Kansas City
Learn the Lingo:
Camel Massage: The uncomfortable feeling one gets down there after riding a camel
Delhi Belly: Slang for food poisoning in India
Ghats: Riverfront stairs
Roti/Chapati:Indian tortilla that is a traditional side dish for EVERY meal
Last thing you ate?
Aloo Chaat – 25 INR ($0.35 USD)
Mady: "Translates literally to little potato snack. Which is very relatable, because that's exactly how Kim and I describe ourselves. It's essentially fried potatoes with any assortment of toppings ranging from peri peri seasoning, mint sauce, curried vegetables, smashed chickpeas, hot chili sauce or street vendor's choice. You can buy aloo chaat on every street corner, and that's an understatement because there are at least four to five street stands selling it per block.
On a typical day, we stop for aloo chaat at least twice. But if you've been following along, you know by now that none of our days are typical—so sky is the limit."
Last thing you bought?
Taj Mahal entry ticket – 1,300 INR ($18.58 USD)/per person
Kim: "Taj Mahal—a picture doesn't do it justice. Of course, capturing the perfect photo was a must. We roll up at 5:45 a.m., beat the crowd and to our surprise, everything was covered in a thick wall of fog. Being one of the first ones there, we were able to claim the most coveted spot according to Instagram. After two hours of holding our ground, the fog began to lift, and the Taj Mahal came to life. It was one of the most majestic experiences to date."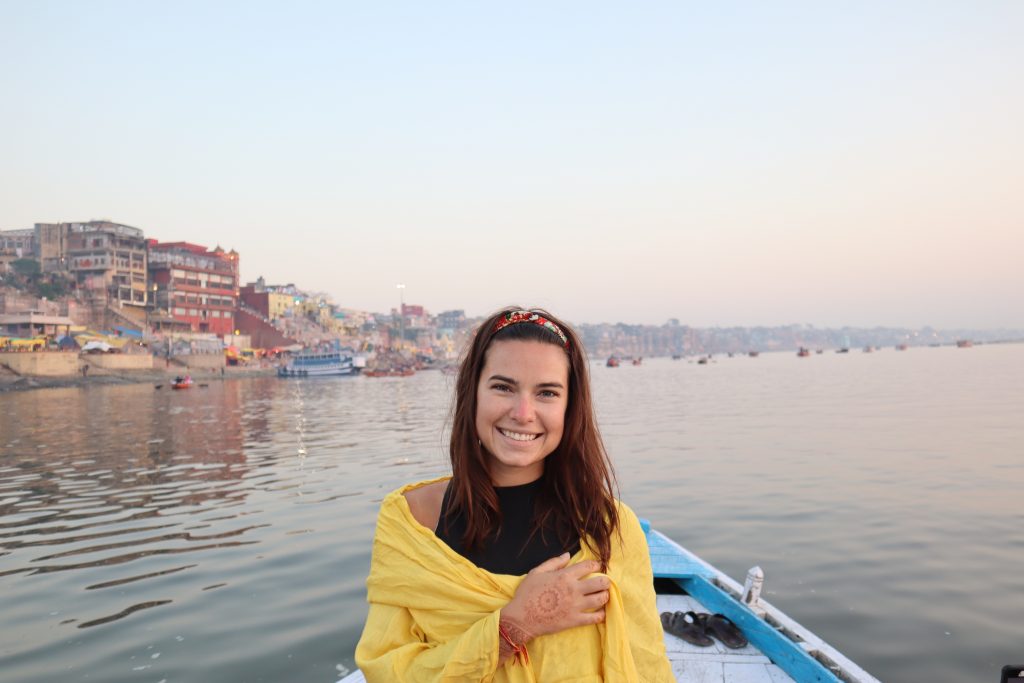 Learn the Lay of the Land:
Hindu Body Cremation – Varanasi, India
Kim: "India is home to the blessed Ganges River, a.k.a. one of the holiest rivers in the world. Varanasi is home to the most sacred part of the river, so practicing Hindus flock here from near and far to sprinkle the ashes of their loved ones in the water. The riverfront is made of different ghats primarily used for bathing (which cleanses all sins) or burning. Burning?! Yes, according to Hindu funeral tradition, the body is cremated roughly 24 hours after death. In Varanasi, cremation takes place at one of the burning ghatson the Ganges River bank and then the ashes are dispersed into the river. Since the service takes place in public, local and tourists alike can watch this ritual. It is a surreal experience to say the least."

Last Night's Stay + Cost:
Camping in the Great Indian Desert – 1,900 INR ($27.32 USD)/person
Kim: "We went on a camel safari to venture out and camp on the India-Pakistan border. Can anything ruin a night sleeping under the stars? No—but some things come close. We spent the night sleeping on cots and gazing at the stars. The view was unbelievable. What was also unbelievable? We got Delhi belly (see above) for the first time at this very moment. Never thought a dirty chai from a little cafe would do us so dirty.
Luckily, we had booked our desert safari with a private group through Zostel, so there weren't many people around. The staff was so accommodating and did everything they could to make us as comfortable as we could be. We've been blown away by the hospitality from this hostel chain in and out of the desert!
Wizard of Oz Tally: 77 (and counting)
"While we know Kansas City has a lot to offer, the majority of the world immediately affiliates us with one thing—The Wizard of Oz. We're keeping a real-time tracker of all the Dorothy, Toto, and tornado references made to us along the way."
Mady: "Going to be honest here, we haven't had any Wizard of Oz references since our last update—except for a reference we made ourselves. When we visited the Jaigarh Fort in Jaipur, there were human-size monkeys jumping everywhere, basically flying around the fort. You can see where I'm going with this. Also, can't forget to mention that one jumped out of a bush and latched onto Kim's leg. Happy birthday!"
 Next up?
Mady: "Saying farewell to North India after joining in on the famous Holi celebration in Pushkar! If you don't know what Holiis, Google it ASAP, or just click on the link provided. It involves wearing all white, street dancing and explosions of color dye being sprayed/launched into crowds. Are you surprised we found a celebration like this? After literally tasting the rainbow, we'll start heading south with specific goals in mind: becoming Bollywood extras in Mumbai and boating through the backwaters in Kerala.

Follow the girls' adventure around the world on Instagram via @ourlifeinemojis.