Our two favorite adventurers, Kim Farrell and Mady Johnston, had a crazy idea last summer. They quit their respective jobs and hocked all their belongings to begin a devil-may-care, 18-month journey around the world. Now they're skipping around parts unknown and brazenly enjoying wherever the wind takes them. IN Kansas City is following these two travel buddies from Overland Park on their epic adventure.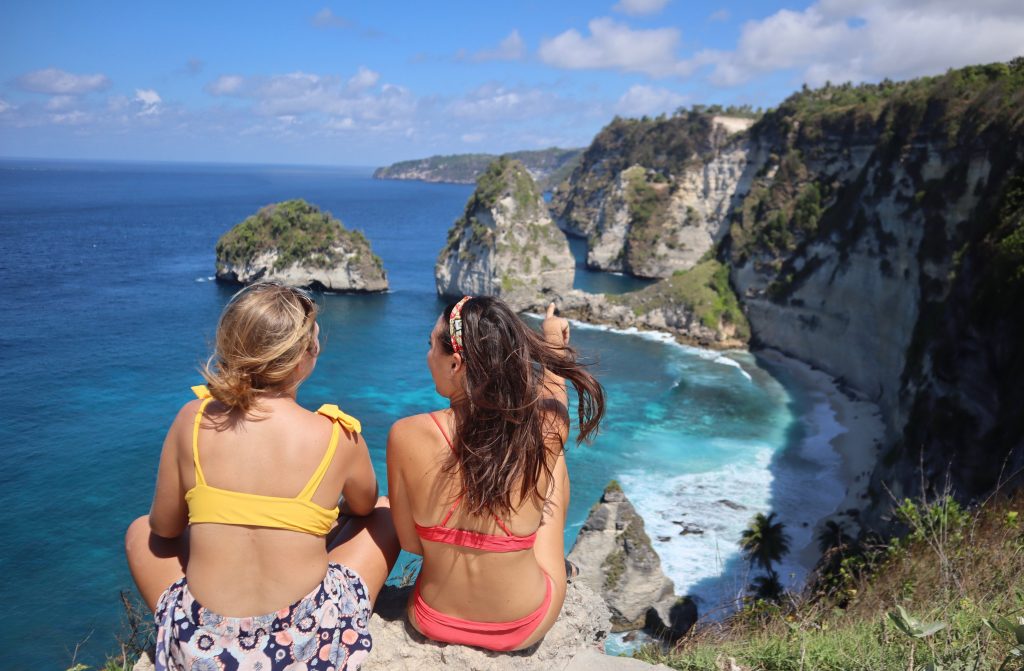 Since the girls' last update, Kim and Mady have reunited (after three weeks apart!) and it feels sooooo good. They kicked off their Indonesian travels with a friend from Chicago and quickly began checking off Bali highlights, like: a 2 A.M. sunrise trek up Mount Batur, venturing around the rice fields of Ubud, hitting up all the iconic photo spots on Nusa Penida (obvs the T-Rex rock, Kelingking Beach) and squeezing in some culture by attending the Kecak Fire Dance in Uluwatu.

What adventures have they had? First up, some quick stories and travel highlights on their last two weeks—and look out for their next globetrotting update in the coming weeks.
Kim: "What's a flight without a little excitement/anxiety? This trip back to Asia had my adrenaline rushing. I deboarded one flight and immediately heard final boarding call for my next international flight. I literally ran out of sandals, while trying to book it from the domestic terminal to the international terminal, making it just seconds before they closed the gate. Wahoooo! I finally touched down in Bali and was ready to get back to the beach life, pronto. But as fate would have it, I made it to Indonesia while my bag was still in the United States. Bummer. Honestly, I wasn't too surprised given I barely made my connecting flight myself. It turned out to be a blessing, as I could claim delayed baggage reimbursement through my Chase Sapphire benefits. Of course, the money was used to get a new swimsuit, since that's all we live in!"
Mady: "You may have seen Bali in your newsfeed recently due to Mount Agung volcano erupting. And if you did, then you saw just as much we did.
We woke up one morning to a frenzy of texts from friends and family asking if we were safe due to a volcano eruption near Bali. We quickly scanned the news to find beautiful videos of the eruption online. Ironically, our Airbnb on Nusa Penida opened up to face Mount Agung. Had we not been in bed by 7 p.m. that evening, we would have had a perfect view to witness a pretty spectacular natural phenomenon. You snooze, you lose."

Currently in: Bali, Indonesia
13 hours ahead of Kansas City
Learn the Lingo:
We honestly haven't learned any local lingo, because Bali is so westernized. We've been told that going to Bali as an Australian is the equivalent of an American taking a vacation in Mexico. Everyone we encounter speaks English, and we don't foresee that changing. So hang tight for some Indonesian lingo.

Last thing you ate?
Nasi Goreng – 35,000 IDR ($2.43 USD)
Kim: "Translates to fried rice. We learned the hard way that it's typically made with chicken, even though this ingredient isn't always listed on the menu. You can grab this Indonesian menu staple for breakfast lunch and dinner—but we'd argue it's best for breakfast!"
Last thing you bought?
Private Car –1,000,000 IDR ($70 USD)
Kim: "The best way to get around the island is via scooter and let's just say with us being bad drivers in America = even worse drivers in any other country. (We usually opt to walk.) This strategy of ours definitely wouldn't fly in Nusa Penida as everything is on opposite sides of the island. Nusa Penida has recently blown up on Instagram within the last one to two years and is still relatively undeveloped. Meaning gravel roads that even experienced scooter drivers have trouble getting around. Lucky for us, we were traveling with a friend from home so we hadto get a car to accommodate the three of us. When we got off the ferry, we began to ask around and eventually we found our driver. We asked him how much to drive us around for two and a half days and he channeled his inner Dr. Evil with 1 Miiiiiiiiiiillllllioooooon Rupeees (*cue pinky finger*)."
Learn the Lay of the Land:
Visa Run
Mady: "What is a visa run you ask? It's basically a legal loophole for extending your stay in a country when your allowed time runs out. Shhh.
For example: Americans are given a free 30-day visa upon arrival in Indonesia. After 30 days, you must leave the country or face the penalty of some hefty fines. If we hypotheticallywanted to stay longer (perhaps for 90 days), we would need to exit Indonesia every 30 days and then come back to start a new free 30-day visa."
Last Night's Stay + Cost:
Puri Garden Hotel & Hostel– 350,000 IDR ($23 USD)/night
Kim: "This hostel has puppy therapy. Yes, you heard that right, they bring in puppies every other day! I mean what else could you want? If that's not enough, they also do free 15 minute massages every day by the pool. After learning about this, there was no other option when it came to our choice of a place to stay. Definitely in the top five hostels we've stayed at ever."
Wizard of Oz Tally: 89 (and counting)
"While we know Kansas City has a lot to offer, the majority of the world immediately affiliates us with one thing—The Wizard of Oz. We're keeping a real-time tracker of all the Dorothy, Toto, and tornado references made to us along the way."
 Mady: "A British guy we were out with asked where we were from. Upon our answer, he responded with, 'you're not in… 'Ugh. And we were like, 'yes, we're aware. Thank you, next!'"
 Next up?
Mady: "My brother is coming over to see us in Indonesia. We'll spend the next two weeks in Canggu and Nusa Lembongan with him. Can't wait to see him and show him just what the backpacking life is all about. We have a packed agenda that includes: surfing, a mouthwatering roster of restaurants, sunbathing, and daily yoga practice. I'm exhausted already. Hope he can keep up.
And then—did I mention that we have a 24-hour trip to Singapore planned for my birthday next week?! (see: visa run section above). Going to ring in 26 in one of the most expensive cities in the world. And then afterwards, we'll go back to Indonesia and begin hopping around the Gili Islands. I guess my year can only go up from here, right?"
Follow the girls in real time on Instagram via @kimfarrell10and @aboutlastflight.