Our two favorite adventurers, Kim Farrell and Mady Johnston, had a crazy idea last summer. They quit their respective jobs and hocked all their belongings to begin a devil-may-care, 18-month journey around the world. Now they're skipping around parts unknown and brazenly enjoying wherever the wind takes them. IN Kansas City is following these two travel buddies from Overland Park on their epic adventure.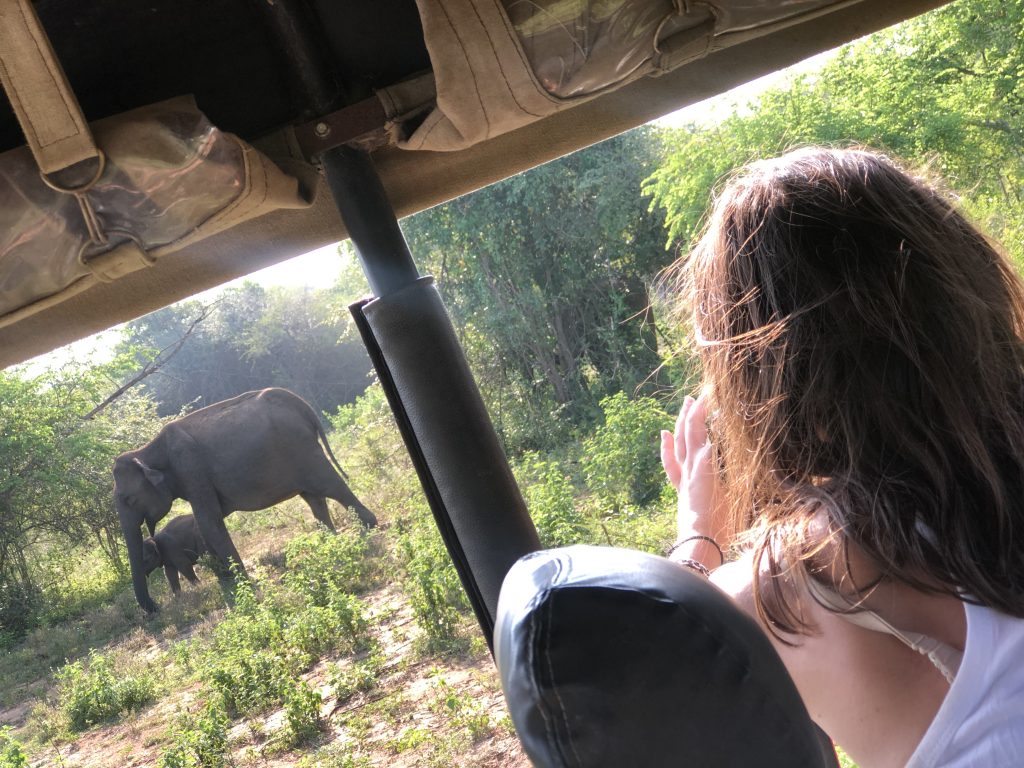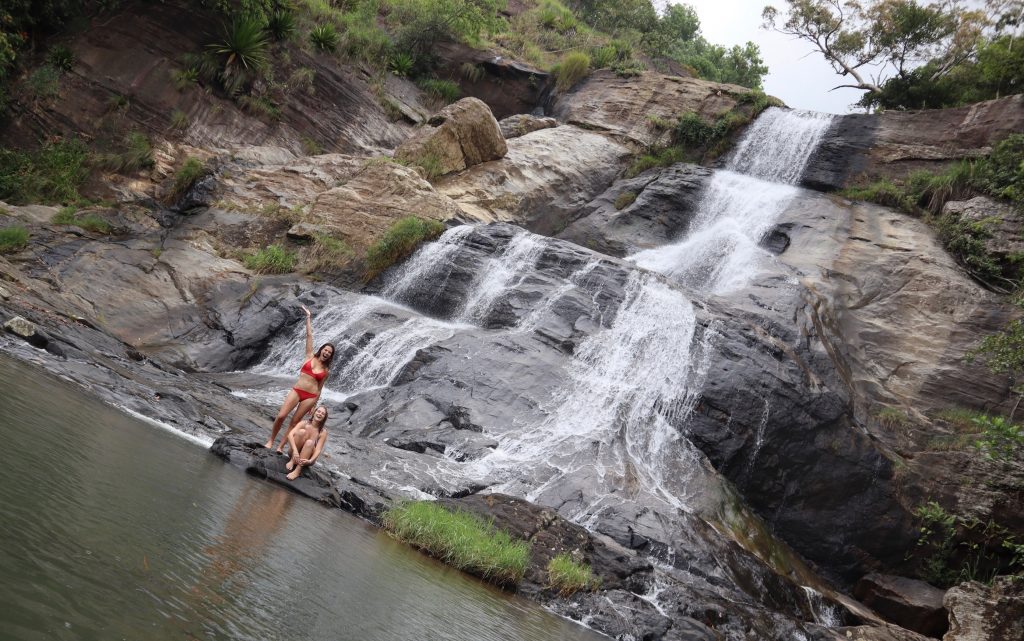 Since we last checked in, Kim and Mady touched down in Sri Lanka where they'll spend the next month exploring what's been named the #1 travel destination of 2019. In just two weeks, they've already joined hundreds in a spiritual pilgrimage, slept in a tree house, searched for elephants on a wildlife safari, trekked to the Instagram iconic Nine Arches Bridge and swam through the second highest waterfall in Sri Lanka. (Whoa. We're exhausted just reading this.)
What adventures have they had? First up, some quick stories and travel highlights on their last two weeks—and look out for their next globetrotting update in the coming weeks.

Kim: "By the end of this, you'll def be looking up flights to Sri Lanka. It may feel like you're breaking the bank on purchasing a ticket. However, once you land it is very affordable. In just under two weeks, we have checked off most of the token Sri Lanka tourist activities! And to our surprise, we only spent $300 USD for all of the experiences, even while opting for some of the nicer accommodations, restaurants, and private cars as transportation. (We had our friend visiting, so it was the perfect excuse to ball out). Seriously, if you love the outdoors or are just in need of a vacation, hop on the next flight to this lush country!"
Mady: "Throughout our travels, whenever we told someone who has already been there that we're going to Sri Lanka, the immediate follow-up question was always: Are you going to hike Adam's Peak?!
After this happened once or twice, our answer became yes. But to be honest, we had no idea what this hike was or what all the hype about it was. We just knew we needed to do it.
Adam's Peak is one of the ten biggest religious pilgrimages globally. It's a 5,500 step climb straight up (literally!) a mountain to a rock formation believed to be the footprint of Buddha (Buddhism), Shiva (Hinduism), or Adam (Christianity) depending on your religion.
We arrived at our hotel at the foot of the mountain around 9 p.m. and planned to start our trek the next morning at 1:30 a.m. Looking back, we were so thankful we arrived after the sun had set and started our climb before the sun rose, because if we had seen what we were about to climb—uh, we honestly don't know if we would have made it.
While the climb was physically taxing (to say the least), it was just as much a mental challenge. But the things we saw along the way were unbelievably motivating: parents carrying newborn babies, a man carrying his elderly mother, toddlers smiling with every step, families on their knees praying at various points. And the majority of the crowd were folks 70 years and older all hiking barefoot. While it wasn't necessarily a spiritual journey for us, the energy was contagious and one of our favorite accomplishments over the past eight months."

Currently in: Kandy, Sri Lanka
+10.5 hours ahead of Kansas City

Learn the Lingo:
King Coconut: native Sri Lankan coconut
Pol Sambol: Sri Lankan condiment made of grated coconut, fresh chilies, and lime juice
Last thing you ate?
Peanut butter sandwich – 110 LKR ($0.63 USD)
Kim: "We had a minor budget freak out a few days ago (this happens weekly). So we're attempting to forgo the luxury of eating out (at least once a day) and opting for making a classic peanut butter sandwich. Honestly, nothing beats a good PB sandwich, so we have no shame stocking up on jars of peanut butter and bread to bring this childhood staple back into our lives!"
Last thing you bought?
Laundry detergent: 30LKR ($0.17 USD)
Mady: "It's been a minute (well, two months) since we've done laundry. Sorry—that's probably TMI, but you're reading about our adventures and we're here to be honest. The "traveler stench" following us on trains, planes, buses and in hostel lockers has now been resolved.
In our defense, hand-washing and laying out laundry to dry in public spaces is a pretty foreign concept. So we've put it off as long as possible. But we are confirming here publicly that we will never go that long again."

Learn the Lay of the Land:
Train Travel
Mady: "So, why is Sri Lanka suddenly on the map as one of the hottest places to visit this year? Lots of reasons, but here's what you need to know. Sri Lanka ended a 25-year civil war in 2009. Before then, tourism was pretty much nonexistent. In the past ten years, the country started to attract foreigners due to its stunning natural beauty, diverse offerings, and a cheap, easy-to-navigate train system that can pretty much get you anywhere.
For price context, we took a seven-hour train journey in a first-class cabin for under $30 USD/person. We took another seven-hour train journey in a 3rd-class cabin for under $3 USD/person.
You may have seen Sri Lanka come up on your social feed recently due to the now Instagram famous Nine Arches Bridge picture in Ella. This train picture has become so well known in the social media travel community that there's been multiple articles written about safety re: hanging out of moving trains while recreating the photo. See here.
We obvi had to check it out! But we promise we didn't try to pull any crazy stuff for our shot—um, for once."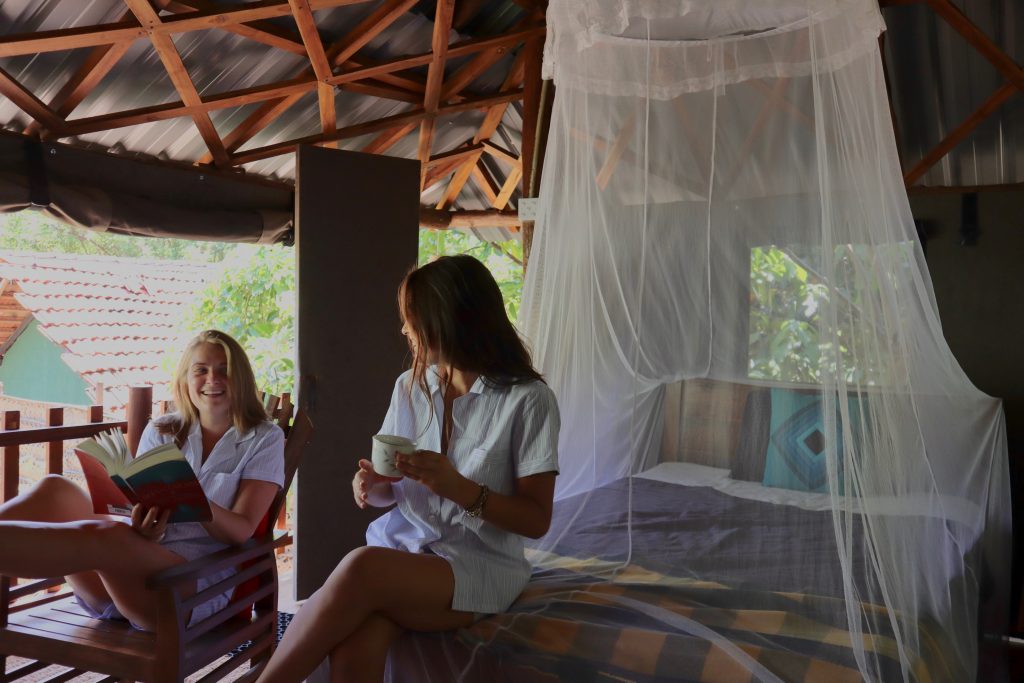 Last Night's Stay + Cost: 
Lizard Safari Lodge– 17,800 LKR ($50 USD)/night
Kim: "One of our top to-do's in Sri Lanka was to stay in a treehouse. Our friend found the perfect lodge in Udawalawe National Park (try saying that ten times fast). We slept in mosquito-net canopies with fireflies as natural nightlights and woke up to jungle noises as an alarm clock. Our stay also included a delicious homemade breakfast—the best food we've had in Sri Lanka and definitely one of the coolest places we have stayed so far!"
Wizard of Oz Tally:85 (and counting)
"While we know Kansas City has a lot to offer, the majority of the world immediately affiliates us with one thing—The Wizard of Oz. We're keeping a real-time tracker of all the Dorothy, Toto, and tornado references made to us along the way."
 Next up?
Kim: "After hiking our way through central Sri Lanka, we are craving the sun. We're headed south to celebrate Buddhist New Year, go whale watching, attempt to surf, live in our swimsuits (it has been two and a half months too long) and relax on the beach. We'll divide our time between five beach towns starting in Mirissa and ending in Colombo."
Follow the girls' adventure around the world on Instagram via @ourlifeinemojis.