Our two favorite adventurers, Kim Farrell and Mady Johnston, had a crazy idea last summer. They quit their respective jobs and hocked all their belongings to begin a devil-may-care, 18-month journey around the world. Now they're skipping around parts unknown and brazenly enjoying wherever the wind takes them. IN Kansas City is following these two travel buddies from Overland Park on their epic adventure.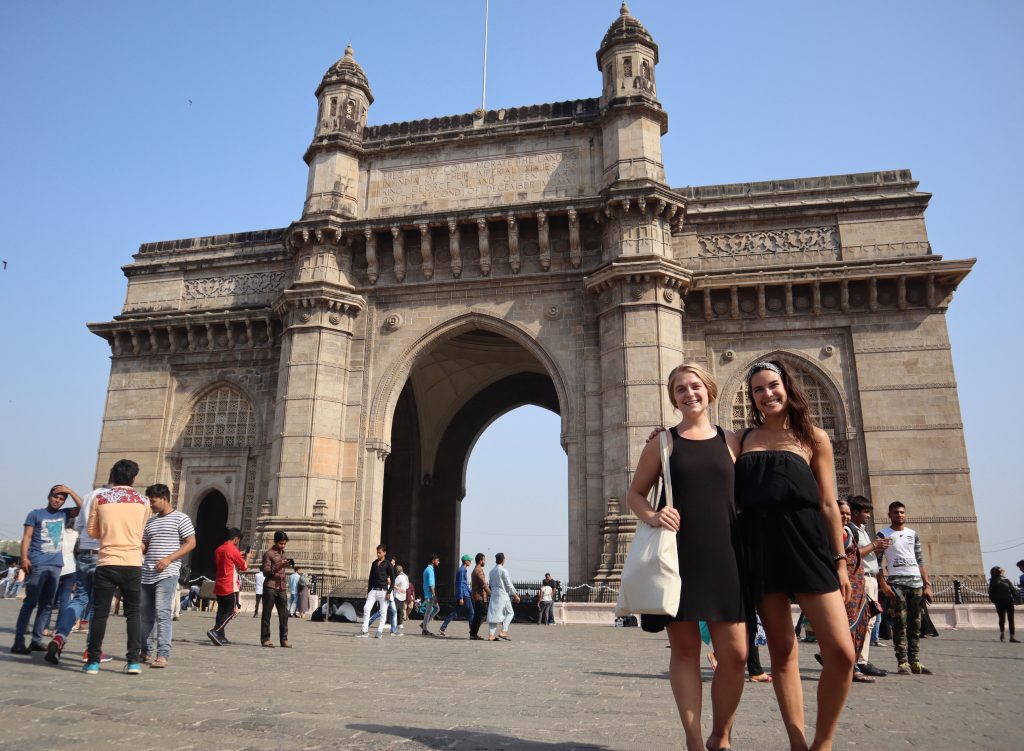 Since we last checked in, Kim and Mady explored two more color-themed cities: Jodphur (the Blue City) and Udaipur (the White City), joined the crowds in Pushkar to celebrate Holi—India's most vibrant celebration—slept and ate for almost two days straight in Mumbai (so necessary), and trekked through the jungles and black-sand beaches of Goa.
What adventures have they had? Read up on some quick stories and travel highlights on their last two weeks—and look out for their next globetrotting update in the coming weeks.

Kim: "India gets a bad rap for ripping tourists off and being unsafe for female travelers—thus, our original plan to only come for one week. While this may be true for some, our experience could not have been more different. We've been blown away by the hospitality and friendliness from all the locals on our two month journey through India.
In Pushkar, Mady and I were bargaining with a street vendor, fighting to get a price down by 50 rupees ($0.72 USD). We were successful and upon leaving, an employee called us back into the store to speak with his boss. We looked at each other nervously and followed the man inside. His boss asked us how much we paid him and we replied 400 rupees. He looked at us, held out the cash we gave him and he showed that we had accidentally gave him 700 rupees. He gave us back 300 rupees in change and gave us a nice reminder to check our bills more thoroughly before we pay. We definitely didn't deserve his kindness after the stink we put up, but we were grateful to say the least."
Mady: "With our time in India wrapping up, we had to decide between making our last destination either Goa or Kerala. Goa is more of a party scene on a beach, where Kerala is known for lush jungles and Everglade-like boat tours. Kerala was the obvious choice considering our new zen lifestyle. But as we continued to meet people raving about Goa, it was clear we needed to reroute, be a little less zen, and finish out in Goa.
On a little caffeine high and adrenaline rush, I looked up options to change our flight from Kerala to Goa and found one with two seats left. Feeling oh-so lucky, we booked immediately to snatch up the last seats. When the confirmation emails hit our inbox, we realized that our perfect 2 p.m. flight to Goa was actually a 2 a.m. flight. Little did we know, this began a series of disastrous travel events. The universe was def signaling that it was time to GTFO of India, and we heard it—loud and clear. Bye!"
 Currently in: Chennai, India
+10.5 hours ahead of Kansas City
Learn the Lingo:
Bahut mehenga hai: It's too expensive
Daam kam karo: Decrease the price
Alvin: Good bye

Last thing you ate?
Masala Dosa – 60 INR ($0.87 USD)
Kim: "A dosa is a crispy, savory rice and lentil crepe that is typically filled with potato and vegetable masala and served with sambar and coconut chutney. You can find dosas at street vendors, bus stops, and nice restaurants. If you ask me, this classic Southern Indian brekky dish makes for a pretty good brunch theme—dosas and mimosas."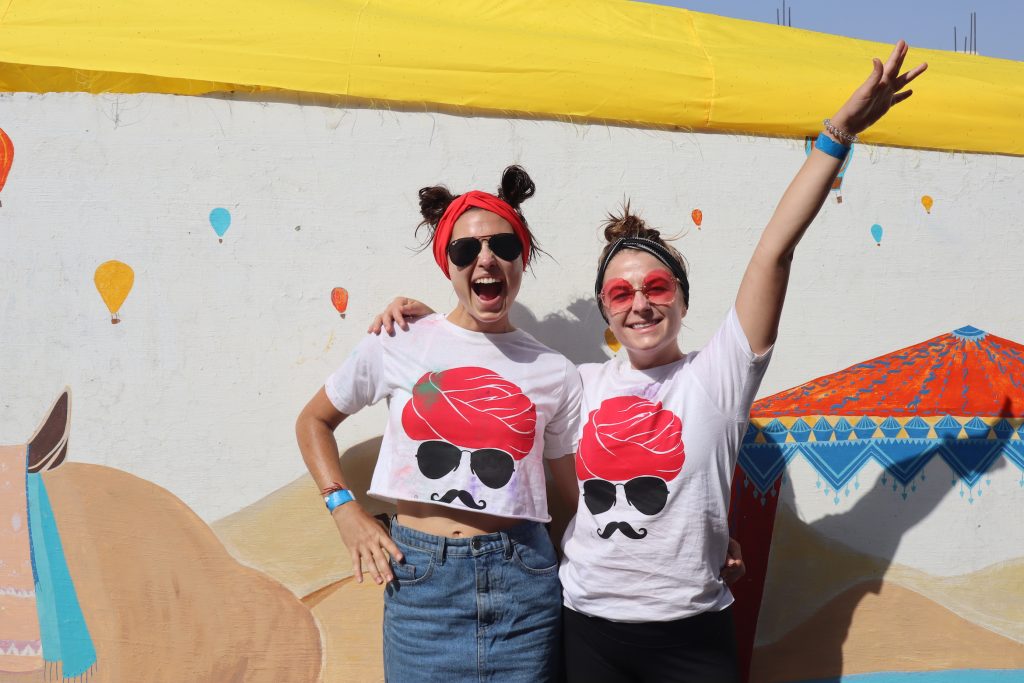 Last thing you bought?
All white wardrobe for Holi Festival: 850INR ($12.28 USD)/per person
Mady: "Traditional Holi attire is wearing white to symbolize a fresh start for the beginning of spring. The bright colors represent new life. Whatever you wear will be completely ruined by crowds smearing paint and colored dye all over your body. Holi presented a unique opportunity and challenge for us:
Opportunity: Create space in our stuffed to the brim backpacks by wearing clothes we can trash.
Challenge: Buy anything we absolutely need at the cheapest price, accepting it will be trashed. This is actually very hard for us because we get attached to everything we buy.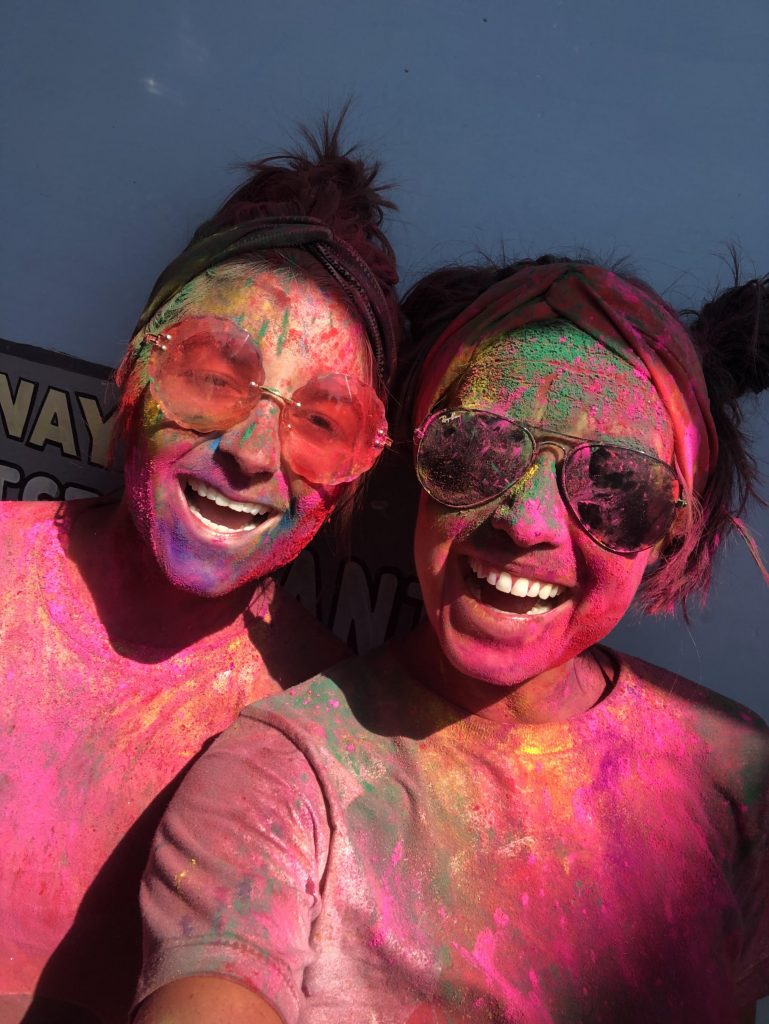 What were our necessary purchases? Sunglasses, fanny pack, white shirt, coconut oil, headband. These are absolute mustsif you're going to a Holi celebration. Pro tip: Coating your skin and hair in coconut oil pre-Holi is key because it clogs your follicles/pores by absorbing the oil and means that you won't be stained with color dye a week after Holi ends. The masterpiece on your body washes right off in the shower."
Learn the Lay of the Land:
Hippie Trail
Kim: "Most travelers follow the Golden Triangle (Delhi, Agra and Jaipur) or Rajasthan loop in India. The Hippie Trail is another route that takes you outside of the busy cities to experience a different, less chaotic, side of India. Some of the most popular destinations on the hippie trail are Gokarna, Goa, Hampi, Varkala and Idukki. These vibrant towns are filled with rhythmic music, natural remedies, yoga and opportunities to deepen one's spirituality. This route is perfect for those looking to find free-spirited people, good vibes, and time in mother nature."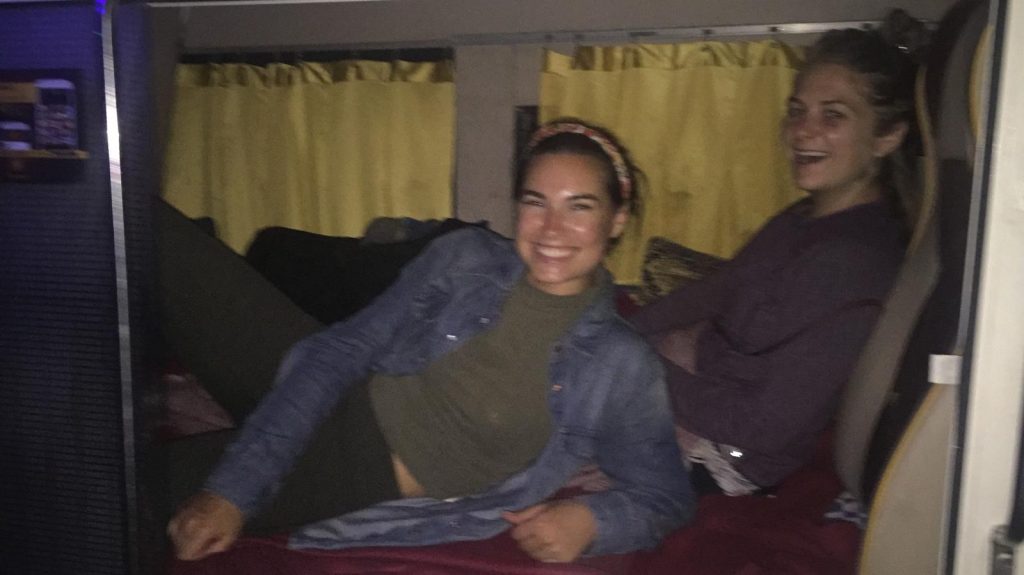 Last Night's Stay + Cost:
19 hour sleeper bus – 1,785 INR ($25.79 USD)/person
Mady: "Nineteen hours on a bus. I know. But at this point, we've done much worse (26 hours!!) so 19 hours was a breeze. We relied on trains and busses to get around India as it's the cheapest way to cover the most ground here. Also, taking an overnight bus means we don't have to pay for a place to sleep. Instead, we sleep next to each other in an overheated cabin on top of all of our bags. Lucky for us, Kim and I have no concept of personal space anymore and we have a shopping problem—so it's pretty comfy."
Wizard of Oz Tally: 81 (and counting)
"While we know Kansas City has a lot to offer, the majority of the world immediately affiliates us with one thing—The Wizard of Oz. We're keeping a real-time tracker of all the Dorothy, Toto, and tornado references made to us along the way."
 Next up?
Mady: "Sri Lanka! We can't contain our excitement as we type this. Sri Lanka has been one of our planned trip highlights since before we left in August. Right before the holidays, Lonely Planet named Sri Lanka the #1 travel destination for 2019. People all around the world have been raving about this magical country, so we've committed to explore Sri Lanka for a month.
To make things better, one of our best friends from high school (another KC girl!) is meeting us there for the first week. Follow along as we check out the beaches, jungles, elephant safaris, tea plantations, and yoga/surf retreats that make this country the ideal vacation spot for 2019."
Follow the girls' adventure around the world on Instagram via @ourlifeinemojis.