For most people, that first cup of coffee in the morning is the lifeline between getting out of bed and getting to work. Coffee wunderkind Eli Rami is well aware of that. He's gone to great lengths over the years to help with your never-ending caffeine addiction. In fact, he's grown from your garden-variety coffee consumer to running his own Australian mini-coffee conglomerate in less than three years. But Rami got his start here in Kansas City—cutting his teeth at The Roasterie, which celebrates their 25th anniversary this year. "Some of the best days of my life were at The Roasterie. I definitely owe everything I know about coffee to my time there," says Rami. "To sum up my experience in one word, it would have to be 'growth'. I turned 21 my first month working at The Roasterie and here I am today—with a busy little roasting company and two cafés."
It took nine years—off and on—at The Roasterie for Rami to learn the subtle nuances of a java-nated nation. As he tells it, he did a bit of everything. "Warehouse, production line, deliveries, drove the grocery truck, sales and branding," says Rami. Out of all his gigs, he says, branding was his favorite. And then he got good at it—really good at it. He took his act on the road to join his wife in Australia. Rami knew marketing coffee was his calling card in America, but could he duplicate his skills somewhere else?

He dabbled in a few outside ventures—none had the allure of the coffee industry. Rami lasted less than eight months out of the business before the lure of creating his own coffee line pulled him back in. "I decided to put everything I learned to the test and started my own company in Brisbane," says Rami. "And—voilà—Black Lab Coffee Company was born."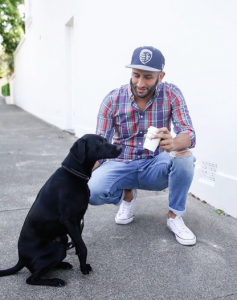 For the record, the company was not, repeat not, named after Rami's oft-present black whippet, Oz. "He looks like a lab, but no. It was named for a laboratory of coffee—black coffee. People say, 'Coffee is an art.' We think not," says Rami. "We believe coffee is a science. Everything is measured in grams, degrees, and bars of pressure, exactly the same every time. And we are all coffee scientists who work in the lab."
Once he had perfected his blends and his mad-crazy marketing plan of attack, Rami followed suit by opening up two cafés a year apart, Two Black Birds and The New Black. Now he's known as—natch!—Eli the Coffee Guy.
Brisbane never stood a chance.
"Business has been awesome and challenging," says Rami. "Next up? Probably a café in Sydney. Having two shops in Brisbane has helped the brand a lot—so a café in Sydney seems like the next natural move."
Being a savvy coffee czar keeps Rami in his frappe place—as he really is fanatical about the perfect cup of joe. His favorite? The French press he makes at home in the morning. "I like everything about it—everything. The smell, the taste, the process of getting it from the farm to the cup, the history and most importantly all the experiences," says Rami. "Coffee has created so many opportunities in my life to meet some of the most interesting people I know today. I got to meet so many amazing chefs, restaurateurs, and industry people. Many of whom I'm still in contact with, regardless of the distance and time difference."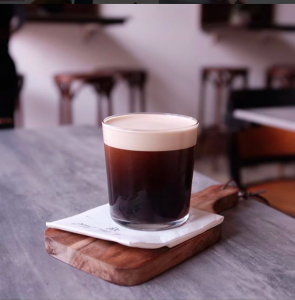 Since Rami is internationally inclined, we wanted to know who—pray tell—does coffee better? America or Australia? Rami was diplomatic. "The truth is, Americans make much better drip coffee—filter coffee—a.k.a. coffee-coffee. Australians do a really good job with espressos and espresso blends."
For the record though, he does make a mean Dirty Chai if plain ol' coffee isn't your bag. In the meantime, Rami is tackling Australia one territory at a time—or at least giving it his best shot. Or two. Or three. You know, depending on how strong Aussies like their drinks.
Going to Brisbane or Sydney any time soon? Stop by and say hi to Rami. Seriously. He still gets homesick for Kansas City something fierce. Company is always welcome. No promises, but if you're from Kansas City—you'll probably get the hook-up. "Kansas City is a special, special place and I miss it a lot," says Rami. "There's such a community there—it's hard to find anything like it anywhere in the world."