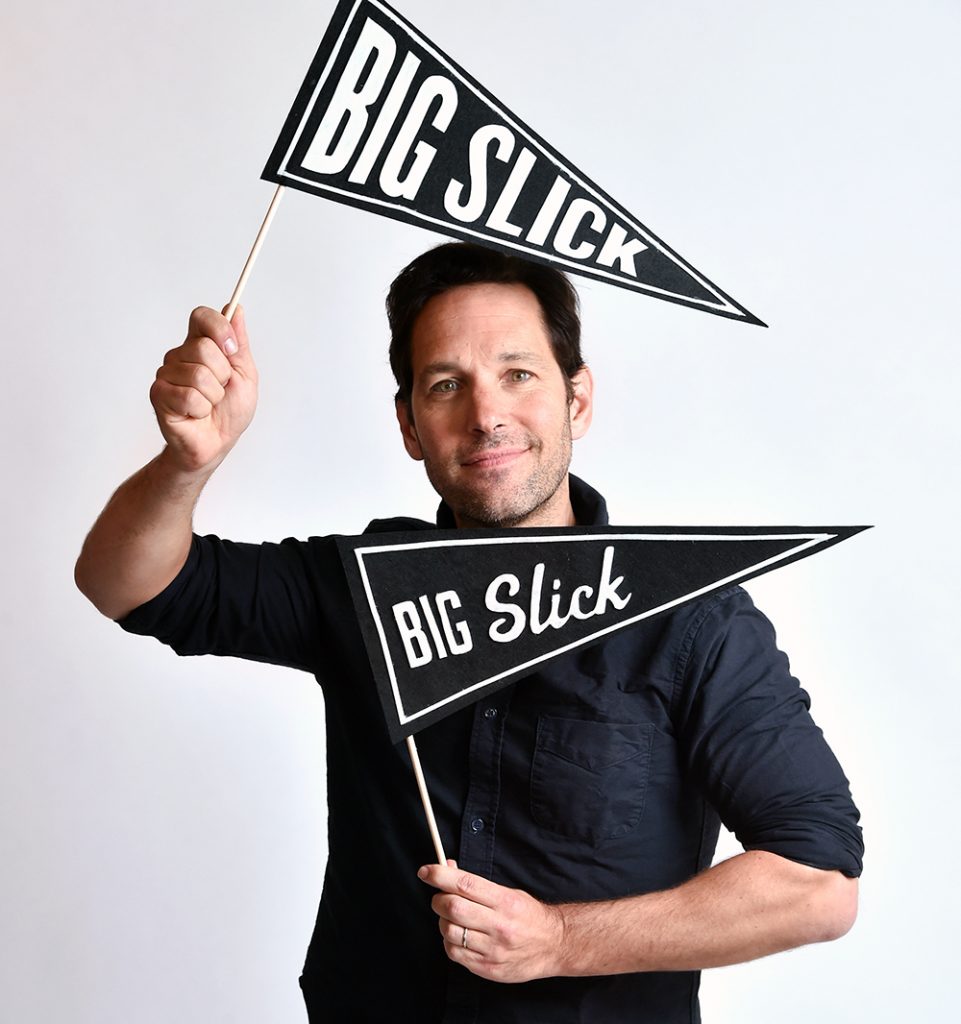 When IN Kansas City caught up with actor and local hero Paul Rudd, he was just coming off a month of jet-lag-inducing world travel to promote the smash hit Avengers: Endgame and a grueling week of rehearsals prior to hosting the season finale of Saturday Night Live. And yet, when he calls from his home base in New York barely 24 hours after the SNL wrap, he begins by apologizing for pushing the deadline to the last minute.
America's favorite good guy shows no trace of fatigue or irritation in his deep, smooth voice. His impeccable manners are as congenital as his sea-green eyes. Much ink has been spilled about the 50-year-old's youthful appearance, but his true appeal lies in the way he embodies the image of a Hollywood leading man from a bygone era. He's Gary Cooper in Gen X clothing.
Rudd has been with his wife, Julie, for more than 20 years. The couple has two children, Jack, 14, and Darby, 9. Movie site IMDb lists 125 TV and film acting credits for Rudd. Some of many hit films include Clueless, Anchorman, 40-Year-Old Virgin, and Ant-Man.
Rudd will be in Kansas City June 7 and 8 for the annual Big Slick Celebrity Weekend, a softball game, bowling tournament, and show, all held to raise funds for Children's Mercy Hospital. It's the 10th anniversary of the event, which was launched when Rob Riggle called Rudd and Jason Sudeikis with the idea to host a poker tournament to raise money for the hospital. A few years later, the three invited area natives Eric Stonestreet and David Koechner to join them as hosts. Together the five of them—and their families and friends—plan the event that gets bigger and better every year. So far, Big Slick has raised more than $8 million dollars for the Children's Mercy.
You have a Netflix series called Living with Yourself coming out in the fall. What's that going to be like?
I'm not sure how much I am supposed to tell you, but I play two parts, so that's a new experience for me—playing scenes with myself. And every episode was directed by this couple called Dayton and Faris, Jonathan Dayton and Valerie Faris. Their first movie was Little Miss Sunshine. They are real artists.
Your most recent film, Avengers: Endgame, is a worldwide phenomenon and expected to become one of the top grossing movies of all time. How different has that been than a typical movie?
I know I'll never replicate that, to be part of something that's that enormous. I traveled around the world to promote it, and to see that level of passion for the franchise in different countries that speak different languages has been really exciting and surreal.
Were you a comics nerd growing up?
I mean, I read comics, but all different kinds of comics. The superhero comics were not my number one choice. The comics I read tended to be more comedies, stuff like Archie and Laugh Comics Digest. Also, since my family is English, when I was a little kid, I had a cousin who brought over some comics from England that I became really obsessed with: The Beano and The Dandy.
You've done lots of big, popular movies and then sometimes you do these little, independent films such as Mute, Prince Avalanche, and Wet Hot American Summer. Why do you take the time for those lower paying gigs?
This career choice has never been about which jobs pay well. It's always been about creative fulfillment. I've been fortunate to be able to go back and forth between all sorts of genres. It's something I have tried to do. Some of my favorite films have been ones that I figure maybe ten people will see.
What is your favorite thing about doing Saturday Night Live?
Ah! Wow. There's nothing like it. There's no comparison to anything else. It's not just that it's live television—I've been on other live television shows. A show like this would never even get made today if you had to go pitch it to a network. It's been grandfathered in. It's such a huge part of pop culture history and New York City history and my own fandom. I've watched it my whole life.
What is the most stressful part of being on SNL?
It's all stressful. It's incredibly nerve-wracking and thrilling, all the changes going on behind the scenes that viewers aren't aware of. The show is being created while we're doing it. Sometimes we don't know how a sketch is going to end. It will be re-written between dress [rehearsal] and air [time]. So sometimes you are reading lines from a cue card and it's the first time you're saying them. And for the directors to know which camera to cut to and the actors to know which camera to look at—it's such choreography. It's an incredible accomplishment that they are able to do it. It's very exciting and also exhausting.
You live in Manhattan—the big one—now. When people there ask where you are from what do you tell them, and what kind of reactions do you get?
I tell them Kansas City, even though I wasn't born in Kansas City. I've lived in New York City almost three times as long as I lived in Kansas City but the time in Kansas City, those were formative years. My mom and my sister are still there, and we go there every year, not just for Big Slick but for the holidays. I still feel such a connection to the city. I still root for the Royals, I'm a die-hard Chiefs fan, I watch Sporting Kansas City games, I still get barbecue sauce shipped in. I've lived a nomadic life but there's something…
It feels like your hometown even though it's not your home?
Hands down, one hundred percent.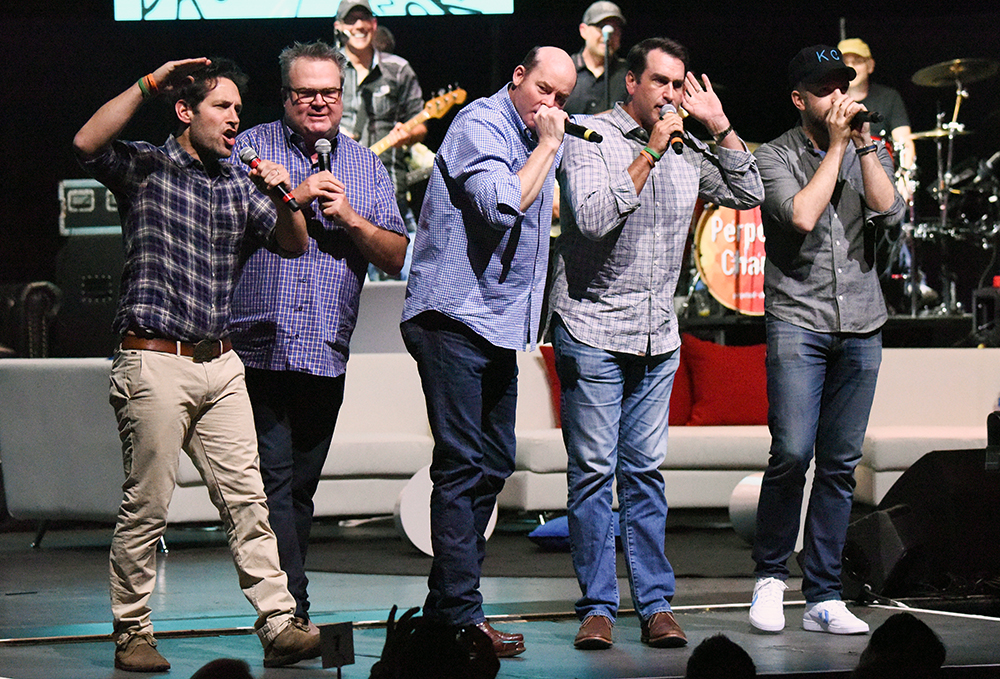 There's this kind of Kansas City entertainment mafia—you, Jason Sudeikis, David Dastmalchian, Don Cheadle, Eric Stonestreet, David Koechner, and Rob Riggle—who have intersected in different projects, and this weekend you collaborated in sketches with freshman cast member Heidi Gardner on Saturday Night Live. Did you two talk KC between rehearsals?
This is going to sound crazy but I met Heidi in 2002, in Kansas City, at Harling's. She was a kid. I was back home over Christmas break with college buddies and my wife at a table and she was sitting with her group at the next table. We started talking about comedy. I think I had just finished Wet Hot American Summer, and she was one of the ten people who saw that movie. She was working at a salon and she told me she was interested in getting into the hair and makeup part of the business. I know someone that does that for movies and shows, and I offered to hook them up by email. We kept in touch for a while because I thought right off the bat that she was really funny and really cool. We didn't keep in touch very long, but then when she got on SNL, I was at a charity event in New York and she was there and we were talking and she said, "You know, we met many years ago. I'm Heidi and we met at Harling's."
You frequently co-star with Steve Carell and Seth Rogen. Have you ever analyzed why you think the chemistry works so well between you and each of them?
I really like both of them. We're friends, for one thing. I think another part is, there's kind of an internal set-up meter, a kind of mechanism for how you set up jokes and play off each other and we are just in lockstep. One thing Steve and Seth have in common is an inability to take themselves too seriously. I think that's an important component if you're going to be doing comedy. If you are worried about looking dumb, you're getting off on the wrong foot.
What is the basis for your frequent collaboration with director Judd Apatow?
We find the same things funny. I frequently get described as a comedian, and I'm not one at all. I've never done standup, and comedy is not my background. I went the traditional actor training route. But there's no doubt growing up that I was drawn to comedy, to Saturday Night Live and to Steve Martin. Steve Martin also played a huge role in Judd Apatow's life. So our sense of humor was molded by the same people. And our lives have paralleled each other in certain ways, like becoming parents, and we want to highlight those human events in relatable ways.
How long have your kids been watching your movies and what is that like?
They don't really watch my movies. The first one we ever saw together was Ant-Man. Before that I hadn't really done any movies that were suitable for kids. Also, they never showed an interest, and I never had an interest. Once when my son was about 5, he went to a movie theater with some friends, and I was on a poster outside, and they all thought that I just worked at the movie theater, and I let them go with that.
Have your kids seen Avengers: Endgame?
Yes, they got to go to the premiere and loved it. Now they're kind of into the whole Marvel Comics Universe.
Did they have any specific comments about your performance?
They liked it, but my son is 14, and he doesn't think of me as Ant-Man, and he doesn't think of me as an actor, and both of those things make me very happy. I'm just his dad, so he has no problem telling me he thinks the Winter Soldier is a much cooler character than Ant-Man, and that he thinks (Sebastian Stan) is a better actor. That gives me great pleasure.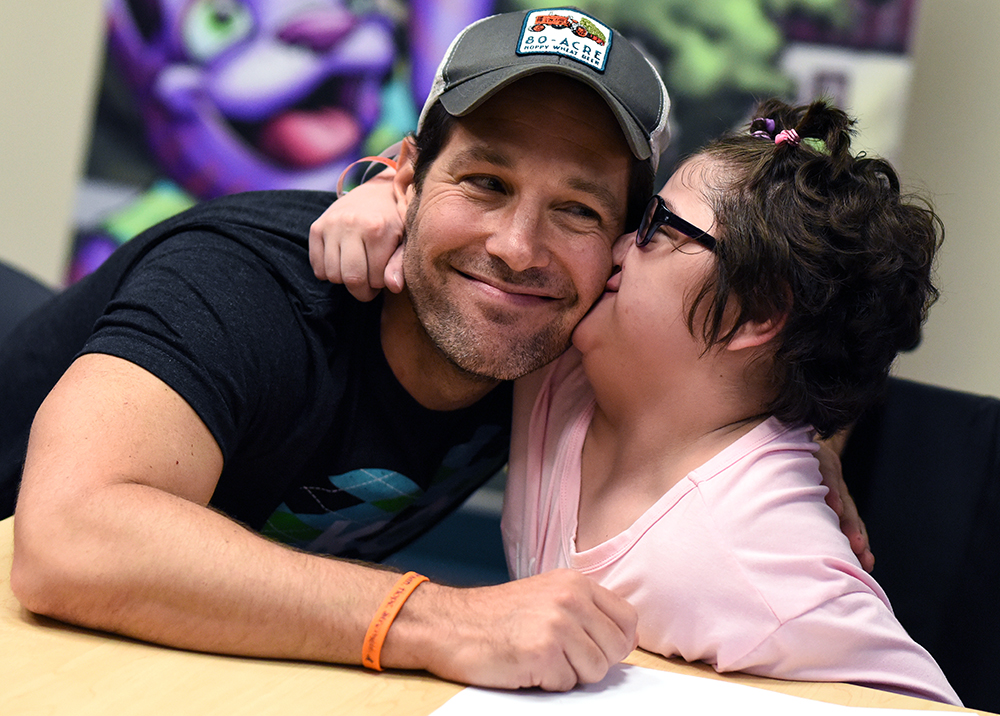 You've been a tireless supporter of the Big Slick all these years. Why do you care so much about it?
I don't know how anybody couldn't. When you meet people who are going through this struggle of cancer—and we all have—you feel helpless, sad, and frustrated. And especially when it's a kid, then it's really unfair. And the mission of Children's Mercy to never turn anyone away is so good that I just wanted to help.
The thing that separates Big Slick from every other kind of thing like this is that it's our families that do it. Our families are so involved all year long, and that gives it a very hometown, no red tape, heartfelt experience for our guests that come in who grew up in other parts of the country. It's hard to get people to show up for anything but we get so many celebrities that have been so affected by it that they want to come back every year. It makes no sense that you would get to see all these people on one stage in Kansas City. I don't know of anything like it that exists anywhere else. It's magical in that regard, and it's also restorative in seeing the good we can do when we all come together.
Interview condensed and minimally edited for clarity.