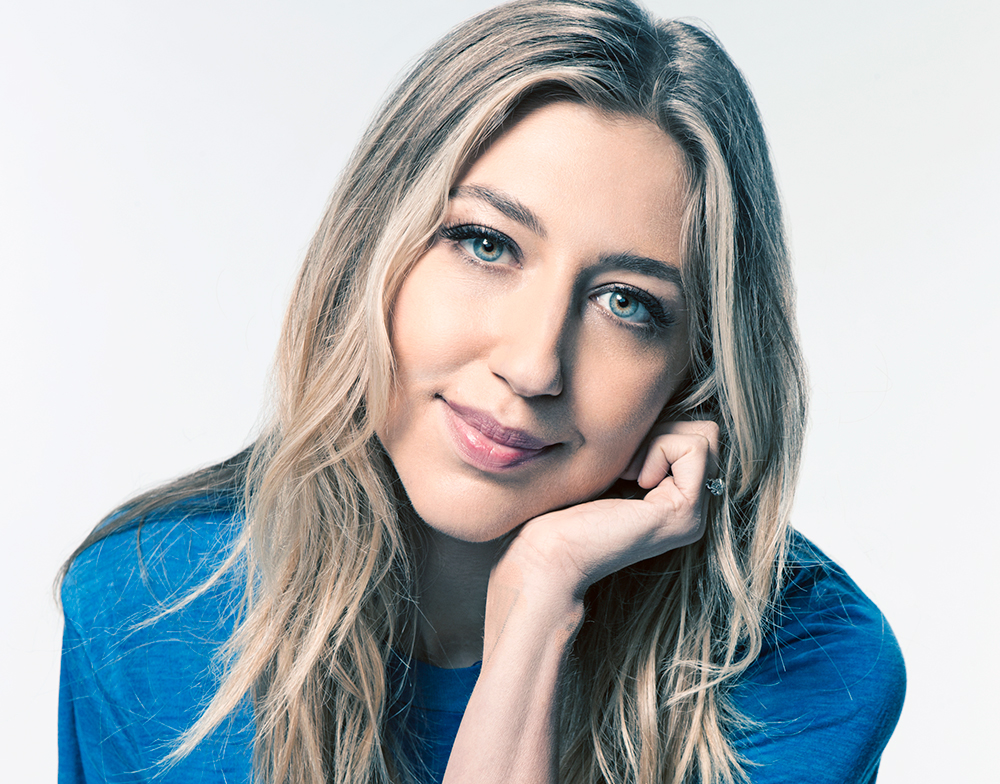 Two years ago, native Kansas Citian Heidi Gardner, 36, landed a coveted spot as a cast member on Saturday Night Live. How she got there is a tale of spunk triumphing over strategy.
After graduating from the all-girls Catholic high school Notre Dame de Sion, Gardner enrolled at the University of Kansas for two years and University of Missouri for one semester, but her attendance and interest flagged. Cutting her MU roommate's hair one day, she discovered a knack and got a degree in cosmetology. She decided to move to Los Angeles based solely on the premise that a career in hairdressing seemed more serious when framed as a way to break into the film industry.
That didn't happen, but life in California was good. She met her husband, Zeb Wells, a writer for Marvel Comics, and a chance encounter in 2009 with a member of Groundlings, a premier improv troupe in LA, became the launching pad for her comedic success.
In addition to her work on Saturday Night Live, Gardner voices Tuva Von Void in SYFY's animated series Alien News Desk, and Cooch in the Crackle series SuperMansion. She landed a role opposite Melissa McCarthy in Life of the Party, a comedy, and appears in the upcoming independent feature Otherhood with Angela Bassett, Patricia Arquette, and Felicity Huffman. She also guest starred on the final season of HBO's Veep, and appeared on the Comedy Central series from SNL's Chris Kelly and Sarah Schneider, The Other Two.
In her freshman and sophomore seasons at SNL, Gardner has earned kudos for creating uncannily real-feeling characters, including angsty YouTube teen film critic Bailey Gismert, and long-suffering Angel (Every Boxer's Girlfriend From Every Boxing Movie Ever), who contributes a "Good News" segment on Weekend Update.
Gardner has a devoted following on Instagram, where she fills her feed with unpretentious at-home shots, Royals and Chiefs love, photos of her cats, and selfies with friends.
Over the course of an unhurried phone call from her home base in New York, Gardner gives short, polite answers punctuated with cheerful Midwesternisms ("yup!" "nope!") and seems surprised and pleased that people would want to hear her thoughts about her art and life.
How often do you get back to Kansas City?
Usually I get back there a couple times a year, like around the holidays and once over the summer. I was just there in June to do the Big Slick event [a celebrity weekend fundraiser for Children's Mercy Hospital], which was really cool.
Was that your first time doing Big Slick?
It was. Growing up in Kansas City I had heard of the amazing work that Children's Mercy does, but, luckily, I never had to go there or had anyone close to me have to go there.
We did some hospital visits and I was blown away at how well taken care of the patients are, how great the nurses and staff were and even the people taking us around. It blew my mind.
And then to meet the kids—you think you know what strong is and then you meet these kids that are so brave, managing to keep a smile on their face. It was really cool.
Paul Rudd, one of the founders of Big Slick, told IN Kansas City about meeting you at Harling's a long time ago. What is your memory of that encounter?
I would have been 19 years old, and I think the summer before I had seen Wet Hot American Summer and thought it was so funny—I had already loved Paul Rudd from Clueless and The Object of My Affection and Romeo and Juliet. So over winter break I saw him at Harling's and just totally fan-geeked out on him. At the time, [Wet Hot…] was an indie movie so that wasn't a movie where people were coming up to him saying, "Oh, my god, that was so good." So he was like, "You saw that?!?"
For the next two years I would see him when he would be out in Kansas City—it seemed like my friends and his friends went to the same bars. I would say hello and he would say, "Oh, you're that girl that likes Wet Hot American Summer."
When I was 21, I told him I was going to LA to try to do hair and makeup, and he even tried to get me a job on The 40-Year-Old Virgin, but I wasn't in the union at that time. He was so helpful and kind, Kansas City-style.
And then fast-forward to 12 years later, I saw him at a charity event, and he was like, "I know you, right? You're from Kansas City." And I was like, "Yeah, you tried to help me." And he was like, "Wait, that was you? The one doing hair!"
What do you like to do to relax when you're back in Kansas City?
My favorite restaurant in Kansas City is Jalapenos in Brookside. I have yet to find better chips and salsa anywhere in the world. So I like to go there.
And of course, barbecue. My mamo [grandmother] lives right down the street from LC's, so we like to get burnt ends from LC's.
You're turning 36 in a couple of weeks. Do you get into birthdays?
Um, I do get into birthdays. I mean, I like… I like [laughs] being celebrated. It's fun to eat cake and get presents. But I haven't in a while done any sort of a party. I used to do a birthday party a lot more when I was younger, but it's starting to feel weird to invite a bunch of people to celebrate me. So usually my husband and I just go out to celebrate.
How long have you been married?
Nine years.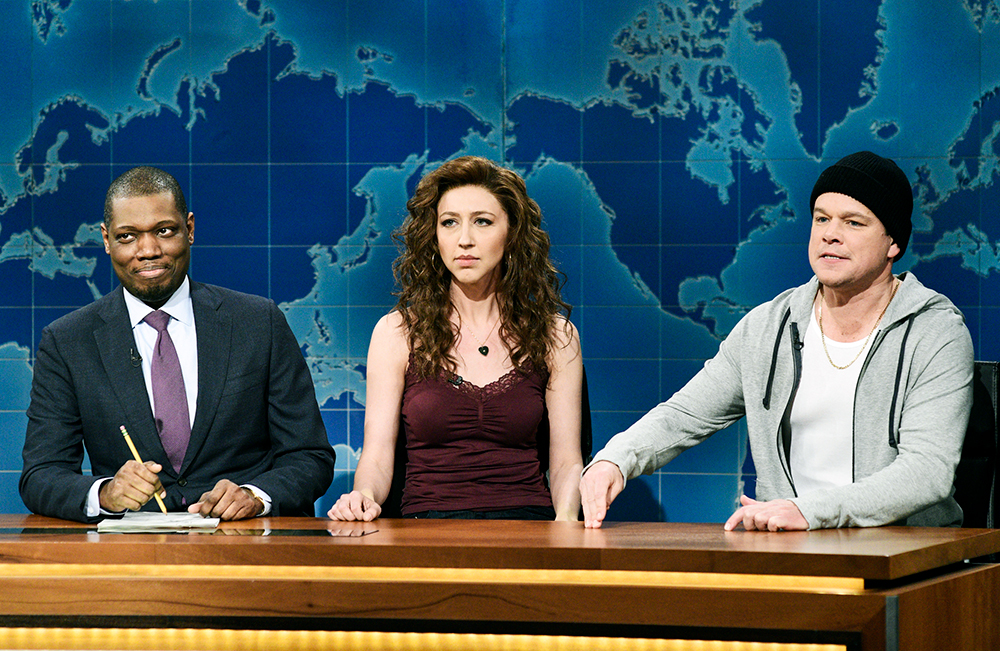 How has Saturday Night Live changed your marriage?
Well, we live in New York now, which is kind of a huge difference. We had both been in LA even before we met each other. So we had gotten used to that. He's also a Midwesterner, and I think when you move to a big city from the Midwest you are like: All big cities are the same. We kind of thought: Well, New York will be just like LA. And it's not [laughs]. At all [laughs].
And we both moved to LA when we would be considered young and dumb, and you just have to figure it all out. You forget how even just a move can be traumatic.
How so?
It's like, suddenly I have to find friends, and the grocery stores are different, and in New York you're walking everywhere. It's just so many things to wrap your mind around.
In the beginning we tried to treat it like: Oh, it's not a big deal! Oh, you got this amazing job! And now it's like accepting that things are different—good and bad. I think we're now just kind of more aware, and, yeah, it's a totally different lifestyle.
Saturday Night Live, like the country, has become hyper-politicized since 2016, the year before you joined the cast. Are you political?
I wouldn't say that that's my forte [laughs]. You know, I have to keep up with it more now just as a responsible adult, but also it's my job. But that's not necessarily where I've found my comic niche. Every so often, you know, I jump in if I have a take on something or if there's a certain character I might want to do an impression of.
"I'm really proud of being on a show that makes people feel a little better, that lets them have a little humor in such scary times."
When you watch the Democratic debates, with 20 different candidates getting stage time at this point, are you thinking about who you might be asked to do an impression of or who you would like to do an impression of?
Yes. You know, sometimes immediately you think, "Oh, I could do them." But it's weird now because, it's like, oh my gosh, I don't want to get attached to one, and they're the one that's gonna be gone soon.
Saturday Night Live has become an important voice in politics…
Totally!
So if political impressions aren't your natural comic niche, is that scary?
With political [impressions] you're actually playing someone, so there's just a little bit more pressure: Am I getting it right? Or, will people like my take on this? As opposed to the thing you just make up out of thin air and people trust, like, "Oh, OK, I buy it." Because there's not a real person they can compare it to.
Even though it isn't your comfort zone, do you get satisfaction from the political stuff now because it feels important?
I mean, totally. And I'm not necessarily a go-to political person on the show right now, but I'll have people come up to me and say, "Thank you so much for what you do." And, I'm like, "You mean what Kate [McKinnon] does?"
People seem to really need it at this time. I'm really proud of being on a show that makes people feel a little better, that lets them have a little humor in such scary times.
Your character Angel (Every Boxer's Girlfriend From Every Movie About Boxing Ever) is absolutely iconic, destined for the SNL Hall of Fame alongside Gilda Radner's Roseanne Roseannadanna…
Aww, thanks!
How long can she go on?
I'm not sure. It's hard for a performer—when you do something recurring, you're just a little scared, like, "Do people still like her? Or are they sick of it?" You know, we're always our worst critics. The feedback and people's support on that character has always been really kind.
So I guess I don't know how long she can go on. I guess it depends on my insecurities [laughs].
Is Angel timeless, since she isn't tied to a real person in the news?
Yes, I think that's true. With Angel, any issue can be put through the lens of, it's really hard on her and her family [laughs].
Interview condensed and minimally edited for clarity.