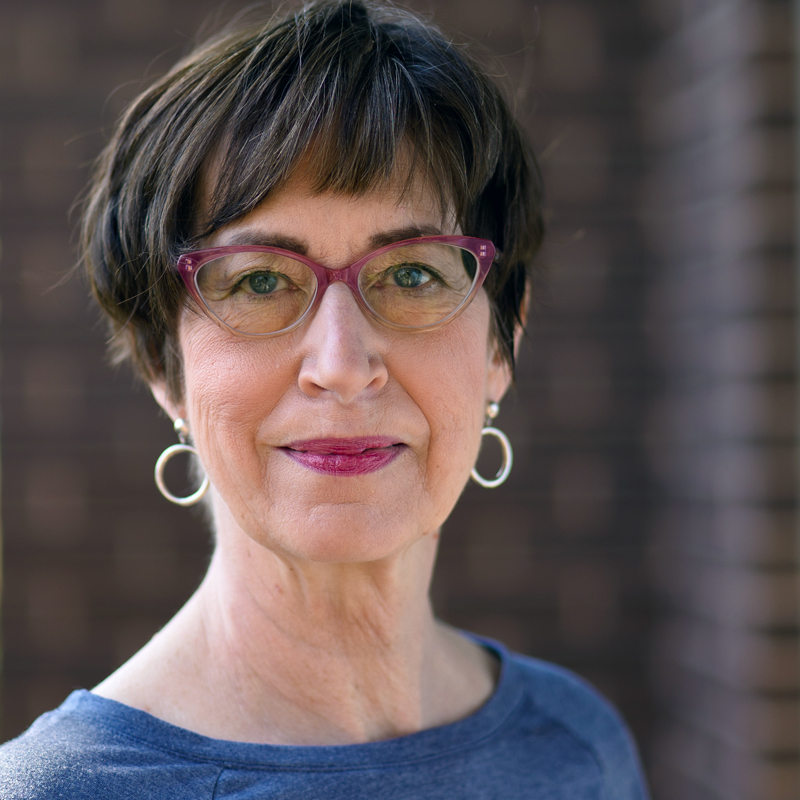 People waving—often behind glass—gained emotional significance during lockdowns. A rote gesture became something we paid attention to. Kansas City-based photographer Deanna Dikeman has been closely noticing people waving since 1991. Leaving and Waving (Chose Commune, 2021) documents nearly three decades of goodbyes in her parents' driveway in Iowa, 400 miles from her home at the time in Columbia, Missouri. 
The book, shortlisted for the MACK First Book Award in London, sold out quickly, driven in large part by foreign sales, and is now in its second printing. The Leaving and Waving photos are on display through October 3 at the juried Cortona on the Move exhibit in Italy, and 90 Goodbyes, a collection exhibited at La Esquina in Kansas City in 2018, will be featured at Le Festival du Regard in Paris October 1-November 21. 
Dikeman earned a bachelor's in biology and a master's in business at Purdue University. She took a corporate job at United Telecom in Kansas City in the strategic planning department, where she worked on the acquisition of Sprint. Less than four years later she left to devote herself to photography.
In a sit-down conversation with IN Kansas City in Matfield Green, Kansas, on the eve of a book talk, Dikeman, accompanied by her rescue pup, Joey, talked about choosing passion over corporate success, the profound intimacy of her work, and unexpected connections with strangers in Europe since her work went on display there.
What role did family play in your childhood in Iowa?
A holiday didn't go by that we didn't all get together and have these big meals at someone's house. All the cousins would play with each other. The adults would be drinking highballs or beers in the living room. And then there were little visits and we kept in touch. 
Why did you get a degree in biology?
I think it goes back to high school where I was one of the kids who was doing well, getting good grades, testing well, and everybody was encouraging me to go into science. A teacher found this summer science program at Purdue. I was kind of the nerd in high school, but nerds weren't cool then. I was just on the fringes of social acceptability. So [at Purdue] it was just this incredible experience where there were, I can't remember, 20, 40 kids, and they were all really smart and they were really cool and fun to be around. So, I went back to Purdue [after high school] and majored in biology. No one encouraged me to major in music or art or math. It was the science teacher that took an interest. And my parents hadn't been to college, so they were not able to guide me.
Why did you go to medical school and why did you leave after a year?
When I got close to graduating from college, the guidance counselors started asking, "What do you want to do?" I didn't want to work in a lab, and I didn't think I wanted to go to graduate school, and I thought, I like people, I'll go to medical school. I didn't have a great passion to be a doctor. I hated every minute of medical school.
Why?
Oh my God, it was such a grind. I was around a lot of people that were really good at memorizing everything. I kind of thought, well medicine is interesting, but these people aren't. I didn't like who my colleagues were, and I didn't do well, for the first time in my life, so I left. To go through the medical school grind, I think it really must be your passion. 
"Accompanied by a textual silence throughout the book, the repetition of the same gesture forges a totemic significance by accruing an emotional and auditory power similar to the effects of mantra-chanting."
– Mengyun Han, reviewing Leaving and Waving by Deanna Dikeman for American Suburban X
Then you went back to Purdue and got a degree in management. Was that a passion?
No! It was just, I had to do something. So, I got a master's degree and a corporate job, which eventually took me to Kansas City. I worked for United Telecom, and I worked on the acquisition of Sprint in the strategic planning department. But I also didn't like that job.
What did you not like about it?
I had to sit in a cubicle. I had to write papers for the executives. I was bored. I wanted to do something, and I was just analyzing things.
How long did you stay there?
Not quite four years.
What made you leave a successful corporate job?
This is a convoluted story. I went on vacation in Europe, and while we were there, I just had a little crisis. I said, "I don't think I can go back to my job." But rather than quit, I took a leave of absence, and I went to Johnson County Community College and signed up for a photo class. 
Why?
Because the first thing I bought when I got my job out of college was a camera, and I'd always wanted to learn how to use that camera more. 
At the same time, I had enrolled at [University of Kansas Medical School]. I thought I was going to get a PhD in epidemiology and public health, because I had this interest in management and this interest in health and science and I thought that was the perfect combination. But I didn't really care about the classes at KU Med. 
What I really cared about was the photo class, where I went into the lab, forgot to eat lunch, forgot what time of day it was—I was completely absorbed. And I thought, I've got to pay attention to this. It was the first time in my life I had found something I didn't want to quit doing.
You have said that moving to Baton Rouge in 1990 when your husband took a job at Louisiana State University "made Iowa look interesting" and that was when the Iowa pictures began. What exactly seemed interesting about it from the vantage point of Baton Rouge?
When I got to Louisiana, I realized how Midwestern I was, and I just saw the Midwest. I said, "You know, it's really interesting here. It is not the flyover country; it is not nothingness. There is really something here. And I want to figure out how to show it."
When you look across your whole body of photo work, what is the connective thread that ties the early work to the later work, and what has changed?
I think it's always been an interest in my surroundings. When I lived in Johnson County, I started photographing the houses there. And then there's the whole big series with my family [in Iowa]. When I started working at a thrift store, I photographed the clothing there. One of my hobbies is ballroom dancing and so I started taking pictures in the ballroom. 
I learned the hard way: Originally, I thought photography was going to be something I would travel and do, and I did. But when I got to India or Africa, what I discovered was that I didn't have anything to say about those places. But I've got something to say about where I live, or what I'm doing, or who I know.
As for what has changed—it's funny, when I go back and look at photos I took in the past, sometimes something that didn't seem interesting in the past has become interesting. I don't know if time has given me a different set of eyes to look at it with.
Can you give an example of that?
Yeah! I just found a whole contact sheet a couple of weeks ago, and I'd taken eight or ten pictures of my dad and my son at a backyard barbecue. I realized there is a little story in there: First they get the charcoal out and my son's opening the bag. And the next thing is, the coals are in the grill, and my dad's got his hand on my son's hand, and he's showing him how to handle the hot coals [with tongs]. And the next thing, my dad has a bicycle pump and he's pumping air on the coals because they must not have started fast enough. And then in the next picture, my dad is in a cloud of smoke and he's flipping the hamburgers. At the time, I think I printed the one of my dad with the bicycle pump, but now I find the whole series interesting.
Has it surprised you where your Leaving and Waving book has sold or what countries have reviewed it in major magazines?
It's blown me away. I always believed in it, but it was intensely personal. I always hoped that the world would like it, somewhere, that it had a place in the world. But then, snap, it just happened. Maybe with the tough year, with the pandemic, the way we all had to kind of regroup and think about families or couldn't see families—that might have made a difference. 
What were some of the countries that surprised you when you saw your work being reviewed abroad?
Italy! Italy! I mean, it's in Italy right now [through October 3] on a castle wall! I wake up and I've got comments on Instagram from people in Italy telling me it made them cry, they love it. One lady sent me a picture standing in front of my parents and waving. Italy right away picked up on it. 
And then Germany—Germany's been all over it. And then the publishers from France. The Europeans have taken to my mom and dad in a way that nobody in the U.S. has. 
Do you have any ideas about why that might be?
I was talking to a friend, and she said, "The people from Iowa look exotic when you're over in Europe. Here, they're just a couple of people in Iowa." [Laughs] I don't know if that's true or not.
Are you going to be able to go to Italy to see your work on display in Cortona?
I really want to. It's hard to travel to Italy. There's a ten-day quarantine unless you can get on a Covid flight. Delta offers them to people that are vaccinated or have a negative Covid test. I just really want to walk that walk. And the show I'm in Paris in opens October 1st, so I think I can do both. I hope. I hope.  
Interview condensed and minimally edited for clarity.