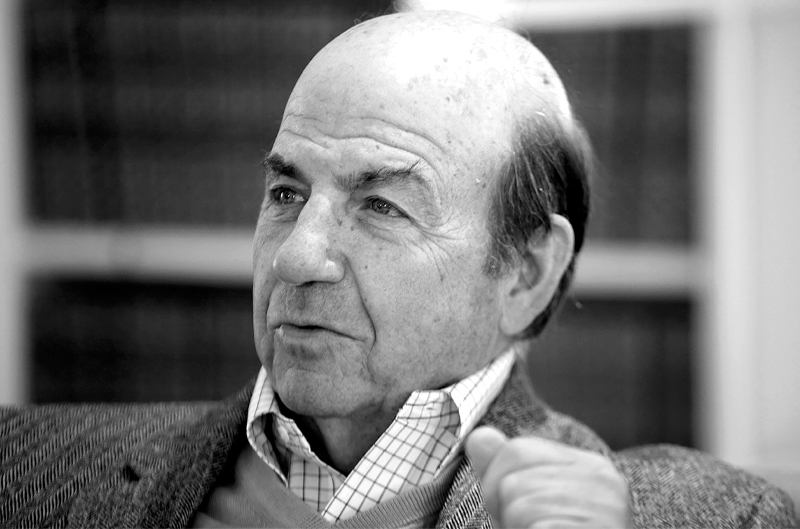 He won the prestigious Thurber Prize for American Humor for Quite Enough of Calvin Trillin (Random House, 2012), a sweetly ironic title since most of his readers would agree you can never get quite enough of Calvin Trillin.
Trillin was born in Kansas City in 1935. He graduated from Southwest High School in 1953, then left to attend Yale University, fulfilling a dream of his immigrant father, Abe, who is the subject of Trillin's achingly tender and funny, Messages From My Father (Farrar Straus Giroux, 1996).
Straight out of Yale, Trillin began reporting for Time bureaus in London, Paris, and Tunisia before spending a year at their Atlanta bureau, where he covered the Freedom Rides of 1961. Not long after moving to Time's New York bureau, he joined the New Yorker in 1963. His first assignment was a three-part series about the desegregation of the University of Georgia.
Over the years, he began contributing humorous pieces to the New Yorker. Many of them centered on family and food, although the food stories really are human stories that only seem to be about food, like The Magic Bagel, which isn't about a pumpernickel bagel, but about a father's longing for a far-away daughter to move back home.
Over the years, readers came to know Trillin's daughters, Abigail and Sarah, and his wife, Alice, by name. After Alice died of lung cancer in 2001, Trillin wrote Alice, Off the Page for the New Yorker, then expanded it into a book, About Alice (Random House, 2006) and a play in 2019.
In an email to IN Kansas City, David Remnick, the editor of the New Yorker, where Trillin still works, wrote, "It is rare that anyone can do one thing brilliantly, but Bud Trillin's talents are limitless. He is an extraordinary 'serious' reporter, as his civil rights work makes plain; he is a humorist of the highest rank; and he is a profile writer and memoirist at the highest level. And the guy can eat like nobody's business. Oh, and he's one of the finest human beings on the planet. So, what do I think of Bud? He ain't chopped liver."
In a breezy midday telephone call from his home in Greenwich Village, Trillin's voice was deep, soft, and even-keeled. He often paused before answering a question, as if looking for the most promising angle to take the conversation next, instead of rushing to wrap it up.
Who calls you Calvin and who calls you Bud?
Maybe two or three people call me Calvin and everybody else calls me Bud. It's actually an argument for naming your child something you are willing to call them.
So your parents called you Bud?
Yeah, I don't think they ever called me Calvin.
When my daughters were little, and they answered the phone, they would say, "It's somebody from Kansas City," if the caller asked for Buddy. Through high school, I was Buddy more than Bud.
Do you have an upcoming piece of writing that you are thinking about these days?
Sort of. I'm thinking of putting together a collection of what we used to call around the office at the New Yorker "casuals." That meant a sort of short attempt at humor. These days those would probably fall under the rubrik of Shouts and Murmurs and some of them would be called Personal History.
You've lived in New York for a lifetime, really, and yet you still talk about Kansas City a lot. How can you have such a strong identity with this city that you left as a young man?
It's always been true. I sometimes have referred to myself in New York as a "resident out-of-towner."
When I did a book about my father, I mentioned that (when) hearing people talk about their childhood, you can often discern a theme, like "We come from a noble family, and you must do nothing to besmirch its name" or "We're miserable because our father deserted us" or something. When I thought about what theme I would want for my daughters' childhood—they were brought up in Greenwich Village—it was, "Despite all evidence to the contrary, you're being raised in Kansas City." I identify a lot with my father and his values.
How often did you come back over the years and do you still?
I've averaged every year or two, often I either had a story to do near there or when my mother was alive, I would stop to see her on the way to other places. I still have some family there and high school friends, so I like going back.
''I still feel connected to Kansas City in a lot of ways even though I don't go very often."
I laughed when I read your Southwest High School classmates voted you third Most Likely to Succeed.
Yeah, that was an interesting honor because it meant that you had already not succeeded.
There are three or four people from my class at Southwest that I see when I go back. They don't seem to come to New York much. They used to ask me how I could possibly live here. I always told them, "Because there are no chiggers in New York." They would say, "Not even in the tall grass?" I would say, "There isn't any tall grass."
I still feel connected to Kansas City in a lot of ways even though I don't go very often.
You describe a method of travel you enjoy as "hanging around," or plopping down in one place without a rigid itinerary. You recently returned from Nova Scotia—were you at the same summer home you've written about over the years?
Yes. I think we bought the house in '69, but it needed a lot of work. I think our first summer there was 1972. So yes, same house, same village. I think to my girls growing up, even though they lived in Greenwich Village, (the summer house) represented the Midwestern idea of "the home place," partly because we had them to ourselves when we were there. It's not a resort, it's just a fishing village.
We usually go in June and return Labor Day. This year the Canadians, despite all the nice things I've said about them over the years, wouldn't allow me in until August, because of the pandemic. When my older daughter came to deliver her older daughter to college, she came to New York, and we went up for a couple of weeks. Last summer was only the second summer we had missed since the '70s. The idea of missing two in a row really bothered me. Anyway, we had a fine time. I had listed ten or 12 things that could go wrong with that trip, like getting stuck in the wrong country or whatever, but none of them did.
Alice died in September 2001. Was this September, the 20-year anniversary of her passing, hard?
Not harder than any other day, no. I don't have any special feelings on those anniversaries. It's pretty much spread over everything.
Has it changed, how you deal with missing her?
No, that hasn't changed. I would say it's about the same.
How do you deal with losing a spouse you are so happy with way too soon?
I think people do what they have to do. You think of things you couldn't manage, and then when they come round, you manage them. I have a lot of family and friends, they come around, so I don't think of myself as sitting in a corner being lonely.
Have you dated since Alice died?
Yeah, I guess so, yeah.
But you don't have a romantic partner right now? You live alone?
Yeah, I live alone.
You started at the New Yorker in 1963. How has it changed since then?
I think it's more on the news than it used to be. That's just the changing times. And internally, it's changed. When I first went to the New Yorker, there was no table of contents. And there were no bylines, your name appeared at the bottom of the story.
There were also a lot of two- and three-part pieces that would run in successive issues. That's all changed.
The New Yorker is a literary magazine, and you are strongly associated with it, yet you are fundamentally a journalist. Do you have concerns about the current state of journalism?
Yeah! I have concerns when you read, for instance, how many city hall reporters a large city has compared to how many they used to have. It concerns me that there are not enough of those people to sort of let them have the freedom to work on very long pieces. But on the other hand, the New York Times seems to be running more of those long investigations.
For newspapers, one change is that everybody now sort of works for the equivalent of a news service because they can break a story at 3:30 in the morning.
For 15 years I did a piece for the New Yorker every three weeks from somewhere in the country, except in summer when I was in Nova Scotia. Magazine writers would say, "How do you keep up the pace?" and newspaper reporters would say, "What else do you do?"
The increasing wealth divide in the country and the attention being paid to it makes me think of the Alice Tax, which you described this way in Too Soon to Tell: "To state the provisions of the Alice Tax simply, which is the only way Alice allows them to be stated, it calls for this: After a certain level of income, the government would simply take everything. When Alice says confiscatory, she means confiscatory." Do you think about how relevant that has become?
I hadn't thought of that until you brought it up, but I think the Alice Tax made a lot of sense. I think the people who study these things—and I'm not one of them—are all pretty much in agreement that this much disparity in wealth is not a good thing. I think the chance of the Alice Tax passing seems as remote now as it did when she first suggested it.
And yet it seems more tantalizing.
Yeah, it's interesting. Even now when they talk about taxing the super-rich, they talk about taxing their income, not their wealth. And yet in a lot of cases their income is theoretically practically nothing, so they don't pay taxes. I was thinking yesterday about the lobbyists' efforts to influence the Biden social spending bill. It's dispiriting, but I still am not the one to do anything about it. I thought a long time ago that you can't bring down the government with iambic pentameter.
While we're talking about dispiriting things, you wrote Jackson, 1964, a collection of articles you wrote about race and racism over 50 years. At this moment in 2021, what does your gut tell you: Is racism in the United States intractable? Is it intractable in the human condition? Or can we somehow rid ourselves of it in some possibly distant future?
I'd like to think that. But I'm not terribly optimistic about that, I guess. We've made a lot of progress. But so much (racism) is baked in. I was just reading about redlining and buying houses after World War II—the American Dream—and how the houses appreciated over the years so people had a serious amount of money compared to what they put in the house. And Black people were not allowed to have these houses. There are probably a thousand examples like that. I think the play for race is still there in politics and it has a lot to do with the immigration argument, the idea that the Democrats are trying to replace white people with dark people so they can get their vote.
It is a political issue, but it also has something to do with your family and how you think of yourself. I think of myself as coming from an immigrant family. None of my grandparents' generation spoke standard English. Technically my father was an immigrant, although he was two or three when he came here.
One of your often-repeated quotes is about childrearing: "Your children are either the center of your life or they're not; the rest is commentary." Your children are clearly the center of your life…
Right!
What do you see in your children and grandchildren that gives you hope for the future?
For one thing, I don't think they have any race feelings like we were talking about. And they're supportive of each other. I think they're going to be OK.
I think they came along at a time when at least people are trying to reckon with all this (racism and inequality) as opposed to a time when it was sort of taken for granted, when it was what they call now passive racism. I never thought to ask when I was in high school why there weren't any Black people in my high school. Missouri was legally segregated at the time; I didn't think about it. Now we're in an era where at least people are discussing it and thinking about it. I think that's encouraging. And since they happen to be my grandchildren, I'm probably prejudiced, but I think they are particularly encouraging. (Laughs)
Interview condensed and minimally edited for clarity.