You might not recognize shutterbug Austin Walsh just by looking at him. However, there's a good chance you've seen his work. Throughout his career as a professional director and photographer, Walsh has shot commercials and photographs for everyone from Gatorade to Samsung, Jack Daniel's to Microsoft.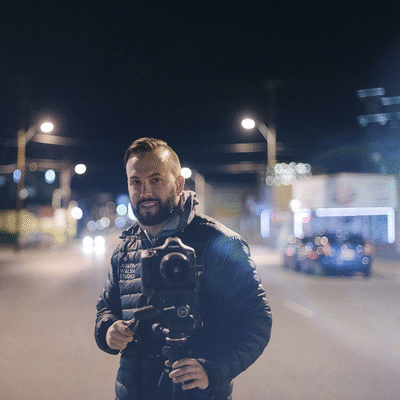 His peers are noticing his work. He was recently named one of the 200 best advertising photographers in the world. (We'll say that again for dramatic effect: In. The. World.) Although a majority of his productions are on location, Walsh has made a point to keep his roots in KC, turning the long-time vacant Hemingway Building into a production hub with a huge studio, multiple edit suites, and full commercial kitchen.
We caught up with Walsh in the middle of a two week shoot in Chicago to find out five things you don't know about the pro photog.

5. "Thanks to my grandfather—a long-time Royals' employee—I was able to attend games six and seven of the 1985 World Series. As a 4-year-old at the time, I don't remember much. But I do remember fans rushing the field after the Royals won game seven and not understanding why my parents wouldn't let me run out there with all of the other fans."

4 . "I used to have a job fueling airplanes—which made me an early riser. Witnessing the sunrise over the San Francisco peaks in Flagstaff, Arizona, multiple days a week really made me realize the beauty of the morning and hard work. I still get up before the sun to exercise, paddle board, or just meditate and listen to the water as I start my day."

3. "As a hard worker and hustler at heart, I have found myself doing a lot of weird jobs. In high school and college, I cooked pizzas in a small town, built sky-diving helmets in Colorado, and painted houses. Even today, I find myself zig-zagging the globe working on beaches, in butter factories, directing athletes, and most recently, filming ravens flying the streets of Chicago."
2. "I was filming a Gatorade spot with the Chicago Cubs a few years ago. I needed one minute of silence in the weight room. Anthony Rizzo of the Cubs was my only obstacle as he was in the middle of lifting. He says to me, 'If you can deadlift this, you can have one minute of silence.' Thankfully, I stepped up to the bar, grabbed it, pulled the 275 pound load, and looked at Rizzo. He cracked up and we had a good time—and then I got the silence we needed."

1. "I am about to celebrate my 15th wedding anniversary with my wife—who I met in 6th grade! As cheesy at it may sound, it was love at first sight. I 'asked her out' at the high school football game the next Friday night, and she said yes. I can't help but feel thankful for the family we've made and the memories we continue creating."