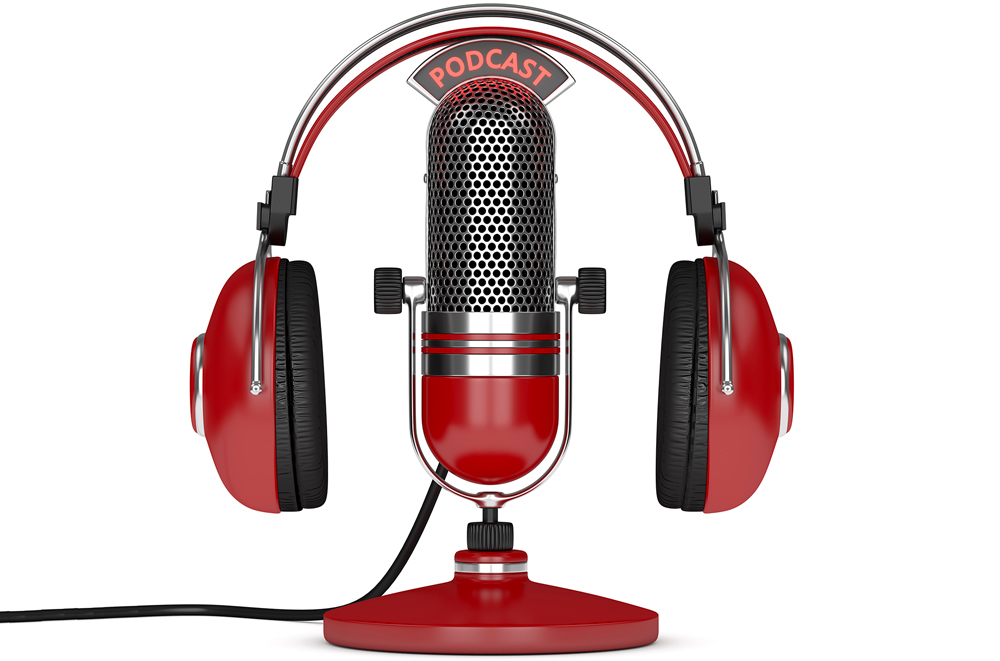 More than half of Americans have listened to a podcast, according to The Podcast Consumer 2019, a report by Edison Research.
In fact, research by Nielsen estimates that there are now more than 700,000 active podcasts. Although many podcasts focus on national or even international topics, there's a growing niche of local podcasts that showcase people, places, trends and travel, all through a decidedly local viewpoint.
Meet some of Kansas City's local podcast creators to find out more about why they turned to this medium, the guests that have inspired them and what they've learned about successful podcasting.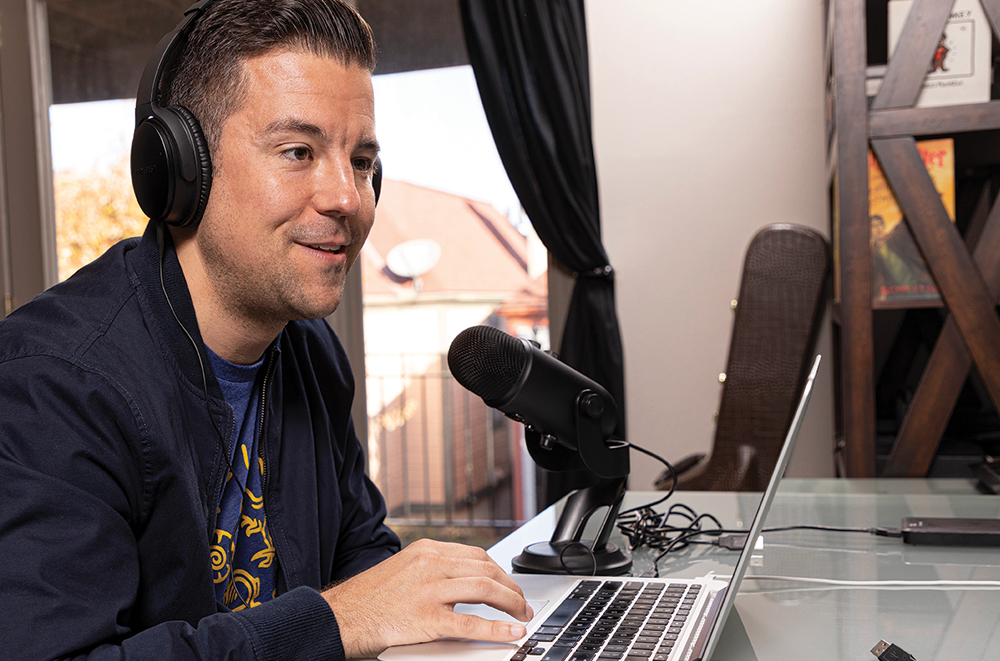 Coastless
Coastless is a podcast for Midwesterners who love travel. And in a case of perfect timing, podcast co-creator and co-host Boyce Richardson talked to IN Kansas City just hours before departing to South Africa—his 35th country.
"I didn't leave the U.S. until I was 21 in 2004 and didn't start traveling large-scale until 2008, when I did my last semester of law school in Tokyo and traveled to South Korea, Thailand, and China," he says.
Richardson met Melissa Yeager, Coastless co-creator and co-host, while vice chair of the Nelson-Atkins Museum's Summer White Party. Yeager, a former broadcast reporter who's now a consumer travel reporter for the Phoenix-based Arizona Republic, had a similarly late start to her travel but has definitely made up for lost time!
"Like many Midwesterners, I didn't travel abroad until I was in college," she says. "My best friend at the time and I planned to head overseas and backpack through Europe together."
The demanding schedule of television news kept Yeager from traveling for a few years. Yet after she left the broadcast industry for graduate school, she pursued a number of fellowships that enabled travel to places like Honduras, Russia, and a year in Germany.
Now, when Yeager isn't reporting, writing, podcasting or of course, traveling, you can likely find her watching for flight deals, information that she and Richardson regularly share on Twitter.
"I have a running list of places I'd like to go," she says. "When I see a deal on one of those places, then I jump!"
At the top of her list? Peru, which Richardson says is among his favorites.
"Machu Picchu is still probably the most impressive thing I've seen," he says.
Whether you're an impromptu traveler or a planner, the Coastless podcast can give you the inspiration and insight to return to a favorite spot or try something new.
"Our overarching purpose is to try and influence people's travel behavior in a positive way," Richardson says. "We want them to open themselves up to new travel experiences."
And although Richardson and Yeager are both seasoned travelers, they bring different perspectives to the show that will resonate with a variety of listeners—and make for lively conversations!
"We have very different viewpoints of travel," Yeager says. "One of the scary things for women is you want to travel and see the world but maybe you haven't found the right partner yet, or your friends have different schedules—what do you do? I've traveled many times by myself and it's about making sure you're using the same skills that you'd use in your hometown—be aware of your surroundings, make sure you're staying in a place where you feel safe."
Then, there's the great packing debate. Richardson is adamant about following the Spaceballs motto: "take only what you need to survive!" In fact, he had just finished packing for South Africa and took only a 60-liter hiking backpack for a two-and-a-half week trip!
The Coastless podcast also features guest interviews with people near and far who have a connection to Midwest travel. Richardson and Yeager agree that one of their favorite interviews so far was with Justin Meyer, Deputy Director of Aviation, Kansas City International Airport.
"Justin is such an incredible advocate for travel in general, but also Kansas City specifically," Richardson says.
Another episode highlight? A chat with Jayme Monacelli, midday host on KMBZ, who put her belongings in a storage facility and left life as she knew it to travel throughout the U.S. by car for a year.
"I thought it was insightful in terms of how you deal with being alone," Richardson says. "Also, that's a big hurdle. Not everyone has someone to travel with, and for some people, the idea of traveling alone and the loneliness that might entail is enough to stop them from traveling at all."
And that's when Coastless introduces another perspective: traveling closer to home.
"You don't always have to get on a flight to go exploring," Yeager says. "You can have the attitude to seek new opportunities—try a new restaurant, visit a new neighborhood, attend a local festival. Look for ways to be an explorer in your own city."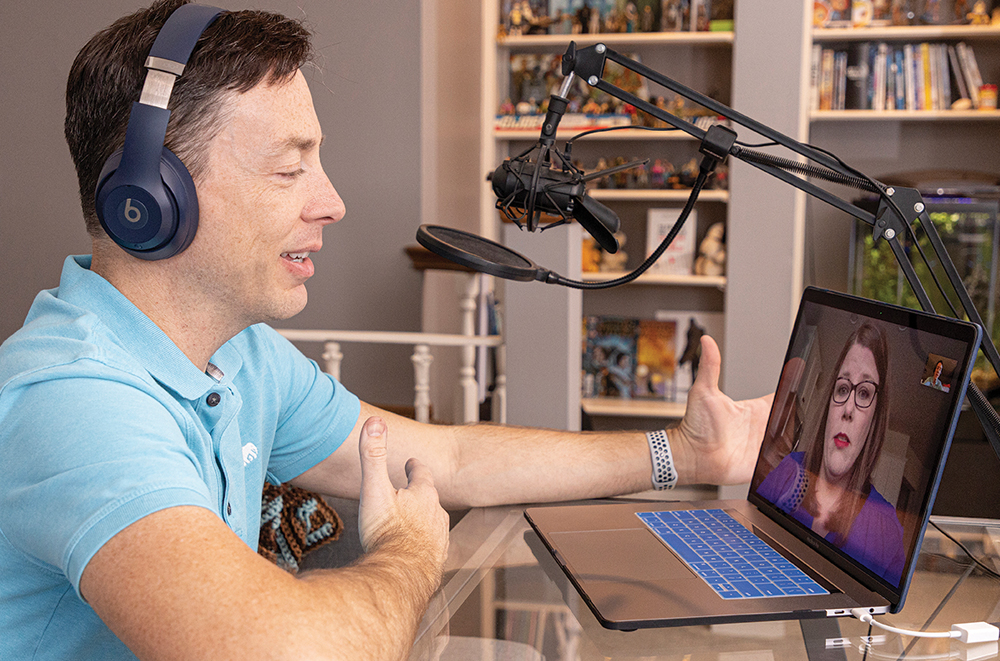 A Gal and A Gay
Sometimes, a big idea happens in an unexpected place.
Kat Boutwell and Mitch Weber had already discussed starting a podcast, but during a poolside chat, Boutwell and Weber agreed to bring their idea to fruition.
"We had always talked about doing some sort of entertainment show," Boutwell says. "We bonded over our love of pop culture. When we were sitting by the pool, the idea got really serious—why don't we start a podcast?"
Adds Weber, "Our friends were like, 'That's all you guys talk about!'"
That was the summer of 2014. By the time the temperatures started dropping later that year, something else dropped— the first episode of A Gal and A Gay.
At this point, it's hard to think of a media landscape without podcasts. Yet when A Gal and A Gay launched in late 2014, Boutwell and Weber were facing an unfamiliar new frontier.
"Back then, it was like, 'How do you podcast? What do you do? What do you edit your show on? What do you record it on? This was before Serial really launched podcasts into the pop culture atmosphere," Weber says. "It was trial and error, trying to figure out what to do while listening to other podcasts and figuring out our own unique brand."
Even now, five years later, Boutwell says they're still learning.
"It's just trial and error," she says.
They experiment with themed shows, which Weber says are perennially popular. The subject matter demands a flexible approach, too, since, as Weber notes, "pop culture is always evolving. It's not just covering or reading stuff on TV or film or podcasts. Now, it's paying attention to the news. Something can happen like 'OK Boomer'—these moments are seeping in and becoming these huge sensations."
Boutwell and Weber have not only kept pace with a changing industry, but also life changes. Like the Coastless team, Boutwell and Weber now podcast across the miles after Boutwell moved home to work at her family business in Texas. If you believe Weber, however, that's just a clever story to disguise the real reason for her move!
"She moved to Texas to stalk the Supernatural boys," he says, laughing. "The truth is coming out!"
As for Weber? Well, good luck if you can somehow dodge a mention of Star Wars!
"I can work Star Wars into almost any conversation," Weber says.
Given the pop culture focus of A Gal and A Gay, most episodes provide a fun and entertaining escape. Yet the podcast has also given Weber and Boutwell a place to explore issues and keep tabs on exciting developments, like the emergence of Kansas City's film scene.
"We're able to focus on local topics now, especially with the local film scene growing so much," Weber says. "We've talked to aspiring filmmakers like Sav Rodgers, and it's amazing to hear these stories that inspire our listeners to realize what they didn't know about film. They might even be inspired to produce their own idea. Those are the important things that we didn't realize when we started the podcast—we're going to have fun and talk about stuff we watch and read and listen to, but there's another element that we never expected."
The name itself also set an important tone for the episodes.
"It's a different perspective, talking about representation and how important it is," Weber says.
Adds Boutwell, "especially in film and entertainment."
"Who knows who will be inspired by seeing something that represents them?" Weber says. "I think it's important to start that conversation. There are films and shows and shorts out there that represent different aspects and we want to give them a platform. I think that's our responsibility."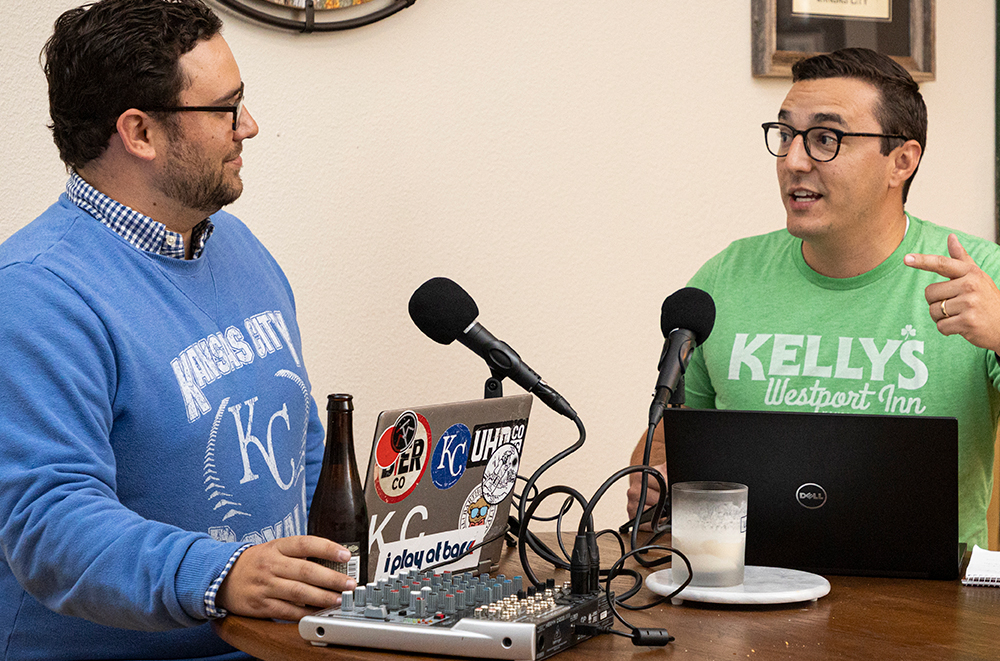 State Your Line
Is there anything more Kansas City than deciding to start a local podcast while sharing beers on St. Patrick's Day?
Kevin Ritz had been considering a podcast for a few months. He had broken his ankle early this year, which took him away from favorite hobbies like golf, basketball, and tennis. Instead, he started searching for local podcasts and realized an opportunity existed to fill a niche.
"I looked to see if there was an all-encompassing podcast about Kansas City—the food, culture, bars, and people," he says.
While at a family St. Patrick's Day party with his brother, Danny Ritz, the two pulled out their phones and began brainstorming, jotting down their ideas on the Notes app.
Before launching State Your Line on May 7, the Ritz brothers made sure they had plenty of ideas for guests and show segments so that they could lessen the risk of one of the biggest hurdles to podcasting: inconsistency.
"We didn't want to do two episodes and run out of ideas," Kevin says.
Like other podcasters, Kevin and Danny have taken an experimental approach to see what works best in everything from show equipment and software to the podcast's format and guests. They don't necessarily have a long list of guest criteria; instead, it's about finding—and telling—stories.
"We want someone with an interesting story, a Kansas Citian who loves Kansas City as much as we do," Danny says. "One of my favorite podcasts is How I Built This with Guy Raz. I love the entrepreneurial story that he gets out of people. We love to talk to people who started their businesses in Kansas City—what about Kansas City makes their business successful?"
The Ritz brothers agree that one of their favorite guests so far is Colleen Kelly, owner of the iconic Kelly's Westport Inn.
"She was our first guest, and it was so awesome of her to give her time to our show and help us build some credibility," Kevin says.
Danny says Kathy Nelson of the Kansas City Sports Commission is another interview highlight. Because the KC Sports Commission oversees so many big annual events, including the Big 12 basketball tournament and the Kansas City Marathon, Danny says that Kathy "basically starts a new business in Kansas City every year."
Although Danny maintains a podcast recording set-up in his Crossroads apartment, he and Kevin prefer to interview their guests on-site whenever possible. Not only does it make the appearance more convenient for the guests; but the brothers also agree that it helps make the conversation more natural.
"And we can always grab a good photo at their place of business!" Danny says.
Both brothers juggle full-time jobs along with podcasting—Danny is an employee benefits consultant and Kevin works in HR. They typically schedule interviews at the end of the workday and have equitably split the labor involved with recording and producing each show.
Danny finds content for the pre- and post-interview segments and also books guests. Kevin handles the podcast editing, skills he's amassed through self-teaching.
"I took a video production class in high school that's served me well," he says. "I've watched a lot of YouTube videos on how to reduce background noise and improve sound quality."
And when time gets tight, the brothers still find a way to make episodes happen.
"I was traveling for work and I had 20 minutes between the end of the conference and the team dinner," Danny says. "I was like, 'All right, Kev, we've gotta crank this out!' And it ended up being a great episode."
Although Danny and Kevin are newer to podcasting, they've been surprised by their audience growth and attribute it to a shared passion.
"We had this idea and thought, 'As long as 100 people are listening and we're having fun, we'll keep doing it,'" Danny says. "The audience has grown way past what we imagined. Kansas Citians are hungry for this kind of show. My favorite thing to hear is that we have a lot of friends who live out of town. They tell me they listen every week because it's their connection back to Kansas City."
Adds Kevin, "When we started State Your Line, one thing we knew for sure is how much people from Kansas City love Kansas City."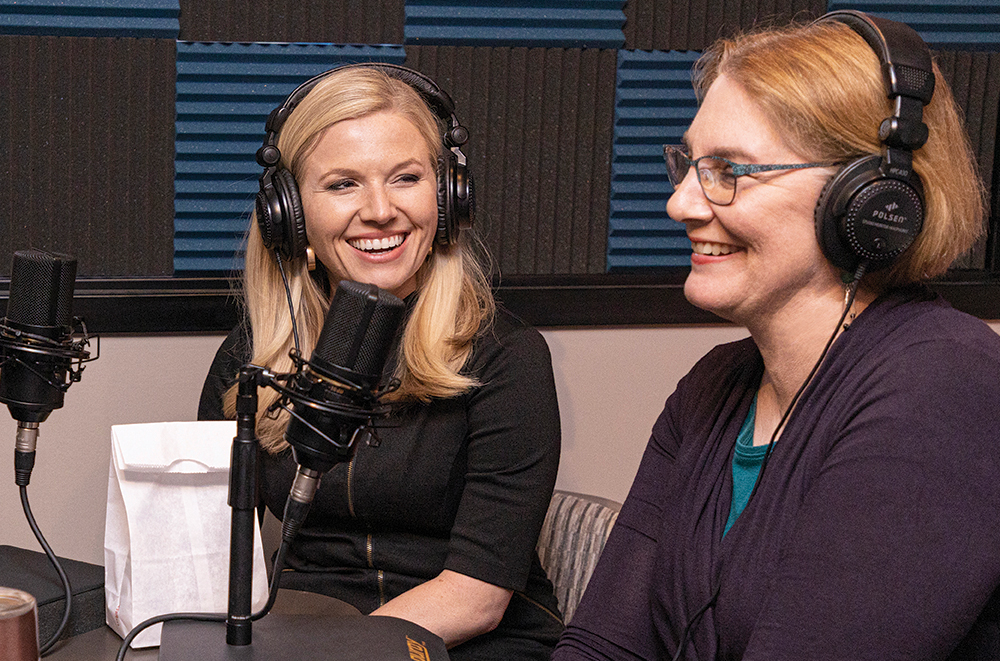 Chew Diligence
Food brings people together. And so does Chew Diligence, the Kansas City food-focused podcast co-hosted by longtime food writer and PR, communications, and events specialist, Jill Silva, and 41 Action News morning anchor Lindsay Shively.
"I love the podcast format so much because it's long-form, which is what I loved when I did print journalism," Silva says. "It's not scripted, we don't prompt anyone, we don't give them questions before. We'll provide a general outline, but it's just a conversation among friends."
Those friends include notable figures in the Kansas City food scene, as well as nationally renowned chefs and industry figures that are stopping through the city.
Silva and Shively launched Chew Diligence in late August 2018. Fun side note: on the day they launched, they didn't yet have a name! In fact, it was Shively's co-host, Taylor Hemness, who had gone to an online pun generator to come up with Chew Diligence.
"We were about to walk in the studio when Taylor told us the name, and I thought it was great," Silva says.
Thanks to Shively's role with 41 Action News, Silva and Shively have a fully equipped studio at their disposal when they record podcast episodes on Wednesday morning. The set-up not only makes it easier to produce high-quality shows; it's also a hit with guests!
"One of the best interviews we've had is with the Jones' sisters [Deborah and Mary Jones, co-owners of Jones Bar-B-Q]," Silva says. "I've been following them for a couple of years before they became famous on Queer Eye. It's so exciting to see that even though Queer Eye discovered them, they came into that studio like little kids. They don't take their fame for granted! They even wanted to sit in Lindsay's chair while they were here."
Chew Diligence covers the spectrum of Kansas City food, but you might notice more than one episode focused on one of Silva's favorite subjects: local barbecue.
"One of my passions is barbecue history, and I've been trying to figure out ways to incorporate that topic into our episodes," Silva says. "We just did a history of barbecue episode—we had three people who had never met squished into the studio with us. That was a really fun moment and one of our longer podcasts."
If you asked Silva a few years ago, she likely wouldn't have even considered the idea of co-hosting a podcast. Yet she's found herself thriving in the medium, especially since the process shares the same attributes that she loves in writing.
"I love the finished product of writing, but the actual process is difficult, both physically and mentally," she says. "There's something about podcasting that's freeing. I feel like I'm my best self and I don't get nervous about seeing things in print. Lindsay and I are both perfectionists and podcasting gets us out of that mode."
Almost a year-and-a-half into podcasting, Silva has no shortage of contenders on her guest list. Among her hopeful gets are several chefs including Joe West and, in light of his new steakhouse opening at Harrah's North Kansas City, Gordon Ramsay. Future episodes will also feature Pamela LaBarda of the wildly popular Waldo Thai, who's story resonated with Silva.
"She's been around for a long time, just not in the restaurant owner role," she says. "She's worked for different corporate offices and decided when her husband's family asked her to take on this role, it was going to be food her way."
And as the show progresses, Silva says the ever-evolving local food scene gives her and Shively an opportunity to catch up with past guests.
"We love talking to different people," she says. "The scene keeps changing, the people keep changing what they're doing, but that gives the podcast a life of its own. Lindsay and I are both surprised and happy that it's been so fun and easy to do. So much of what you do in life doesn't always work that way."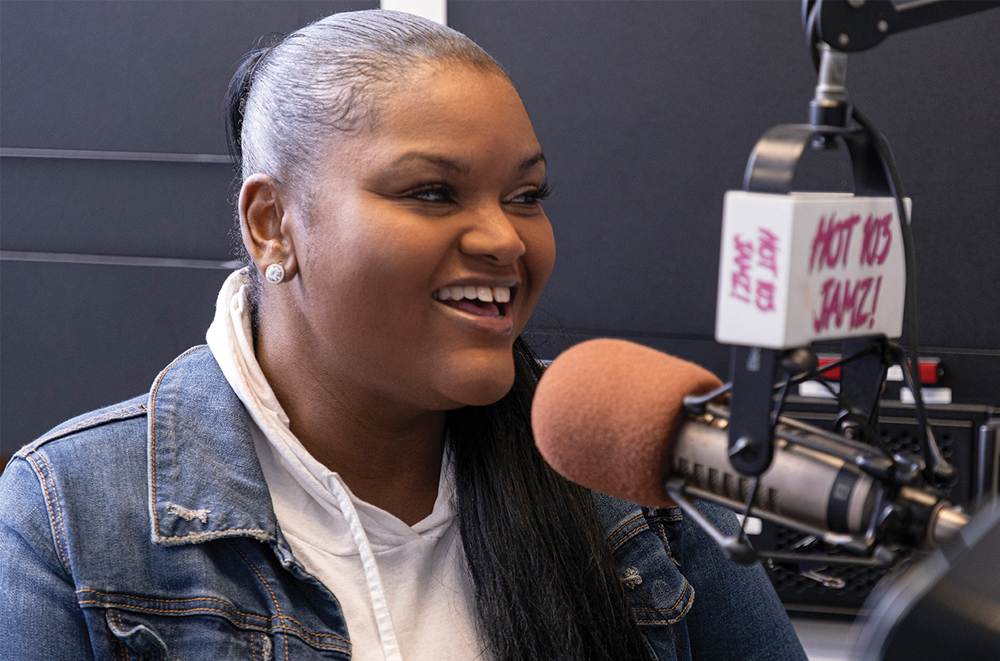 People, Places & Things
When Shay Moore, co-host of the "Morning Grind" on Hot 103 Jamz, started her podcast, People, Places & Things, she wanted to share more about the cool people, places, and things to do in Kansas City.
Yet as the interviews progressed, she saw a new purpose emerge from each conversation.
"I start by finding out where my guests are from and then the conversation can go anywhere," she says. "So many things that come out are lessons and how to deal with adversity. The interviews start out light and fun, but then you learn more about the people and that they're all people who truly overcame something. That's the enduring story in Kansas City."
Moore knows a thing or two about confronting—and beating—adversity. She's in the midst of a successful 20-year career that included roles with multiple radio stations and voiceover work in video games and commercials. Yet she's also encountered unexpected setbacks that tested not only her resolve, but her commitment to her career.
"I was fired from a radio station in Atlanta and it totally rocked my world," she says. "I wound up going back to school and getting a master's degree. I was ready to leave radio, but I also started to see a therapist and it reawakened my curiosity. That's how I'm able to interview and pull stories out of people, and that's what opened me up to be able to do radio again."
Moore relocated to Kansas City in 2015 to take the helm at the Hot 103 Jamz morning show along with co-host Bryan B. Shynin'. Two years ago, she attended an industry seminar where one of the presenters touted the art of podcasting.
"They said there's a huge number of national podcasts but not as many local podcasts," Moore says. "That was one of their suggestions—to go back to our respective cities and start a podcast about things happening locally."
After Moore hit a significant milestone at Hot 103 Jamz—helping the morning show earn ratings as the top morning show in the country—she turned her attention to starting a podcast.
"Once we hit number one in the ratings, I felt like I could branch off and do some of the things I wanted to do on my own," she says. "And in the morning radio space, you just don't have the time to go in-depth with people, to learn more about the cool people who live in Kansas City. I was astonished by the stories that have come from the podcast—the things people have been through, the pasts they've had."
Moore's interview with Shanita McAfee-Bryant, a metro-area chef, is a prime example. Chef Shanita, as she's known in Kansas City and beyond, won Cutthroat Kitchen in 2014 and is now a personal chef. During her appearance on Moore's podcast, McAfee-Bryant opened up about her past.
"I never realized she was a teen mother," Moore says. "And just learning about her family—they're devout Christians but her father didn't turn her away when she became pregnant. They helped give her an opportunity to reach the success that she did. It's an honor to tell these stories."
People, Places & Things also gives Moore a chance to share her perspective as a relative Kansas City newcomer. The Queens native has lived in several large cities and is now a bona-fide Kansas City advocate.
"I love Kansas City—it's a really cool place to live," she says. "I've been in stadiums all over the country and there's nothing like Arrowhead. The love that people have for barbecue and tailgating—you think these people must be insane! But the zeal for it is something I've never seen before in my life. It's very family-oriented here, too."
It may seem daunting that Moore juggles her podcast with a demanding career that requires 3:30 a.m. wake-ups on weekdays! Yet as she continues with the show, it's become a chance for her to share stories and to also emphasize important messages, especially for female guests and listeners.
"Women have been nurtured into putting ourselves last and I reject that," she says. "Even on the airplane they tell you to put your mask on first because if you pass out, you can't help anyone else. Sometimes you look at people and their filtered lives, and you can unfairly compare yourself to them. If we have an opportunity to have a conversation and be real with each other, that's what this has become for me. You think I've been on the radio for 20 years and my life is perfect but let me tell you how I got here. Many of my guests say they've never shared these stories with anyone else. It gives us an opportunity to be braver, to share our failures with each other."