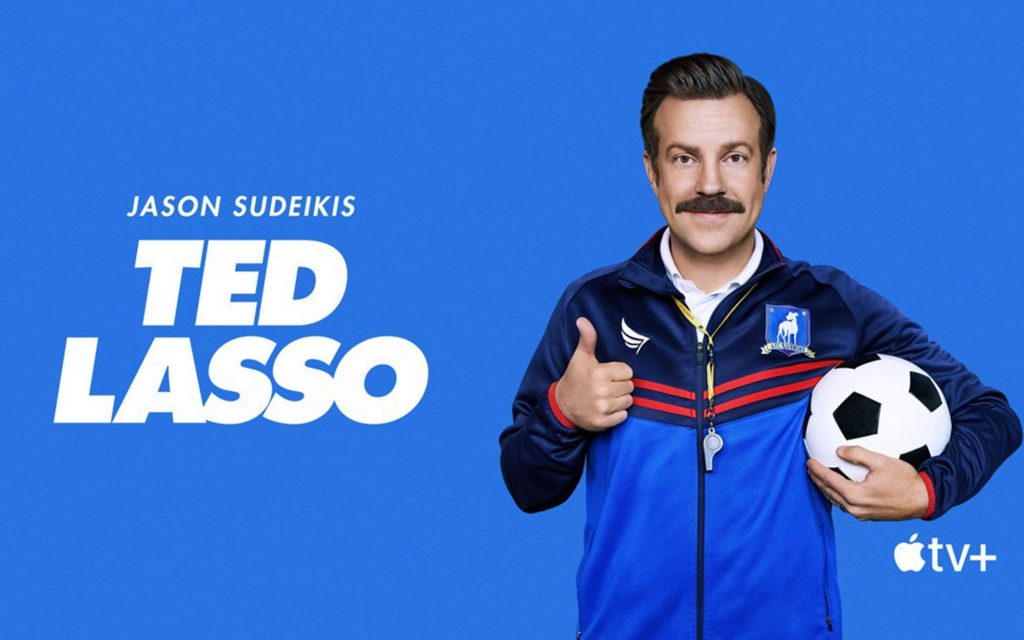 Ted Lasso is a global masterstroke. Kansas City's home-grown visionary, Jason Sudeikis, stars as the snatch-your-heart title character. If you haven't fallen in love with Sudeikis yet, be prepared to give your heart away.
Ted Lasso is a thoughtful college football coach turned London soccer gaffer of unambiguous time, place, and purpose. He is squarely good and intentional. He's a man's man, but also a bit girly. And he's very unapologetic in his simplistic and compassionate approach. It's the essence most people dare not reveal. You think he is written for you. All family-first, community, and barbecue sauce—oh man, this dude is Kansas City.
The show's ability to represent and uplift everyman is central to its mass appeal and critical success. The Apple TV+ series has won a well-deserved avalanche of honors, from multiple Critics Choice Television Awards to a Peabody. (And don't even get us started on the 20 recent Emmy nominations the show received, the most-nominated freshman comedy series in TV history.)
As we salivate for more, Sudeikis and Brendan Hunt (who plays Coach Beard, the Jiminy Cricket to Sudeikis's Lasso), chat with Lonita Cook ahead of today's highly anticipated Season 2 premiere.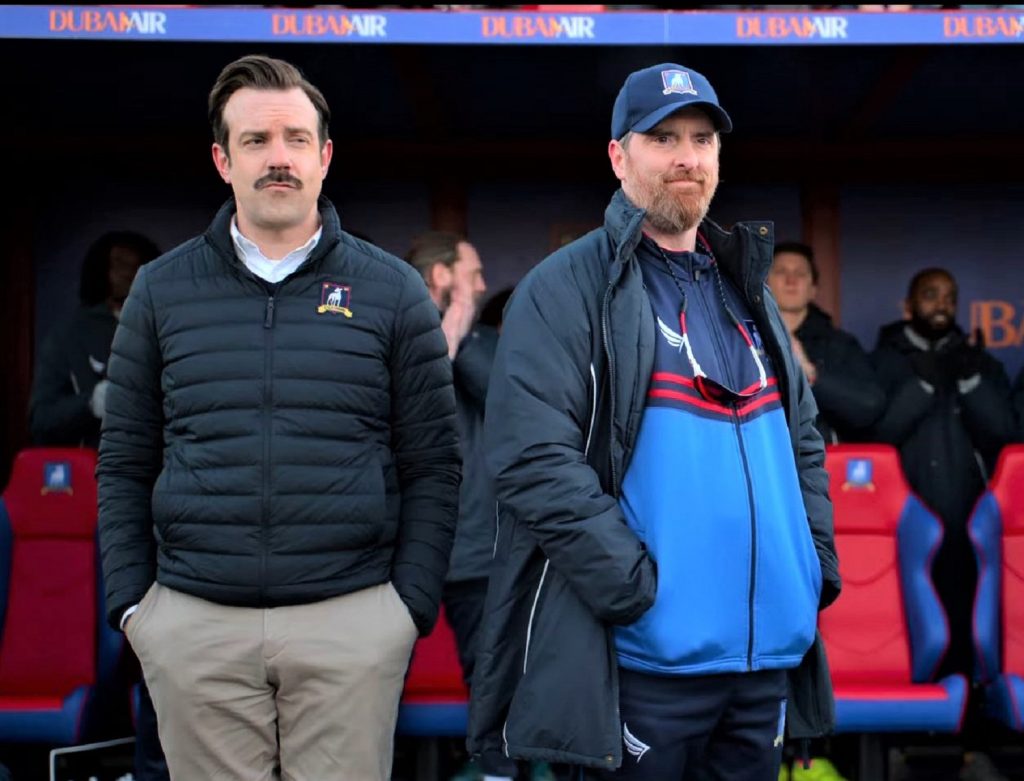 Hey, Kansas City!
Jason Sudeikis: [claps] "Yes. Yes."
Hey Brendan, how are you?
Brendan Hunt: "I'm good, how are you?"
I'm wonderful. So Jason, you have done an incredible job representing your hometown from developing Ted Lasso from NBC interstitials to this character that is beautifully layered. How much does making him from Kansas City make him multidimensional?
JS: "Well, much like the city itself, it's multi-dimensional, multi-racial, and multi-religious. It's a melting pot—it's right there in the center. Much like a nice wok pot, it gathers and simmers right there in our Kansas City humidity.
I was following the old writing adage of 'write what you know'—down to the mustache that my father had all throughout the 80s. Like my dad's friends had in Kansas City. Growing up, watching a super-ticked-off-pine-tar-induced-angered George Brett and it's like everybody you know in that hotbed of the Kansas City 80s is definitely rooted in the character.
I think Ted is forged by a lot of the influences I've had in my life. Being from KC and the friend's I've made there, the parents of those friends, the coaches I had, the sports I played, the concerts I got to go see—even extending as far as Lawrence, Kansas at the Granada and the Bottleneck—are all rolled into this character as much as anything.
Probably more there than any place I've lived in my life, with the exception of possibly Holland and Amsterdam where Brendan and I worked together for many moons … aside from Holland, I would say Kansas City is a co-writer on this show."

I love that, Kansas City is a co-writer on this show. Now Brendan last time we talked I told you that Beard is the character that I would most like to follow home. In Season 2 what are we getting? Are we talking about boardless chess tournaments, what's going on with Coach Beard?
BH: "Well, you know Beard will continue to be there to support and do whatever Ted and AFC Richmond needs. But I think I can tell you that the gal he played chess with, she's still around and they're still trying to figure it out."

Alright, figure it out we must, right? That's the name of love. So, I have a question from a friend. He says that in the trailer Ted Lasso seems a little angry. Who is this Ted?
JS: "Led Tasso! Yup, Led Tasso is the bizarro Ted Lasso. He is a side of Ted that he and coach Beard have used in the past at other places where they've coached. As the mythology of the show goes—the great football team of the great football school Wichita State, down the road from us in KC—he uses Led as a motivational tool, maybe to get his players to do something the normal Ted Lasso's laconic charms don't seem to spur. He's got to stoke the fire a little bit, so what better way to stoke another's fire than to stoke your own?"
I know that's right. Well, our fires are all stoked for Season 2. I cannot wait. Thank you so much, guys.
JS: "Absolutely, take care."
BH: "Thank you, Lonita. Cheers."
Interview gently edited and condensed for content and clarity.