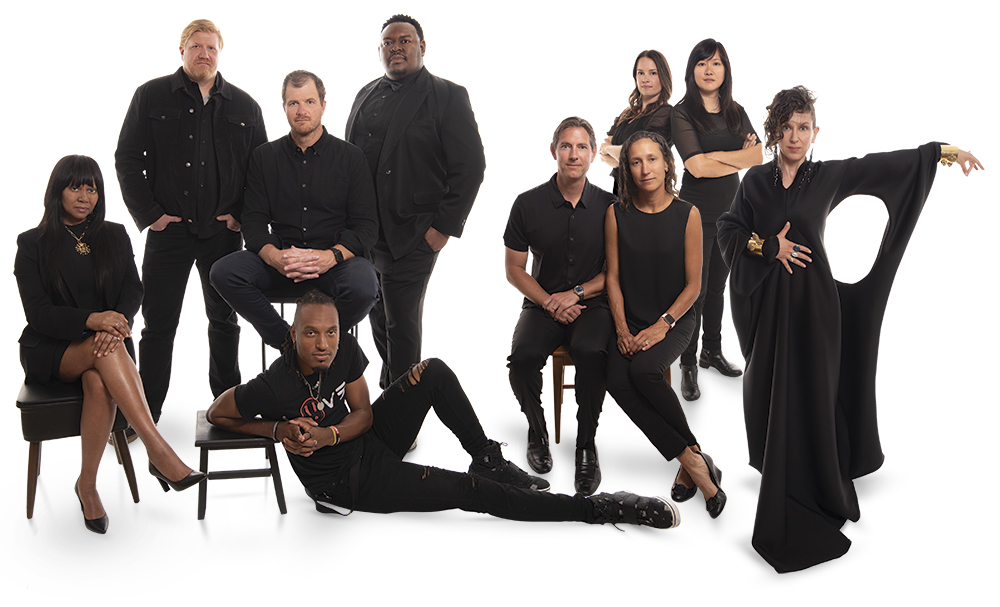 The Kansas City metro has tens of thousands of fascinating citizens within its population of 2.34 million. Talented, passionate people are drawn here—or remain in this vibrant, 15-city region—for the arts, sports, music scene, and its generosity, both in spirit and philanthropy.
Distilling those numbers to highlight just nine individuals and one couple was quite the editorial trick. Some made the list based on career excellence; a few for how they deftly pivoted during the pandemic to serve the needs of others. Like true creatives, two of our profiles could have starred in more than one category, bridging charity and music, art and fashion and technology. 
Savvy readers of IN Kansas City magazine will recognize a few names; those who have thrilled us with runway shows, building designs, a smokey cocktail or colorful mural over the past few years.
But we guarantee you'll discover some new faces including a hip-hop artist who had to pause an interview to speak with folks representing Billie Eilish and Leonardo DiCaprio.
And so, with great pride, we introduce you to the inaugural People Making a Difference in Kansas City.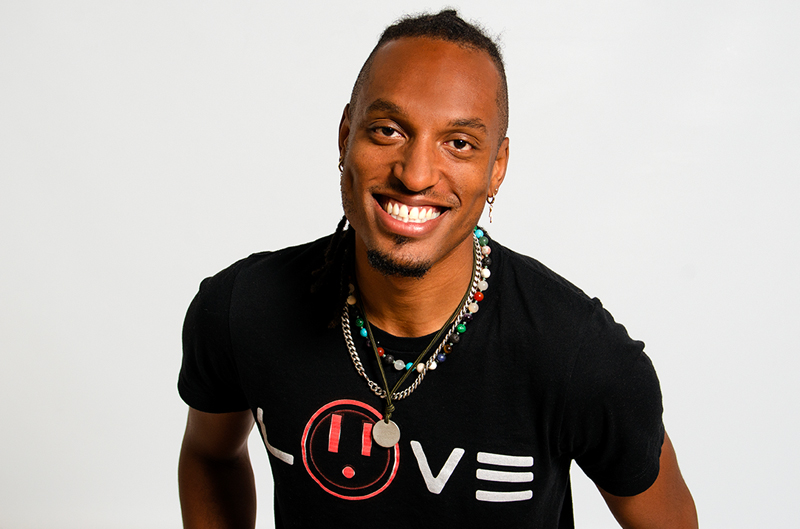 Technology | AY Young
Making a difference is in AY Young's DNA. Growing up in Kansas City's Ivanhoe neighborhood, he'd witness then-mayor Emanuel Cleaver or business owner James B. Nutter meeting with his parents, Alan and Yolanda Young. Since moving into the shirtwaist-style house in 1987, the couple had been instrumental in clearing out crime and illegal dumping while raising four children. The Ivanhoe Neighborhood Council, where Alan still serves as housing director, is an example of what grass roots commitment can do to an area. Today the Young Family Farm raises produce to help nurture the body; prayer vigils take care of the soul.
AY still helps plant trees and take down fences in the neighborhood. That is, when he's not on a call with Billie Eilish's tour manager or texting environmental leader Paul Hawken, who nominated him to be one of 17 of the United Nations Young Leaders for Sustainable Development Goals—the only one representing the United States.
How did AY go from performing music on the streets of the Country Club Plaza to performing at President Biden's inauguration and appearing on a poster with Jane Goodall for Real Leaders magazine's 70 Environmental Leaders You Should Know?
Power, that's how. A sustainable, solar-powered battery used to fire up the 800 and counting concerts he's performed around the world. The Battery Tour started in 2012 when the young artist wanted to plug in his keyboard, speakers, and microphone to bring his music to the streets.
Thanks to funding and grants from Arts KC, the Kauffman FastTrac, and the Charlotte Street Foundation, AY developed an energy box—about the size of a suitcase—that stores solar energy in batteries.
The device has been distributed in over 17 countries, including Haiti and Honduras, where villagers can power up laptops and cell phones without walking miles to charging stations.
That renewable energy is matched by AY's personal life force that's joyful, passionate, driven, and compelling. People have a hard time saying no to him, including corporate leaders at T-Mobile, Amazon, Sony Pictures, and others.
These Fortune 500 Companies—along with influential world leaders and big names in the music industry—are getting involved with AY's massive initiative, Project 17.
The project's first step is an album of 17 songs, each representing the UN's Sustainable Development Goals, including quality education, gender equality, and climate action. AY is reaching out to other artists to choose an initiative that speaks to them. "I'm excited that Tech N9ne is officially on board for Track 1, No Poverty," he says. "We're also working closely with Global Citizen, Drake, Coldplay, and others."
AY will also launch a kid's album to "reimagine the 17 SDG songs by some of the best family artists in the world, with Grammy-winning artist Red Grammer at the forefront," he says.
AY has a saying: Everyone is an Outlet for Change. Talking to him, there's little doubt he'll reach that goal.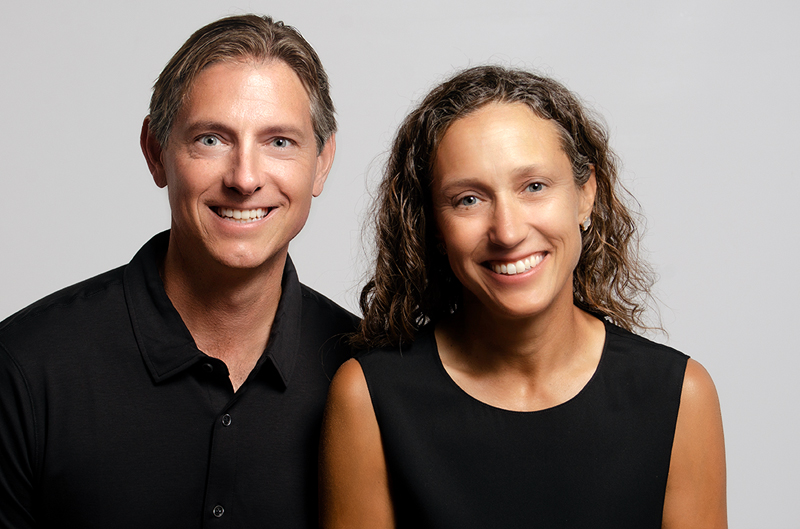 Sports | Angie and Chris Long
Walking through the stands at Legends Field during the Kansas City National Women's Soccer League home opener, Angie and Chris Long must have felt like rock stars. Wearing the team's teal-and-red colors, it took a long time to make their way up the stairs as fans wanted to shake their hands, introduce them to soccer-loving kids, and get a selfie with the franchise owners.
Chris recalls that May 26 evening. "We've just been thrilled by how this community has embraced the team," he says. As for seeing the town turn teal to celebrate the inaugural season—from the lights at Union Station to fountains taking on a blue hue—Angie said she got  goosebumps.
But for this couple, founders of Palmer Square, a $15 billion asset management firm, the rock-star status stops there. While they join other local business leaders who have either kept or brought sports teams to Kansas City, including Ewing Kauffman, the Glass family, and John Sherman, Angie and Chris brush off the comparisons.
But they do see a correlation between a successful business and a sports team. "With a company, you have to put the client first," Angie says. "And with the team it's the players and fans first.
"It's up to us, along with our partner, Brittany Matthews, and the coaches, to put out the best product possible. That means giving our fans an exciting, family-friendly experience every time, while coordinating outreach programs to introduce these fantastic players to the community."
The couple sees their role as a chance to foster interest in not just the NWSL, but in girls and women's sports in general. Sports has played a big part in their lives; they both excelled in team sports in high school and while at Princeton. That competitive spirit has filtered down to their four children. As a family, they've participated in a 5K for Brain Injury Association, and Chris's Twitter account notes he's on track to be the least impressive athlete in the Long household.
The fact that they've set up that household in Kansas City—when they have the resources to live anywhere in the world—was an easy choice. Angie grew up in Kansas City, attending Shawnee Mission East High School, and can't imagine a better place to raise a family.
"The schools, the neighborhoods, the arts: you can have it all here," says Chris. Add one more element to that mix: a community with a nationally recognized enthusiasm for sports, which now includes the young Kansas City NWSL team.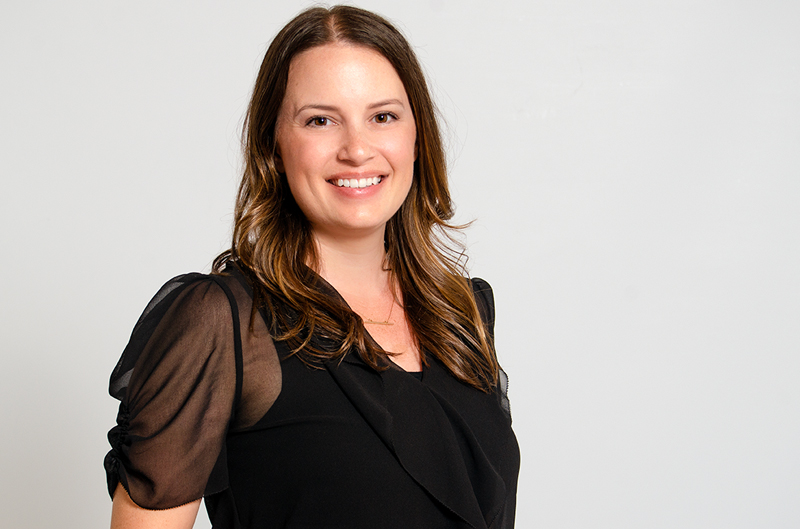 Political

Activism | D

anielle Lehman

See a need, fill a need. It's the motto of most successful entrepreneurs. But Danielle Lehman laughs at hearing the title used in her case. "I think of an entrepreneur as someone who makes money. Most of my work has been projects that fix an immediate problem. I'm just happy to help, even though I don't make a dime." Her revenue stream comes from Boxer & Mutt, her web development and branding company.

Her first follow-the-need program was Curbside KC, an on-line database of restaurants offering take-out food and delivery when the pandemic closed their doors. "I'd come to know and love these chefs and owners through my Open Belly Podcast and my heart was just breaking for them and their staffs."

Within days, Danielle had incorporated hundreds of restaurants to the database, then began adding breweries, wineries, distilleries, and liquor stores that offered curbside pickup as well.

Danielle also handled pro-bono marketing for a fundraising initiative developed by Anna Petrow to help stranded service workers. Sales of "KC Runs on Hospitality" tees, sweatshirts, and totes designed by Frank Norton, along with community partner donations, helped raise more than $68,000.

The pandemic and social unrest also brought another problem to light—the ability to have mail-in voting ballots notarized. In August 2020, she launched Curbside Notary, a free "the notary is in" pop-up situated outside local restaurants and coffee shops. The benefit was two-fold: voters felt safe getting ballots notarized and the eateries enjoyed increased sales.

"I couldn't have made it happen without the help of local companies like Hufft," Danielle says. "One of the architects there, Brad Kingsley, saw what I was doing on social media and contacted me offering to help." Hufft fabricated movable A-frame structures for the volunteer notaries.

Danielle hosted three seasons of Open Belly podcasts, which were on hiatus during the pandemic when traveling was out of the question.

One of the last podcasts features Jackie Nguyen of Cafe Cà Phê, Kansas City's first mobile Vietnamese coffee shop. "I'm watching her cult following take off," says Danielle. As a host, Danielle's passion for the food and her natural storytelling talent come through. Alyssa Broadus and Chris Dolt provide beautiful photography.

At a time when restaurants, bars, and coffee shops are just getting back on their culinary feet, chances are Danielle will be there to help fill the need and fill the seats.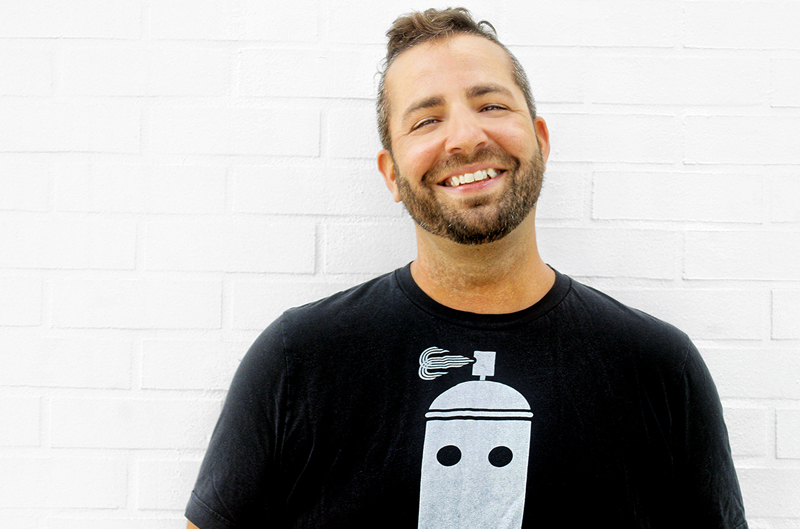 Arts | Jason Harrington
Rif Raf Giraffe, Jason Harrington's street-artist handle, has a goal to turn Kansas City into a mural-art mecca. Take a stroll around the Crossroads Arts District, and you might say he's already made it. There's rarely a wall not adorned by eye-popping images.
At its heart is Art Alley, between 17th and 18th streets near Locust and Cherry, the central location for Solanoir, a series of events Jason organized with his wife, artist Ami Ayers Harrington, and artist Mark Allen, to coincide with the 2017 solar eclipse.
But things only heated up after that for Jason. He invited Matt Abbott, a Crossroads developer, to the mural-rich Wynwood Art District in Miami and convinced the visionary to let him paint 20 of his buildings back home. "Murals offer several benefits to building owners," Jason says. "One is that where murals go up, there's less destructive tagging. And the art naturally draws people into the neighborhood. Stores, bars, and restaurants get more traffic."
Based on the success of Solanoir, that same year Jason organized SpraySeeMo, an annual graffiti arts festival, which continued with an ever-expanding array of adorned walls around the district. Viewers came to watch and engage with the artists and took selfies in front of their favorite displays.
Despite the pandemic, the 2020 festival had 28 painters creating 22 new murals in three days. "We're on pace for an even more exciting 2021 fest," Jason says. "It'll be held September 22 through the 26th and we're collecting walls right now and talking with artists.
"With last year being more restrained for crowds, I think the September event will be a big draw from around the country."
In the meantime, Jason and Ami are traveling the world to create art and help launch similar festivals, including California's SpraySeeLA taking place July 27-31.
Back home, he's excited to see that murals are a big part of Visit KC's new video showcasing the best of the metro. "We have some of the country's best museums," Jason says. "But street art is interactive, approachable and the fact it's often not permanent adds to its interest."
The sprayseemo.com website has festival information and a map to make it easy to view as many murals as possible. It also has a "Support the Festival" link to help pay for paints, provide accommodations for visiting artists and rent walls that aren't being commissioned by building owners.
Architecture

&

Interior Design |

Matthew Hufft

When Matthew Hufft learned that the architectural firm that bears his name appears in two other sections of this article—for fabricating the Curbside Notary kiosks and Birdie's storefront for West 18th Street Fashion Show—he wasn't surprised. "That's one thing I love about this community," he said. "We pull together. We help where needed."

That spirit is at the forefront of two of his firm's massive projects with Community Builders of Kansas City: The Rochester and The Offices at Overlook.

Both developments will serve Kansas City's Blue Parkway corridor, starting with The Rochester, the first market-rate multifamily development east of Prospect Avenue. The 64-unit residential project is named for Rochester "Chuck" Gaston, CBKC's founder. "I never had the privilege of meeting him," says Matthew, "but I do know about his passion for the area where he grew up—the East Side.

"He spent his career literally building communities, and we're trying to honor his legacy by making this design warm and inviting. There will be lots of spaces for families to gather and kids to play. The apartments will feature exceptional finishes and amenities, including stainless-steel appliances, in-unit washers and dryers, and a fitness center." The four-story structure is on target to be completed in 2022.

Hufft was also awarded the Offices at Overlook project by CBKC. This mixed-use, 11-acre property will transform the corner of Swope Parkway and Chestnut Avenue. Plans include a three-story office building with private tenant roof terraces along with shared conference/meeting spaces for companies and organizations within or nearby the structure. People living in the 155 apartment units will enjoy a walking trail and outdoor event plazas. Matthew describes the overall development as a village.

"Working on the design for Offices at Outlook has been a real honor," Matthew says. "Everyone on the project team uses the word 'transformative' often, and that's what it will be for this corridor. We're designing a site with great attention to landscaping and ways to enhance meaningful indoor and outdoor uses."

This work is happening at the ideal time, according to Matthew, who founded his firm 16 years ago. "During 2020, we knew we wanted to recommit ourselves even more to inclusive, community-based projects. We've made a pledge to do better, and we will."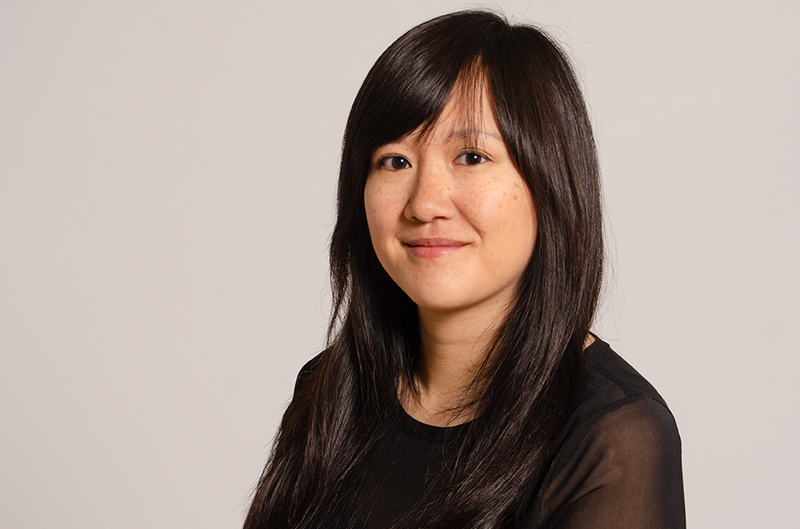 Music | Michelle Bacon
With live music returning with a vengeance this summer, Michelle Bacon finds herself juggling more than just drumsticks. She plays drums for Frogpond and bass for Other Americans, Katy Guillen & The Drive and The Band That Fell to Earth, an annual benefit celebration of David Bowie's music she hopes will return next January at recordBar.
But when it comes to making a difference, Michelle would rather be known for her work as content manager for The Bridge (90.9 FM), the listener-supported, Kansas City-based National Public Radio affiliate. She finds her role to be a perfect fit.
"As a musician, it's been really important to highlight the many talented, independent artists in the area," she says. "Through my work here I've been able to help amplify diverse voices and magnify issues in the overall industry, including gender disparities and mental-health care."
But Michelle doesn't just introduce these musicians to listeners. The Bridge also gives her an outlet for writing and producing, focusing on issues that are sometimes universal but often very personal.
For instance, she produced a series in 2018 called Turning the Tables, which addressed issues of not just being a woman in a male-dominated industry, but also a woman of Asian ancestry. More recently, Michelle co-authored an article for Flatland that addressed hate crimes against Asian Americans and the Pacific Islander communities. The piece provided an opportunity for nine Kansas City residents to express their feelings and their fears.
As for Michelle, she is over her fear of performing on stage; something she never considered as a shy, introspective youngster. At the start of her music career, playing drums provided a barrier to the audience. "They won't be looking at me at the back of the stage," she thought.
But that reticence is gone when she pulls a guitar strap over her head. Suddenly she's in constant motion, her long, dark hair dancing, fingers flying over the strings. Is it a case of play like no one's watching? With a laugh she says, "I get a huge rush from being able to connect with the crowd and my band mates.
"And over the years I've worked with a lot of songwriters I admire, and there's a sense of empowerment when I can help them carry out their creative vision to the audience."
She mentioned The Band That Fell to Earth benefit concert again, and the fact that "it's so satisfying to perform songs that are precious to so many people, including me.
"There are songs that help you get through tough times," she says. When asked for one, there was a long pause before naming Give A Little Love by The Freedom Affair. That title alone could be Michelle's personal anthem.
Healthcare | Niki Lee Donawa
She's not a doctor, nor a nurse. But Niki Lee Donawa was definitely at the front lines of Kansas City's Covid-19 pandemic. As chief community relations office for Truman Medical Centers and University Health, she and her team had to nimbly adjust their 2020/2021 health and wellness plans to handle the crisis.
Making the situation even more drastic was the knowledge that the communities they serve were especially at risk. TMC's Community Health Strategies & Innovations (CHS&I) team began providing essential services within a month after the virus hit.
They were the first in the community to offer drive-through testing and the first to set up vaccine clinics in those ZIP codes most devastated by the disease, opening 40 sites by May of 2021.
"An important element of our role during that time—as always—was to establish trust and accessibility, meeting individuals where they are," says Niki. That accessibility refers to educational materials as well. CHS&I tailored the materials to a 5th-grade reading level or below and utilized images and multiple languages to address minority community members.
Her team's combination of strategic tools and compassionate care didn't go unnoticed. Truman Medical Centers/University Health president and CEO Charlie Shields says, "Niki Donawa has a unique ability to connect Kansas Citians in a way that benefits everyone. For about a decade she has led a mighty team dedicated to meeting the people of this city where they are—making education, nutrition, and healthcare more accessible to them.
"This pandemic has highlighted that hard work, as her team has been on the front lines offering tailored Covid prevention education, testing, and vaccines to the community. Her leadership and ability to bring together the people of Kansas City has been invaluable."
While the pandemic's urgency has slowed, it's far from over. TMC will continue to be at the forefront of care.
In the meantime, Niki's team is gearing up to provide its holistic approach to preventative wellness—several of which were on hold during the crisis.
When safe to do so, TMC will once again reach out to the community. One example is the Healthy Harvest Mobile Market, which includes educating the public about proper nutrition and distributing fresh fruits and vegetables to those wouldn't normally have access.
Two other key programs are Women's Health and the Healthy Start Initiative. The Healthy Start program helps mothers-to-be feel valued and respected. "They form bonds while they attend prenatal classes to learn about caring for their babies and themselves," Niki says.
Niki realizes she and her team couldn't do their important work without strong partners, including Black Health Care Coalition, Guadalupe Centers, and Nurture KC. She also names three philanthropic organizations that have "contributed greatly to our vital programs including Health Forward Foundation, the Hall Family Foundation, and the Marion and Henry Bloch Family Foundation." Then she adds with the grace and gratitude her colleagues know well, "and too many more to name!"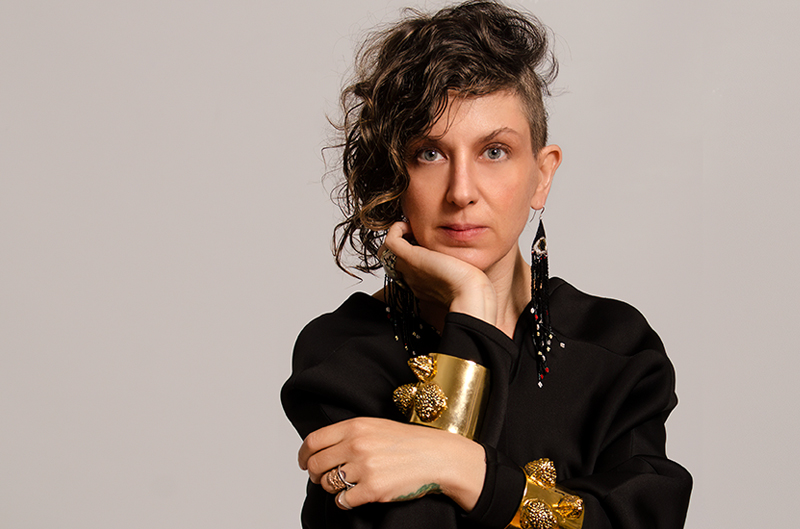 Fashion | Peregrine Honig
Peregrine Honig is known for the evocative names she gives the annual runway show the second Saturday of each June: Summer of Spain, Gilded Summer, Ceremonial Summer. Crowds—typically 3,000 strong, sitting, standing—come away from the spectacle of fashion, music, and extravagant sets thinking, "How can she possibly top herself next year?"
The 20th year of The West 18th Street Fashion Show—Summer in Hindsight—was on schedule to do just that with a lavish 100-foot runway. And then the city shut down. Peregrine took a deep breath and said, "We'll create a movie instead." She wrote a screenplay depicting a musician—Calvin Arsenia, who has performed on stage the last few seasons—who wanders the city, seeking a place to share his music.
The show's title became prophetic. In hindsight, the feature-length film could only be made during a city-wide quarantine. "We filmed the scenes in these iconic spaces," Peregrine says, "which could never have happened without an enormous production budget. Everyone we asked was completely on board and supportive." Other yeses came from director Khitam Jabr and Jeremy Osbern, who filmed the movie.
Protocols were carefully followed to maintain the safety of the entire crew. Voices behind masks echoed in vast, empty rooms of the Kansas City Museum, Nerman Museum of Contemporary Art, The Toy and Miniature Museum, and others as models glided down staircases and posed against marble walls.
When the director's cut debuted at the Boulevard Drive-In on October 16, honking cars and cheering drowned out the sounds of Calvin's harp as models in fanciful outfits dipped and twirled in the Nelson-Atkins Museum of Art's glorious Rozzelle Courtyard.
Summer in Hindsight has—to date—won eight international awards and has appeared or will appear in 17 international film festivals. Peregrine plans to show the film at the Nelson-Atkin's Tivoli this winter.
While the pandemic is ebbing, Peregrine still wanted to cater to safety for the 2021 fashion show. Rather than the usual seating surrounding the stage, Summer Tableau became a street festival while offering social distancing. She and her team collaborated with local architectural and construction firms to create seven individual tableaus to showcase each designer's fashions. For instance, Hufft fabricated a sexy, interactive peep show fronting Birdie's, the lingerie shop co-owned by Peregrine.
What's next for this brilliant bird? Peregrine's first solo art exhibition is taking place now through September 12 at the Albrecht-Kemper Museum of Art in St. Joseph, Missouri. And of course, she's already dreaming up next year's West 18th Street Fashion Show.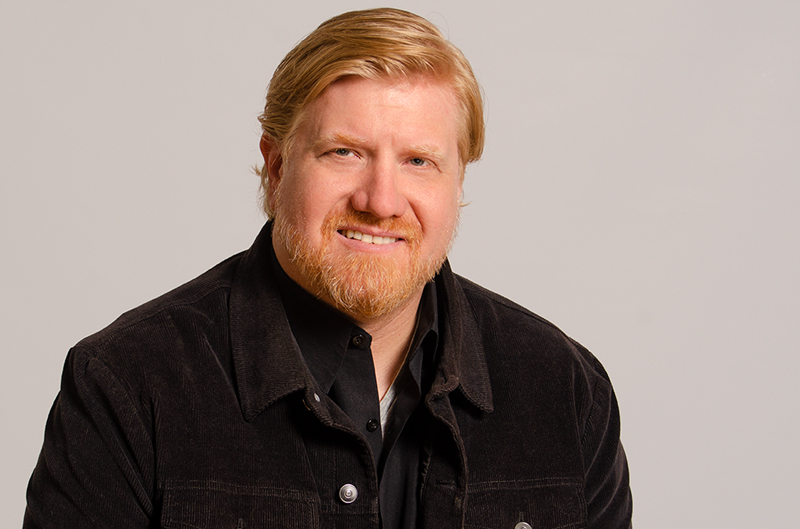 Food
&

Beverage | Ryan Maybee

He's credited with opening this town's first modern-day speakeasy, Manifesto; launching a successful Midwest event, Paris of the Plains Cocktail Competition; representing North America in the 2012 Global Cocktail Challenge; and co-owning The Rieger Restaurant and J. Rieger & Company. But what career highlight does Ryan Maybee insist is included on his editorial tombstone? The Smokin' Choke.

He created the cocktail in 2008 using wood chips and a smoking gun device to add aromatic flavor—and a wow effect—to bourbon. "Over 11 years at Manifesto, we must have served 100,000 of them," Ryan recalls. Now the showy process has been widely imitated throughout the cocktail world.

The man himself is hard to imitate. He laughs at the title Renaissance man, but it fits. Each notch in Ryan's career involves some aspect of Kansas City's storied past, starting with his days as a server and wine steward at Pierpont's in Union Station.

From there he became co-owner of a wine-forward restaurant in the Crossroads before opening Manifesto in 2009 underneath The Rieger Restaurant. And now he's co-founder of J. Rieger & Company, a distillery that reopened after a 95-year hiatus. His home is in the Historic Northeast neighborhood, and he recently had the car he's owned since he was 19, a 1967 Chevelle, restored.

It seems like everything about the six-foot-two, inked bartender/business owner favors age. Like the 15-year-old Spanish sherry J. Rieger adds to its whisky to create a new classic American Whiskey he and co-founder Andy Rieger named Kansas City Whiskey.

Things have come full circle with the speakeasy-style bar as well. Manifesto is closed but taking its place is The Hey! Hey! Club, a sultry, intimate lounge downstairs at J. Rieger's distillery in the Electric Park district. Back is the secret knock vibe and hand-crafted cocktails. But there are welcome differences according to Ryan. "We serve incredible food," he says, "and there's room for live music."

The distillery, along with its restaurants, bars, and event spaces is fully reopened now. But during the pandemic, the J. Rieger owners and production team quickly rallied to bottle hand sanitizer instead of booze.

In the meantime, Ryan and his Rieger Restaurant co-owner, Howard Hanna, turned the dining room into the Crossroads Community Kitchen to provide free meals to anyone who needed them, including out-of-work people in the hospitality industry.

If he can pull himself from the past, Ryan's future continues to look bright. J. Rieger & Company has become successful far beyond his dreams. He may help bring back the Paris of the Plains event, either as a competition or a series of training seminars. "What I loved about Paris of the Plains was bringing in some of the industry's best talent," he says, "not just to compete but to train bartenders. And in doing so, we showcased Kansas City as a leader in the country."

Ryan's also proud of the local bartending talent he's mentored over the years. Asked to name a few he…well, he chokes. "Oh, gosh, too many to mention. But Jenn Tosatto and Scott Tipton come to mind." There will, undoubtedly, be others to come.
Nonprofits |

Stedmond Ware

When an in-person meeting with Stedmond Ware couldn't happen, he was worried his enthusiasm for Kansas City Center for Inclusion wouldn't come through.

He needn't have stressed; the KCCI board member's personality practically vibrated over the phone. It's no wonder he was tapped to become board chairman shortly after the organization was founded in 2017.

Stedmond discovered KCCI after moving to Kansas City from Mississippi in 2016 to propel his career path with North Central Regional Offices of the Corporation for National and Community Service. "I work with nonprofit organizations and foundations in the Kansas, Missouri, and Minnesota areas as a federal grants officer for AmeriCorps, the largest volunteer-based grantor in North America." Stated in stronger language, he helps alleviate poverty and build communities through financial assistance.

"Strengthening communities is something that's driven my career and not-for-profit life," Stedmond says. "That's at the heart of what we do at KCCI; create safe, inclusive spaces for Kansas City's LGBTQIA+ community."

The center provides education, resources, and activities "where all can bring their authentic selves and feel safe, welcome, and included," he says. As a gay, Black man growing up in the south, Stedmond understands discrimination first-hand.

"I made a vow early on that I would exceed all expectations placed on me," he says. He serves as a role model for people dealing with self-doubt and oppression. "I want to let people know we see you, we hear you, we celebrate you."

KCCI's recent move to 3740 Broadway provides the space needed for support group meetings, computer labs, and a resource library. The building also hosts space for KC Care Health Center, which provides free and confidential rapid-response HIV testing.

Ongoing programs include Queer Voices Book Group, a monthly book club in partnership with the Kansas City Public Library, and Inspired Scribes Creative Writing Group to give authors and writers a chance to develop skills and share their artistic work with others.

"We're doing so much to provide a light for the LGBTQ community," Stedmond says, "but there's so much more to do. We're volunteer based with one employee.

"We'd like to create stronger partnerships with organizations like the Mid-America LGBT Chamber of Commerce to tap into job openings, for instance. By working together with other resources, we don't have to reinvent the wheel," he says.

There's strength in numbers, starting with one young man from Mississippi with big dreams matched by a big heart.