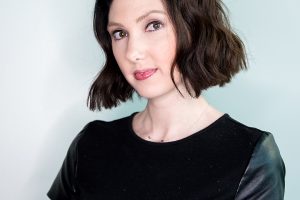 Fashion—turn to the left! Fashion—turn to the right! Kansas City Fashion Week 2018 is less than a month away, kids. (September 23-29 at Union Station in case it wasn't already on your calendar.) To get you geared up for the runway, we peppered Teisha Barber, KCFW's president with a deluge of questions. We wanted the who/what/when/where of this fall's biggest social wingding.
Year KCFW started: 2010: After a year of planning and preparation, we had our first full show in the spring of 2012.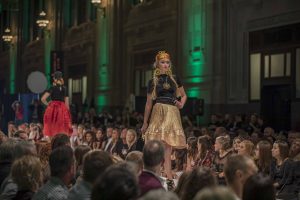 Number of designers your first year: 22 designers in our first season.
Number of designers this year: 31 designers over four days.
Number of models you've featured over the years: 525,600 models. Kidding. No, probably more like eight thousand-ish since our start. While we have between 125-150 models walking in each show, some of them repeat on various nights through each season.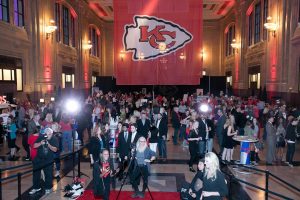 Largest audience attendance: Last fall we had 3,500 guests over five days of runway shows. Our largest individual show audience was the Chiefs Style Lounge Show in the fall 2017 with an attendance of approximately 700 guests!
Number of famous people who have seen KCFW's shows: 10-12 celeb guests attend each season—from celebrity designers to professional athletes. And lots of Project Runway Alums—Laura Kathleen, Joshua Christensen, Michael Drummond, Anthony Ryan, Joshua McKinley, Althea Harper and Casanova. Did we mention this year we'll feature International Designer Rachel Roy?!
How many different fabrics have been featured on the KCFW runways: This. Is. Impossible. To. Estimate. How many different fabrics are even out there in the universe? Because it's probably been every single one, including upholstery fabrics, newspaper, cardboard and plastic!
Number of flashbulbs that have blinded you over the years: At least one million—between being on the KCFW red carpet, going to appearances and events on behalf of KCFW and our amazing crew of official photographers at our own events.
Number of wardrobe malfunctions: Zero. Wardrobe malfunction at a fashion show where models sometimes barely wear any clothing at all? Never!
Highest heel you've seen on the runway: Probably 6″ heel with a platform? I don't know that we've ever measured, but I assume it would be pretty hard to walk the runway in something much taller than that.
Number of people working at KCFW: There's 20 people on the KCFW planning team at all times. We have 50+ volunteers for each night of KCFW.
How many hours of sleep do you get on show days: 3-4 hours. Sad, but true.
How many hours of sleep do you WISH you'd get on show days: While I'd love to get 12 hours of beauty sleep, even six would be fantastic!
Number of lights you used last year to light up the stage: Between 50-60.
Number of photos taken by Official KCFW Photographers: 40,000—at a minimum per season.
How many hours of rehearsal before each collection is actually shown on the runway: Over 32 hours!
How much coffee/cans of Red Bull does the KCFW planning committee go through each fashion week season:  On average? 232 ounces of coffee per day and 20-25 cans of Red Bull.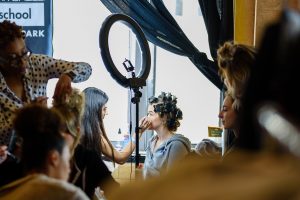 Number of people it takes to put the show together: Nearly 400. Let's see—for one single show it takes 20 staff, 5-10 venue/bar staff, 10-15 security guards, 7-9 designers, 16 designer assistants, 150 models, 15 production staff, 75 hair/makeup stylists, 50+ volunteers and approximately 50 media guests.  All in all, we're looking at around 398 total people to put on one single KCFW show.