To be alive in times such as these means bearing witness to a historic, almost surreal reality. From navigating through the unknowns of a global pandemic, to searching our very souls for where we fall along the lines of race, equity, justice, and patriotism—these are without question, unprecedented and defining moments for Americans and American values.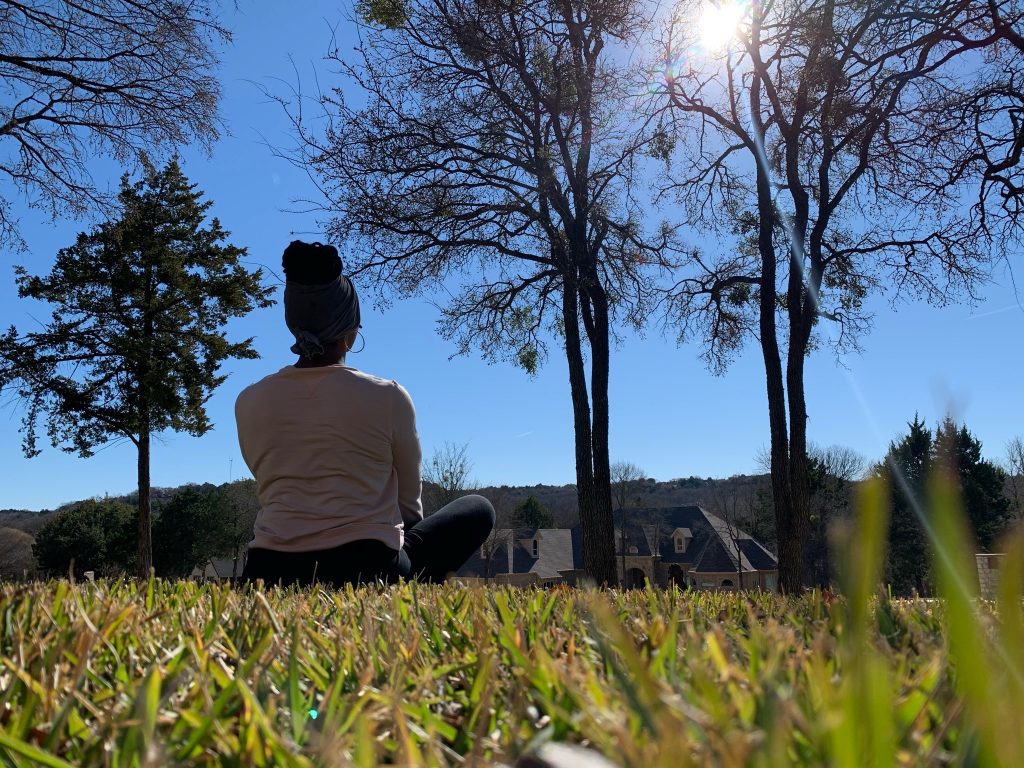 So often, as a woman of color who identifies with the harmonious convergence of both black and American culture, the observation of Black History Month for me, frequently signifies both pride and pain, as globally so many celebrate the contributions and character of notable Black figures like Langston Hughes, Martin Luther King, Jr. and Rosa Parks. Yet, in other spaces, the recognition feels unwelcomed and frankly forbidden. It's hard to believe in the year 2021, we largely, as a body of Americans indivisible and under God, are continuously debating and incredibly even, remain divided around the acknowledgement and fundamental value of every race, ethnicity and cultural affinity.
Yet here we are.

To act as though this daily truth doesn't pain my heart would be a fallacy. But in my recent growth and awareness of who I am—a Black woman called to be a conduit for change—I don't stay here; instead, I reflect deeply upon those prominent figures, inventors, educators, and change agents we often tout during Black History Month. I think about their courage and what it may have required to persist through periods of persecution, rejection, and insatiable struggle. I think about their audaciousness, anchored in bravery and steeped with grace, to speak words of truth and conviction against wide injustices despite looming threats to their inherent rights of safety, self-preservation, and American prosperity. But most notably, I think about what their posture and appeal to fellow citizens would be today—how best can we, human beings of all backgrounds, races, orientations, and party affiliations rewrite a narrative and existence that is courageously authentic, all the while continuously committed to creating a world that acknowledges, celebrates, includes and works for all.
For me the answer is only and always found rooted in a foundation of faith, love, and grace.
Act justly, love mercy, walk humbly before our God (Micah 6:8)
Act. Love. Walk.
Three simple words, so much power.
The ability to break painful strongholds, heal from a history of injustices, and the dismantling of biases and bigotry that has long perpetuated deeds of division and hate is found in our willingness to act, love, and walk together in humility and great grace.
Beliefs and religious values aside, Micah 6:8 represents a loving posture—a forecasting of what the true and beautiful American spirit could be if we simply strive to value others, their lives, and their experiences—more and before we value ourselves. In 2021, valuing is such a vital cornerstone, but it is simply not enough. Countless MLK holiday observances, Black History Month workplace bulletins boards, and dare I say, 'close' Black friends, is simply not enough if authentic love in action does not follow.
To act justly means just as it says. Move, do, say, be! The convictions of our human heart by design, stir us to feel troubled when we witness various griefs encountered by our fellow man. In 2020, the American eye was awakened for some and for the first time, startled wide open for countless others. We are no longer strangers to the plights and cries of our marginalized neighbors and communities of color. This year our actions or inactions will speak the loudest and tell the true and unfiltered condition of our hearts and character at the core.
To love mercifully is a commanding and frequently misunderstood concept. Unlike grace or the goodwill we have the ability to offer freely and abundantly to all, mercy is the compassion and kindness shown by someone who has the power or authority to punish or harm. It is a conscious and clear choice to seek morality, to be fair, to include and to promote as opposed to rendering harm or withholding the opportunity for good. This is a direct appeal to our leaders of all industries: civic, business, education and beyond—from the highest to the grassroots levels; goodness says choose love and do what is in your power to do.
Finally, to walk humbly is a deeply personal and reflective calling to operate from the posture as a servant leader. Instead of taking pride in what we bring and the power of our 'right and perfect' platforms, we humbly recognize that no amount of personal sacrifice or self-righteousness can replace a heart committed to justice and love. This is God's desire for an America indivisible and united in and under love.
So to you dear friends, I channel my inner Martin, Rosa, Mya, Nelson, and Harriet to offer this during yet another great opportunity to celebrate all that Black History Month encompasses and represents. What will you do to transition your awareness into action? In everything, act justly, love mercy and walk humbly before our God.