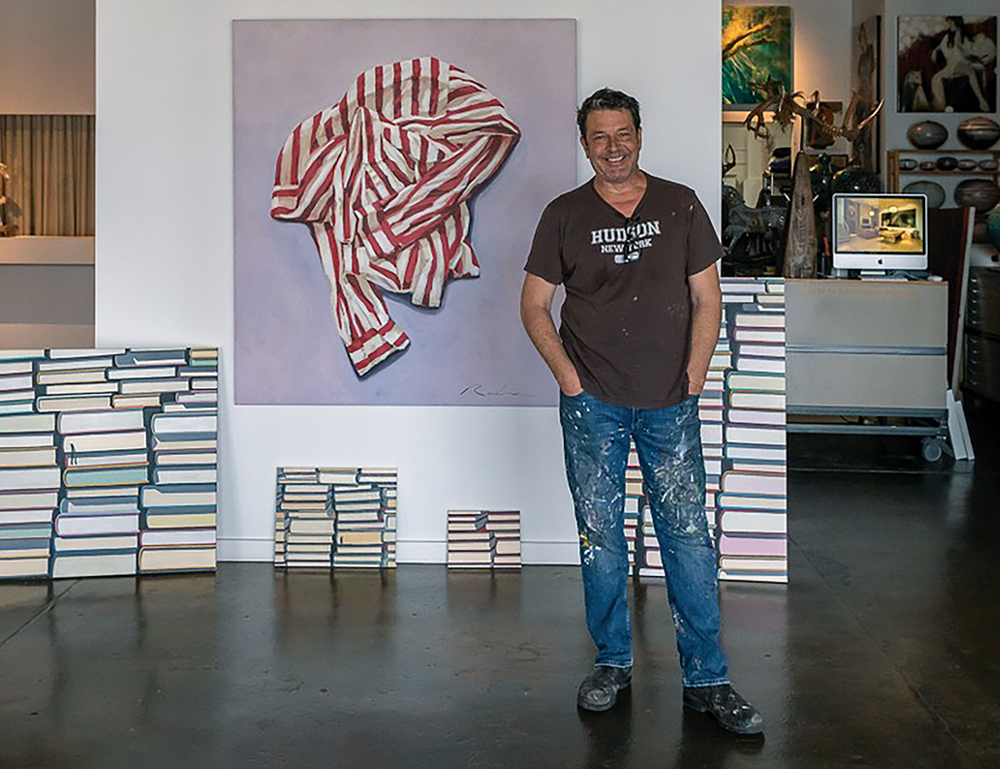 Born in New Jersey, Jeff Robinson went West, young man, to study at the Kansas City Art Institute under the tutelage of Dale Eldred and Jim Leedy. In those days, Robinson's favorite materials were wax, bronze, and clay; sculpture was his medium. Working as an artist in Kansas City, and then in New York City and Los Angeles, Robinson shifted from sculpture to painting: "Painting allowed me to get to ideas quicker," he explains.
And those ideas came fast. Flags, iconography, shirts, books, shoes—all became objects of fascination and exploration. Just recently, several Kansas Citians have had their "portraits" done via their footwear.
Robinson's work is now available at Blue Gallery
What is it about Kansas City that helped nurture your talent and then your career?
My wife (writer/educator Courtney Watkins) and daughter (Mary Charles, 13) and I moved back to Kansas City two years ago after having lived in Los Angeles for 17 years and New York for eight years before that.
I knew Kansas City had a thriving art community and the Kansas City Art Institute was central to that. A considerable creative entity in itself, KCAI is a hub around which all sorts of ancillary endeavors can flourish. When I was coming up, art spaces like the Left Bank and the Dolphin were two great alternative scenes for younger, less established artists. The guys behind those venues, David Ford and John O'Brien respectively, gave me the first opportunities to show my work. Places like Peregrine Honig's Greenwood Social Hall continue that tradition.
You say that inspiration comes from unexpected sources. When you lived in New York, you created a series of drawings and paintings called Same Shirt, Different Day. Can you tell us how that idea struck you and what you did with it?
The series Same Shirt, Different Day came to me quite by accident. I inherited a red and white-striped shirt (long story, but funny) from a friend in New York. It had a great graphic quality and it referenced the human figure so I painted it. It sold immediately—which is always encouraging—so I continued to paint it in various media and shifting scales. Over the past 20 years I've created close to 100 iterations and I'm still excited about the possibilities it offers.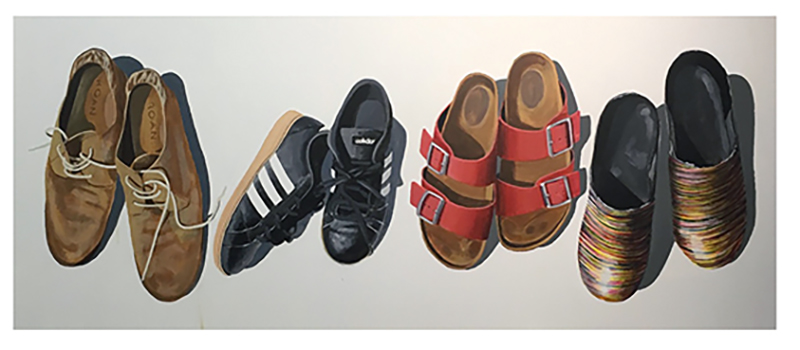 You've also worked on a series of book paintings entitled Libris, inspired by your own search for first editions in dusty old bookstores. And now you're on to painting the shoes of Kansas Citians and other people you know? What do shoes tell about a person?
The Libris series was spawned by my love of reading and collecting books. In New York I lived a few blocks away from the Strand bookstore, which is ground zero for avid readers and collectors. I spent many hours and many dollars there. I'm surrounded by the bound written word. I guess it's only natural that I would be inspired by it.
The shoes came about when I was offered a show by Scott Heidmann and Ken Petti [Heidmann Art Salon] after they saw a painting I did of my work boots. Their suggestion was Unlaced, featuring my paintings of prominent Kansas Citians' footwear, including those of chefs Michael Smith and Michael Corvino, style doyenne [and IN Kansas City contributor] Merrily Jackson, and Kelly Kuhn from Blue Gallery, where I currently show. It was a great success and gave me the idea of doing commissioned portraits of footwear that I call Portraits By The Foot. Shoes are such personal statements, no matter the wearer's age, whether practical or frivolous, expensive or not, they announce one's personality. You can't beat that for subject matter.
You started off in sculpture, then went on to painting. Is there another medium you'd like to explore?
It's true I started in sculpture and now I'm a painter, but I also write. In Los Angeles I managed to get a couple of scripts into the studio system and while they never got produced I enjoyed the process quite a bit. Just not enough to quit my day job.