The Kansas City metro has tens of thousands of fascinating citizens within its population of 2.34 million. Talented, passionate people are drawn here—or remain in this vibrant, 15-city region—for the arts, sports, music scene, and its generosity, both in spirit and philanthropy.
Distilling those numbers to highlight just nine individuals and one couple was quite the editorial trick. Some made the list based on career excellence; a few for how they deftly pivoted during the pandemic to serve the needs of others. Like true creatives, two of our profiles could have starred in more than one category, bridging charity and music, art and fashion and technology. 
With great pride, we introduce you to our Arts honoree, Jason Harrington.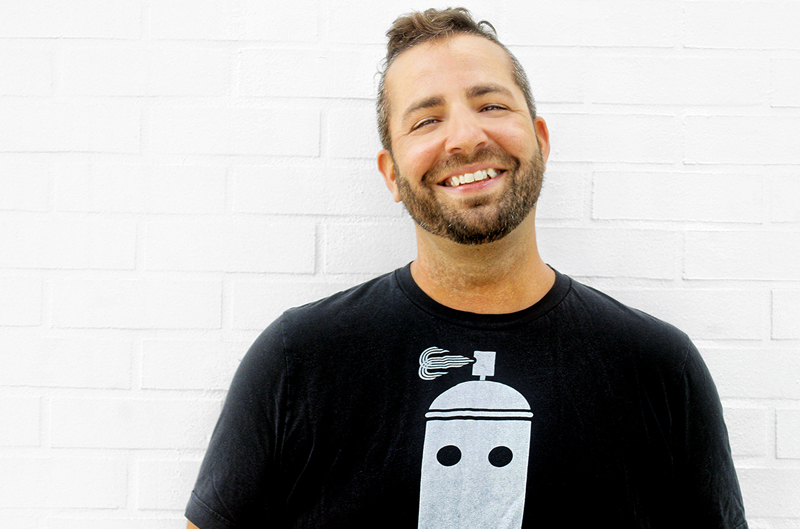 Arts | Jason Harrington
Rif Raf Giraffe, Jason Harrington's street-artist handle, has a goal to turn Kansas City into a mural-art mecca. Take a stroll around the Crossroads Arts District, and you might say he's already made it. There's rarely a wall not adorned by eye-popping images.
At its heart is Art Alley, between 17th and 18th streets near Locust and Cherry, the central location for Solanoir, a series of events Jason organized with his wife, artist Ami Ayers Harrington, and artist Mark Allen, to coincide with the 2017 solar eclipse.
But things only heated up after that for Jason. He invited Matt Abbott, a Crossroads developer, to the mural-rich Wynwood Art District in Miami and convinced the visionary to let him paint 20 of his buildings back home. "Murals offer several benefits to building owners," Jason says. "One is that where murals go up, there's less destructive tagging. And the art naturally draws people into the neighborhood. Stores, bars, and restaurants get more traffic."
Based on the success of Solanoir, that same year Jason organized SpraySeeMo, an annual graffiti arts festival, which continued with an ever-expanding array of adorned walls around the district. Viewers came to watch and engage with the artists and took selfies in front of their favorite displays.
Despite the pandemic, the 2020 festival had 28 painters creating 22 new murals in three days. "We're on pace for an even more exciting 2021 fest," Jason says. "It'll be held September 22 through the 26th and we're collecting walls right now and talking with artists.
"With last year being more restrained for crowds, I think the September event will be a big draw from around the country."
In the meantime, Jason and Ami are traveling the world to create art and help launch similar festivals, including California's SpraySeeLA taking place July 27-31.
Back home, he's excited to see that murals are a big part of Visit KC's new video showcasing the best of the metro. "We have some of the country's best museums," Jason says. "But street art is interactive, approachable and the fact it's often not permanent adds to its interest."
The sprayseemo.com website has festival information and a map to make it easy to view as many murals as possible. It also has a "Support the Festival" link to help pay for paints, provide accommodations for visiting artists and rent walls that aren't being commissioned by building owners.
---
Read about the other 2021 Innovators & Influencers honorees here.