Telecommuting. Working from home. Call it what you will—unless you're deemed an essential worker (Shout out, medical pros! Shout out, grocery gurus!), chances are you're now taking those important meetings from the comfort of your own abode.
We checked in around the metro to find out who's doing what and helpful tips for being productive: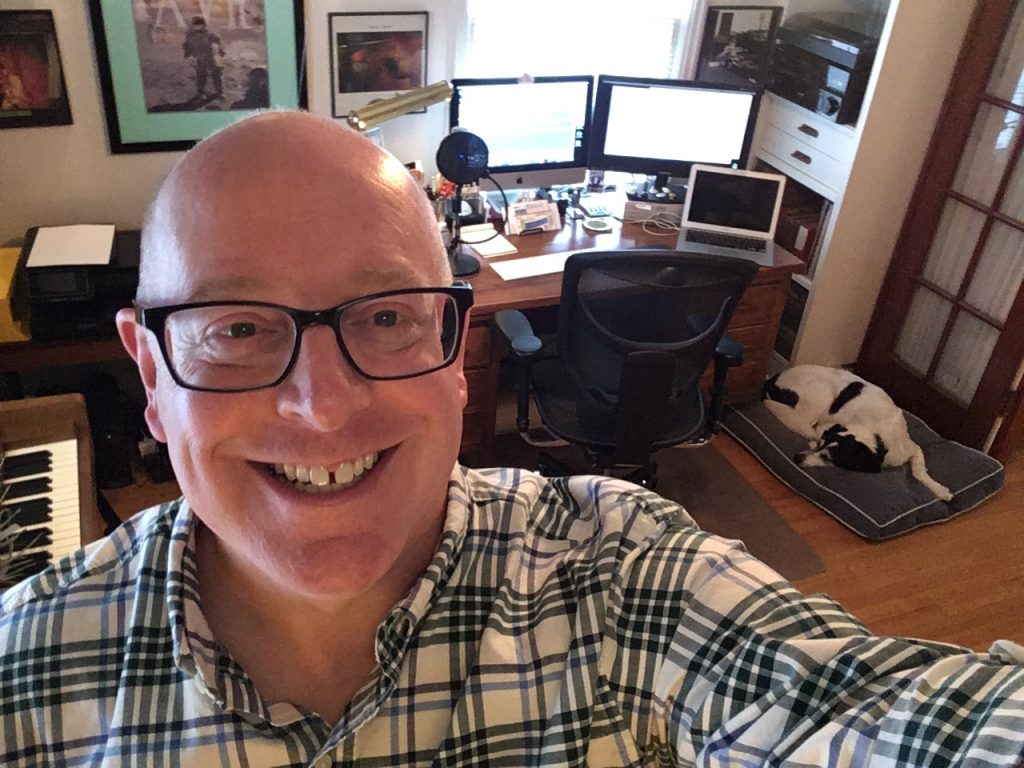 "Lose the sweats"
Chad Leabo curates music for Neptune Radio, which creates custom "radio stations" for 1,700 various schools, waterparks, fitness centers, etc. across North America. He's also been working from home for a hot minute and knows a thing or two. 
"I've been working remotely since 2011. There are innumerable articles suggesting a separate workspace, keeping normal hours, ridding yourself of distractions, etc. Those are all 100 percent accurate.
But I've discovered a couple of additional things that are not always addressed. Lose the sweats. Get up, get cleaned up and dressed for work. I am much more productive when I dress professionally, even if it's just a polo instead of a T-shirt. Also do not overlook the importance of a proper chair. Your dining room chair is good for about an hour. A proper adjustable office chair improves productivity because you are more comfortable. The best part of my situation? My dog Siouxsie sits next to my desk!"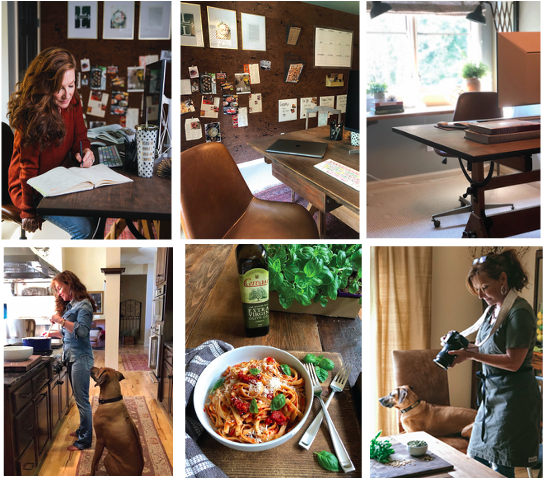 "Have everything you need within reach and/or eyesight."
Culinarian Lauren Lane takes her act from room to room—which, for her, makes sense.
 "As a food blogger, social media influencer, and instructor, half of what I do is in the kitchen, half is in the studio—like food photography, writing blogs and food columns, and researching and creating content calendars. And so far, it's going fantastic.
The key thing? If possible, your office needs to be separate from the rest of your home—so they don't bleed together. And because I'm a visual person, I love having everything I need within reach and/or eyesight. My corkboard, for example, is a whole wall—for inspiration, my goals, my yearly calendar, and pertinent client info. One quick glance and I can see everything I need right off the bat. I work with a lot of partners—editing their content, publishing their content—so even though I'm a solopreneur working from home, it all needs to get done on time. And as a foodie, well, I always suggest taking a break for a tasty bowl of pasta—or two."

"Make do in a pinch."
Alert the media—most of the media is now working from home—and that includes KMBZ 98.1's morning news anchor Will Sterrett.
"I was fortunate to already have a home studio built because of my radio syndication business. Fortunately, all it took was pushing some buttons and making a couple of connections, and my [KMBZ] studio was live. There's a fraction-of-a-second delay but aside from that, it's gone remarkably smoothly. The biggest hiccup was when the garbage truck rumbled up right as I started a story.
I've tried to help other members of the staff assemble temporary broadcasting setups and while some of them are rather basic, it makes do in a pinch. We obviously want the product to sound as good as we can, but the reality is that the content is the star and being a resource for information and conversation is the most important objective."
"The newscast must go on"
Should KCTV5 anchor Carolyn Long soon have to anchor from her house, she's ready to keep you informed.
"I'm currently creating a make-shift news set from my home. (Thank goodness my daughter started a small photography business years ago—hence the fun umbrella lights.)
I'll tell you—in my 29 years in the news business, I have covered a lot of breaking news stories. This is, by far, the wildest. Traditionally, with a major news story, we try to cover a different angle of it in each newscast—but, with this, there is factual, important, breaking news information/angles to pass along every hour. More than ever before, the newscast must go on—even if my home is not decked out in the best lighting or best camera. The news of the day simply has to get to the community. My biggest hope and prayer right now is that we get back to normal just as quickly as it went to chaos."
"Teleworking does have advantages."
Karen Thurlow is a lawyer in the insurance industry who has worked out of her home for 15 years.
"The new world of social distancing has been particularly interesting to me as companies and employees transition to working from home. A couple of suggestions: 1) designate a space in your home that is as free as possible from distractions and 2) treat your workdays as a day in the office.
It's just as important to establish a schedule and then, no matter what, get up, get showered, get dressed, and act as though you are getting ready to leave the house. Not only does this get you in the mindset to work and be productive, it also sends a very important message to those with whom you live that this is a workday. While teleworking does have advantages such as flexibility and not having to commute to an office, there is a downside that many are beginning to experience for themselves: you realize how isolated you can be when there is a global pandemic and it barely changes your routine at all!"