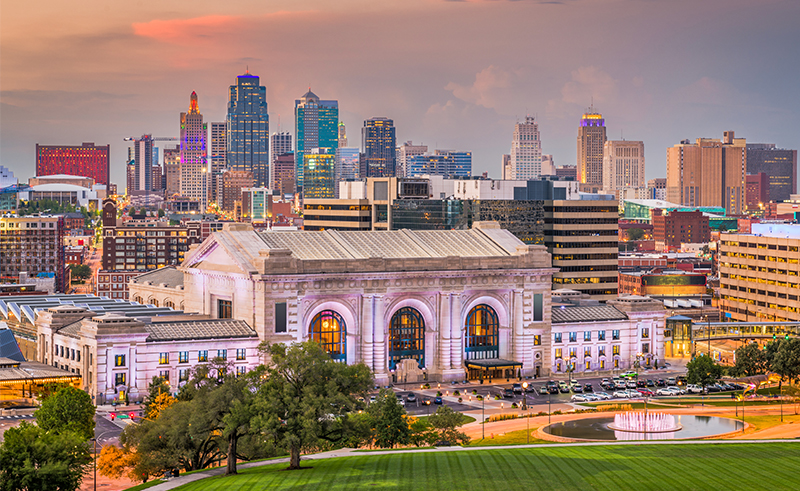 Ten years ago, downtown Kansas City was burgeoning.  The demand for luxury apartments was expanding. Huge concerts were being held most nights at the Sprint Center (now the T-Mobile Center). People from all over the Midwest were falling in love with our city.
Much has changed as our city has continued to grow over the last decade, and more change is projected for the next ten years. On January 25, the Downtown Council of Kansas City, unveiled an ambitious plan that will shape the heart of Kansas City over the next ten years.
The Imagine Downtown KC plan aims to reflect the diversity of Kansas City's people, combat systemic racism, invest in disenfranchised communities, and create an excellent experience for all with design, arts, culture, and a strong economy.
"The best strategic plans feature a quality they don't teach you in business school," says Lynn Carlton, the chair of the Downtown Council. "It's fueled with compassion, fueled by human experience, and passion to create equitable, inclusive, and vibrant urban place."
These are the goals Kansas City must meet by 2030 to follow the plan:
Ensure a Livable City for All: Walkable streets, quality transit, diverse housing options, and high-quality architecture and amenities across all neighborhoods.
Connect Downtown Neighborhoods: Bridge the physical, economic, and social gaps between downtown neighborhoods.
Nurture a Prosperous, Innovative, and Creative Economy: Diverse job opportunities will need to be available to all through workforce development, education, and skills training.
Preserve and Enhance Our Unique Assets: Bolster downtown's sporting and entertainment facilities, arts and culture, architecture, and natural settings.
Make Downtown Sustainable and Green: Implement policies and programs that foster healthy urban environments.
These are the planned "catalytic projects" to accomplish those goals: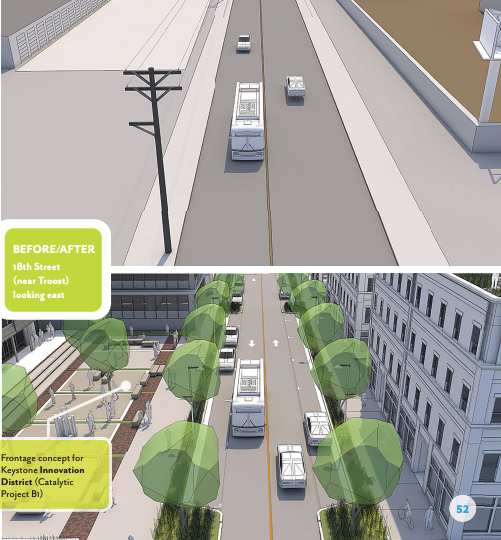 East-West Connections: For decades major economic growth has been limited to the I-35/I-70/I-670 loop, but this plan adds connections to the Paseo,18th Street corridor, and 12th street corridor to improve the reachability of neighborhoods east and west of the loop.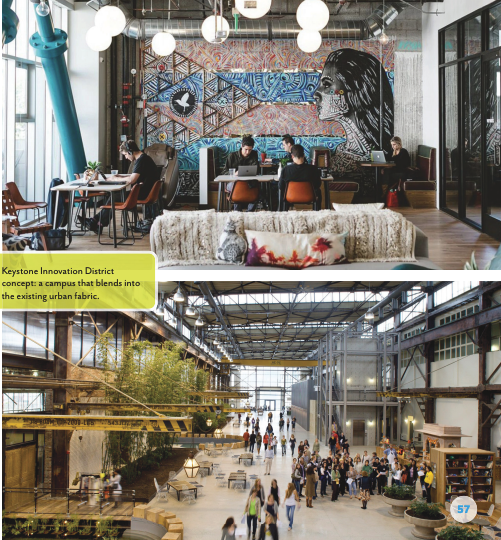 Innovation Districts: Kansas City already has a robust network of entrepreneurs and innovation, and this project identifies areas where innovation is quickly growing and will focus on supporting local start-ups in the Keystone Innovation District, UMKC Health Science District, and Crossroads Arts District.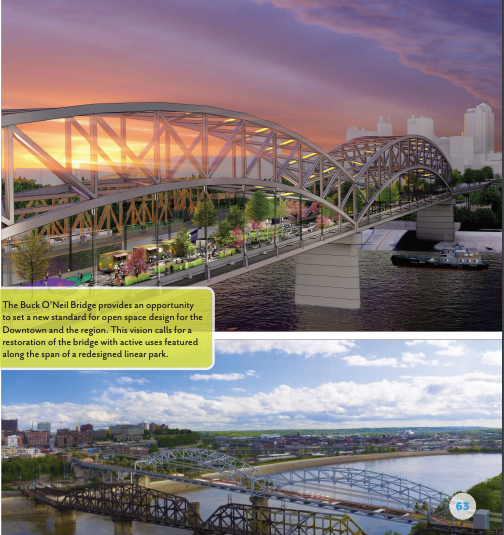 Downtown Parks, Open Spaces, and Plazas: This plan will focus on adding amenities and programming to Barney Allis Plaza, a "Greenline" around the city center, a park to the historic Buck O'Neil Bridge, a robust green space to Washington Square Park, and new retail, housing, and amenities to the West Bottoms. This project will also examine existing parks, plazas, and open spaces for enhancement opportunities.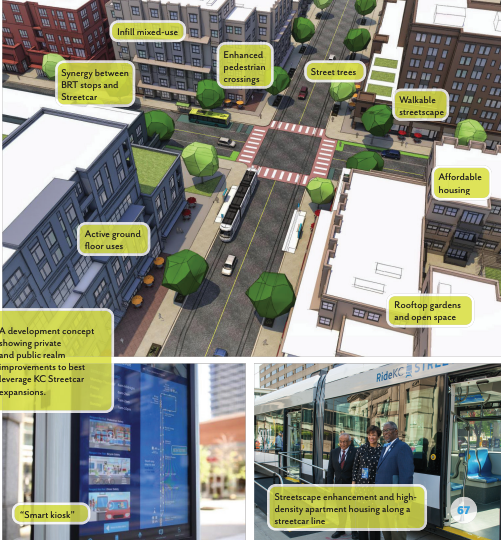 Streetcar Expansion: North and south expansion of the streetcar is already underway, but this project adds plans to incorporate strengthened east and west connections through other modes of transportation like fare-free buses, biking, and safer walkways with well-designed connection points aided by smart kiosks.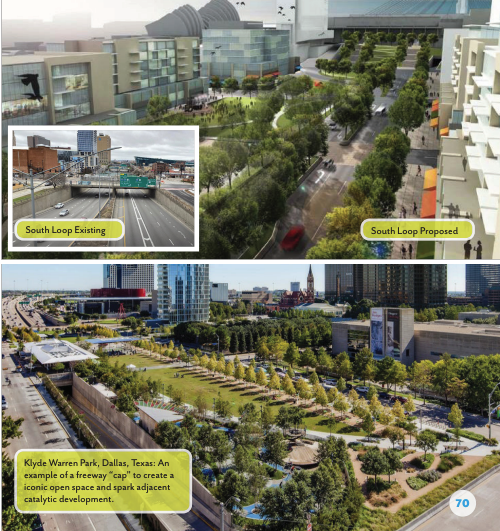 Loop Reimagination: The current north and south loops take up a lot of space and create barriers between neighborhoods. This project redesigns the highway system to provide better transit opportunities for vehicles, pedestrians, bikers, and public transit users.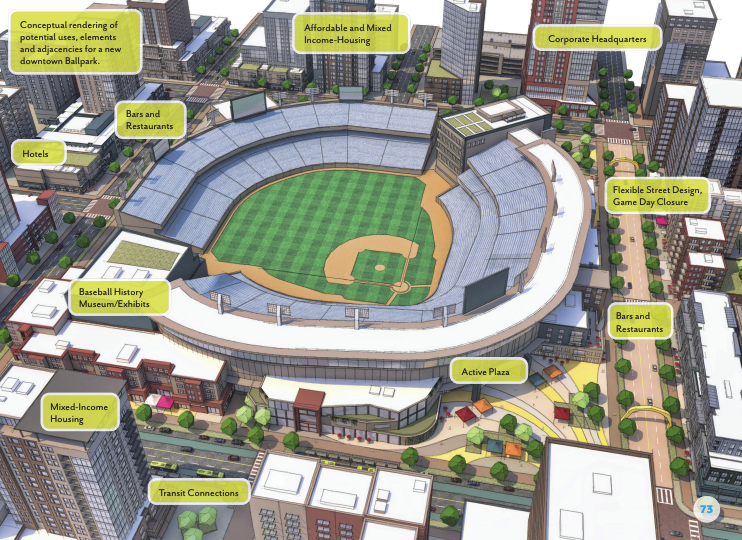 Ballpark: There's been talk of moving the Kauffman Stadium downtown for years, and this project would make that happen. The plan would integrate a ballpark seamlessly into downtown close to plenty of transit connections, bars, restaurants, hotels, the Negro Leagues Baseball Museum, and mixed-income housing.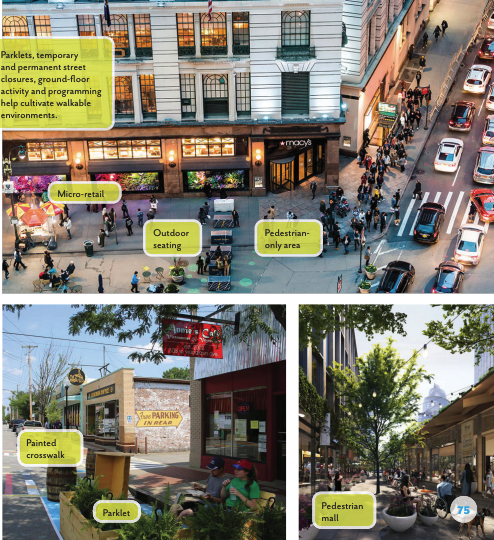 Street Imagination: Kansas City has become more walkable over the past few years, but there's lots of work to be done to prioritize pedestrians. This project reimagines city streets to make them safer and more accessible to pedestrians so we can all enjoy KC at our own pace.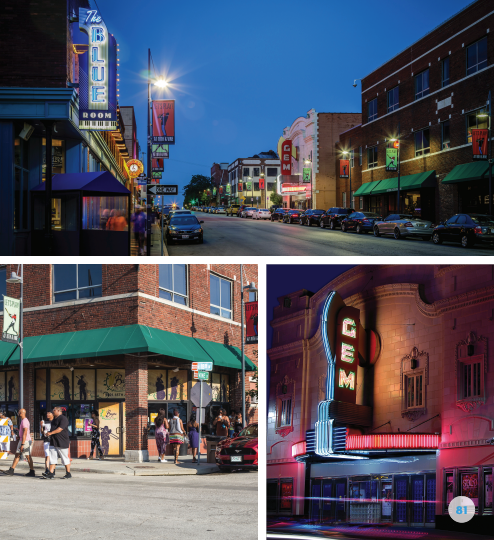 Arts, Cultural, and Historic Destinations: Kansas City has rich culture, and this project prioritizes investment in 18th and Vine, Union Station/Crown Center District, River Market and Riverfront, and the West Bottoms to foster a unique urban experience.
Want to know more about what's in store? There's a detailed, 92-page plan that explains the ins and outs of the Imagine Downtown plan's goals, strategies, and projects here.